Dr Pera Sinkovec, Veterinary Surgeon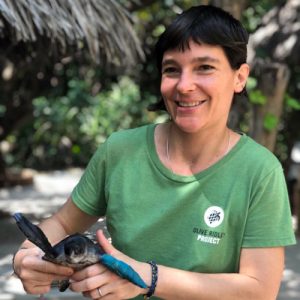 Pera, who joined the ORP team from Slovenia, has had a close bond with nature since early childhood. Always trying to help and save animals around her, becoming a vet was a natural choice.
As a student at the Veterinary Faculty in Ljubljana, Pera also pursued valuable experiences as a volunteer. She worked at various wildlife rescue centres, zoos and small animal practices across Europe. Her life calling lead her both to assist biologists with a bottle-nose dolphin survey in Sardinia and to volunteering at a seal hospital in Holland and Falcon Hospital in Dubai. Besides this, she volunteered at two wild fauna rescue and breeding centres and a marine animal rehabilitation centre in Spain. Spain is where she fell in love with sea turtles; turtles and tortoises fascinate her the most and are her favourite animals.
After graduating, Pera continued to volunteer and also worked in her hometown animal shelter for abandoned animals as a keeper and assistant veterinarian. Later she joined a small private practice where she started treating exotic pets. This, in turn, led to work as a standby vet with focus on exotica animal patients for several small animal practices. In addition, she temporarily worked as a clinical assistant in the department for exotic animals at the National Veterinary School Maisons-Alfort in France.
Pera has always felt at home by the sea. She enjoys swimming, snorkeling and diving, and is passionate about marine wildlife conservation. She finds her work with the Olive Ridley Project very exciting and satisfying. Combining her love for turtles with with marine wildlife conservation and veterinarian skills, is a dream come true.