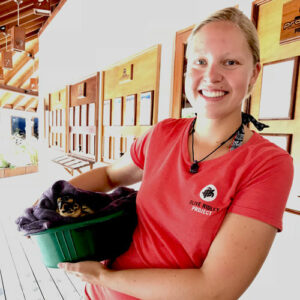 At the ripe old age of 6 years, Stephanie was already convinced that she would one day become a marine biologist and live by the sea. She went on to study biology at the University of Kiel and spent her summers working as a volunteer at the sea turtle conservation project La Tortuga Feliz on the Caribbean coast of Costa Rica between 2007 and 2009.
Stephanie's fascination for the shelled sea creatures took her to Cape Verde in 2011, were she conducted field work for her master thesis dealing with the population structure of the local loggerhead population and its associated parasites.
Between 2010 and 2017, Stephanie worked at the Zoological Museum Kiel as a collection specialist organising the herpetological, echinoderm, arctic and antarctic expedition, and crustacean collections. To share her knowledge and passion for any living creature, she taught different zoology classes and engaged in exhibition planning and science communication events. She finished her dissertation in the field of functional morphology and biomechanics of crabs in 2017.
Stephanie joined the Olive Ridley Project Team in November 2017 to study the sea turtle population of the Lhaviyani Atoll. She also helped retrieve ghost gear in the area and engaged in education of local communities and tourists alike.
Following her one year in the field in Maldives, Stephanie now focuses on research of sea turtle behaviour and external parasites & epibionts of sea turtles in the Maldives.