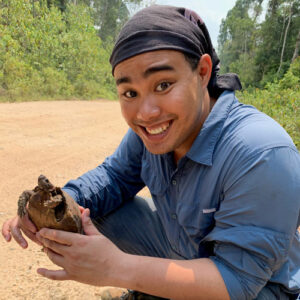 Rushan is as an ecological consultant in Singapore with Arborculture Pte. Ltd., an arboricultural and environmental consultancy who provide Rushan time support to research sea turtles with the Olive Ridley Project. It's an odd pairing, but Rushan's expertise as a spatial ecologist allows him to have one foot on land and another in the sea.
Rushan interned in the Maldives in 2013 to satellite tag head-started sea turtles. Maybe it was by fate that he'd work alongside Martin Stelfox, who had not yet established the Olive Ridley Project. It was here, late one night in the office, that Rushan witnessed the founding of the organization. It is also where Rushan learned from Martin that conservation needed meaningful actions, advice that guided his future decisions to study sea turtles.
Martin also said that Rushan didn't need to study marine biology to help sea turtles. So instead he studied Conservation and Wildlife Biology at Murdoch University in 2014. He enrolled into the honours program to learn spatial ecology. Coincidentally, the program looked at nest site selection by flatback sea turtles. Rushan was awarded First Class Honours for his efforts in 2018.
Rushan retired his fins to expand his spatial ecology portfolio by working short contracts for rainforest impact assessments in Singapore. In addition, he also volunteered to camera trap Malaysian mammals. Even as he built his reputation as a spatial ecologist, he longed to work with sea turtles again. He also happened to wonder how Martin was doing after so many years. A few e-mails later, Rushan is now a researcher with the Olive Ridley Project, where he hopes to uncover the mysteries of olive ridley spatial ecology.