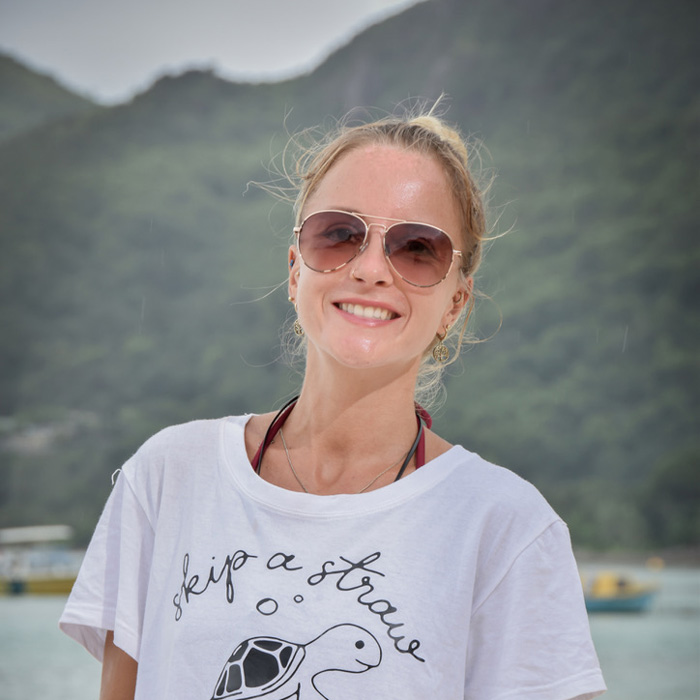 Lara was born and raised in Germany, far away from the ocean. Nevertheless, the open ocean always intrigued her and so it was no surprise Lara went snorkelling with her father before she even knew how to swim.
Following high-school Lara volunteered for several conservation projects around the world. And she further manifested her love for the ocean by becoming a PADI Scuba diving instructor. Lara had her first sea turtle encounter diving in the Seychelles in 2014 and immediately fell in love with these marine reptiles. Working in the diving industry and marine conservation projects opened her eyes to the many complex issues our oceans and the threats species like sea turtles are facing. 
For this reason, she decided to turn her love for the ocean into a scientific career and moved back to the Seychelles to complete a bachelor's degree in Environmental Science with the University of Seychelles. During her time living and studying in Seychelles Lara became familiar with the marine and terrestrial wildlife of the country. She completed her degree with a dissertation in the feeding behaviour of the Indian-Ocean Butterflyfish.
During her master's degree with the University of Bremen in Tropical Aquatic Ecology, Lara returned once more to the Seychelles. This time to research the feeding preferences of the Collector Urchin with the aid of stable isotopes.
Lara was first in contact with ORP whilst working in Maldives as a Marine Biologist. Her work then was predominantly focused on coral restoration and seagrass monitoring. However, she also assisted projects by both the Olive Ridley Project and Manta Trust.
As of November 2021 Lara represents ORP on Félicité Island in Seychelles as Sea Turtle Biologist & Guest Educator. This is an exciting opportunity both for her and for ORP as it will be the first time data on green and hawksbill turtle populations, nesting activities and ghost gear will be recorded in Seychelles for the Olive Ridley Project.