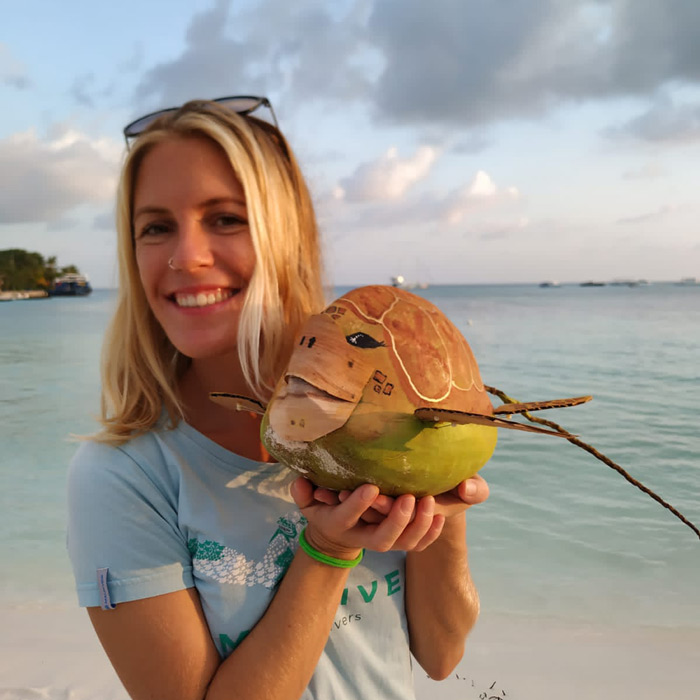 Emily Mundy was born and raised in Bulawayo, Zimbabwe. Her early years were spent camping in the African bush while her zoologist father did his research, so she has always loved nature and being outdoors. She was, however, more fascinated with the ocean, and growing up in a landlocked country motivated her to seek out her own underwater adventures. On a trip to the Great Barrier Reef, Australia, she discovered scuba diving and the marine world – and immediately fell in love.
After completing her scuba certifications during her university years in South Africa, she spent several years traveling through South East Asia volunteering with coral reef restoration projects and working as a Dive Master on dive safari boats.
Those experiences opened her eyes to the many widespread issues facing the health of the oceans and marine life. Determined to do her part for marine conservation, she decided to completed her MSc in the UK, where she specialised in the management of tropical marine ecosystems using marine protected areas to regulate tourism and fishing activities.
Emily first came to Kuredu Island in Lhaviyani Atoll in 2019 to work as a diving instructor with Prodivers Maldives. As of November 2020 she represents the Olive Ridley Project on Kuredu as a Sea Turtle Biologist and Guest Educator. Her role includes collecting data on the green and hawksbill sea turtle populations and identifying individual sea turtles in the waters around the island and from the wider atoll. She also monitors sea turtle nesting activity and educates guests and staff on sea turtle biology and the threats facing them, which include entanglement in ghost gear. Furthermore, Emily is trained in sea turtle first aid and will take an active role in sea turtle rescues and the recovery of ghost gear reported in the area.