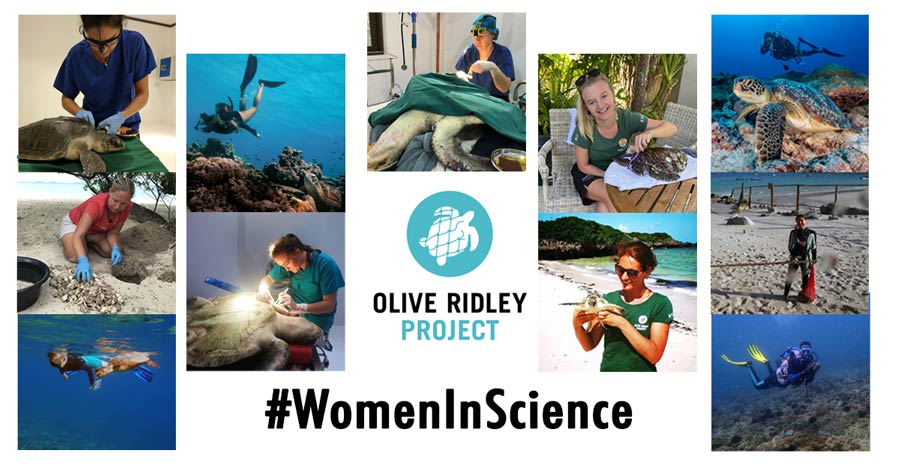 February 11th is International Day of Women and Girls in Science 2020
Women and girls represent half of the world's population and, therefore, also half of its potential. But yet, worldwide less than 30 percent of researchers are women. And according to UNESCO data (2014 – 2016), only around 5 per cent of all female students select the natural science fields in higher education globally.
We are happy to report that here at ORP we beat those women in science statistics with good margin: we have 85% female scientists on our team! Our female scientists come from six different countries with various backgrounds. What they all have in common, however, is that they all studied natural sciences, are extremely dedicated to conservation, and they work really hard. And they all love sea turtles, of course.
Join us in celebrating our fantastic team of highly qualified female scientists and find out why they chose the science (and conservation) path. Hopefully they can inspire more women (and men) to join the field!
Dr. Jillian Hudgins, Senior Project Scientist
The first female scientist to join ORP, Canadian Dr. Jillian Hudgins, has been key ORP team member since the very beginning. She oversees our sea turtle population and ghost gear research.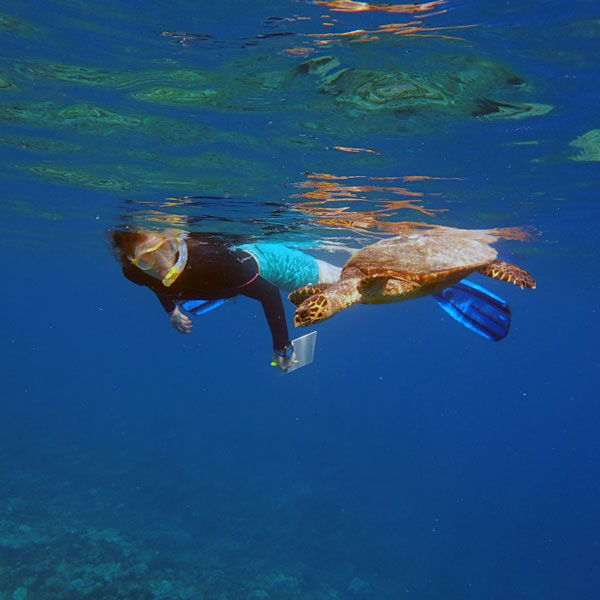 I chose to pursue the marine biology/conservation field of science based on my love of the natural world and my desire to help mitigate the threats that animals and their habitats are facing. We need more girls and women working in the sciences to help combat the climate emergency and care for our planet and its inhabitants.

Dr. Jillian Hudgins,
BSc and PhD in Earth Sciences
Dr. Claire Petros, Lead Veterinary Surgeon
She was ORP's first Resident Veterinarian at the Marine Turtle Rescue Centre in Maldives – Dr. Claire Petros. She now manages the Rescue Centre and the in-field veterinarians whilst pursuing her PhD.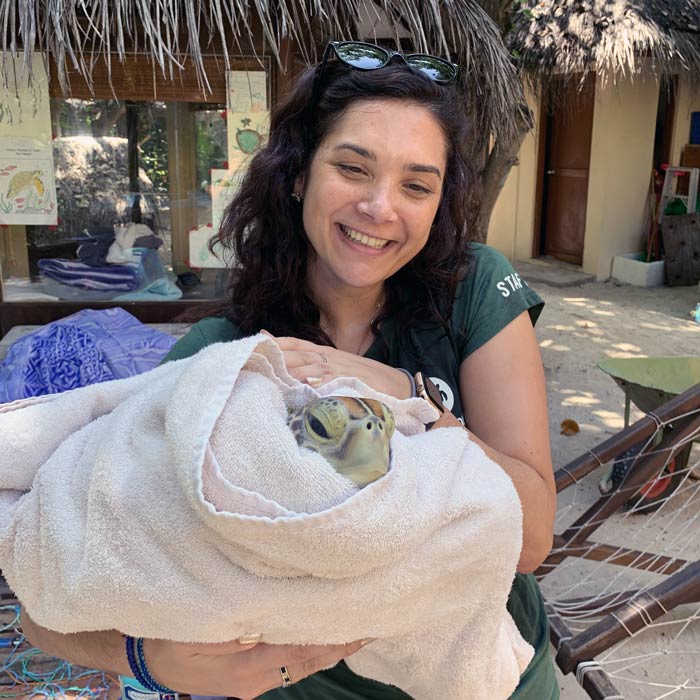 I had always wanted to be a vet and work with animals, studying biology in Oxford gave me the drive and determination to work in conservation and as a veterinarian. I knew I wanted to be hands on with the animals that I wanted to protect and being a surgeon felt like the best way of doing that!

Dr. Claire Petros,
BA BVSc MRCVS
Dr. Jackie Reed, Veterinary Surgeon
Dr. Jackie Reed from Australia is ORP's fourth Resident Veterinarian at the Marine Turtle Rescue Centre in Baa Atoll in Maldives.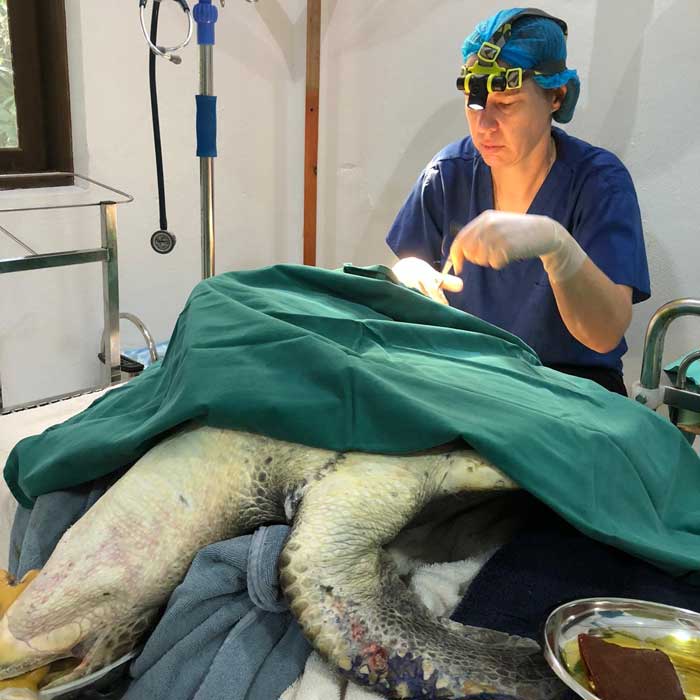 Science is the way of the future. Women should feel inspired and empowered and join this magnificent field in order to improve the world for the better. Don't just accept things to be true. Go out and do the research to discover why it is so. We certainly will never know everything, but we can use science to understand things better. I always knew I wanted to be a scientist because I questioned everything, and I wanted to be a veterinarian because I wanted to help animals. I hope more young women decide to join this amazing profession and realize that they can be anything they want to be. People always told me I couldn't, so I proved them wrong.

Dr. Jackie Reed,
BSc(Hons) BSc BVMS Post-graduate certificate (Wildlife and Conservation Medicine)
Jo Goodfellow, Sea Turtle Biologist
Jo Goodfellow from the UK is ORP's longest serving Sea Turtle Biologist. She researches sea turtle populations in Laamu Atoll in Maldives.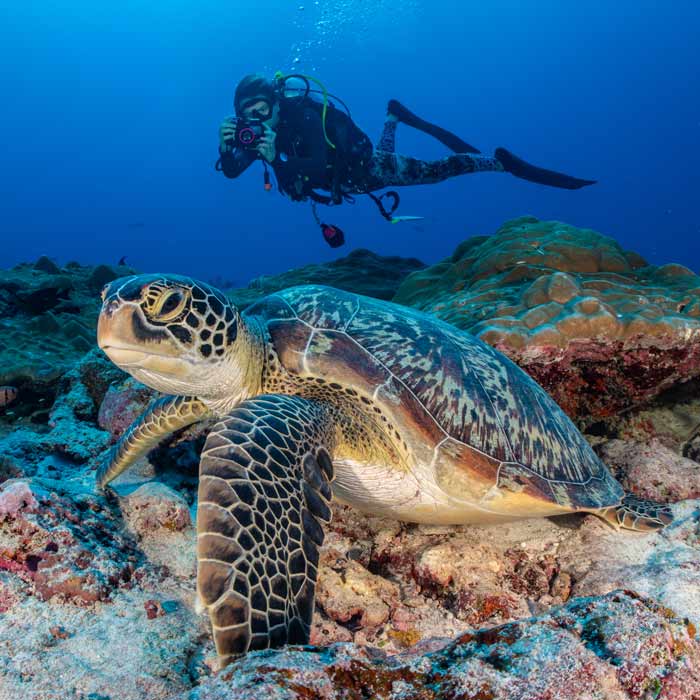 I am a self-confessed nerd and love to discover the science behind the fascinating things we observe in nature. I thoroughly enjoy immersing myself in the practical side of science, however I also have a particular fondness for data analysis and for quantifying what we observe in the field. There is so much more to science than the "crazy mad professor" stereotype and I would love more than anything to see more women in the industry!

Jo Goodfellow,
BSc in Zoology, MSc in Marine Mammal Science
Kristina Loosen, Sea Turtle Biologist
Sea Turtle Biologist Kristina Loosen from Germany has been working in the field in Maldives for ORP for 14 months, researching sea turtle populations in Lhaviyani Atoll.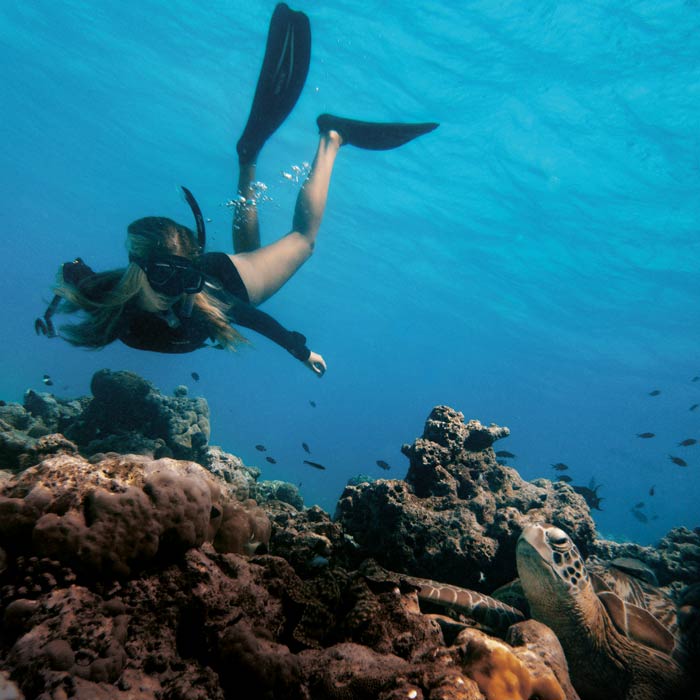 As a kid I was mesmerized by the beauty of the ocean and its inhabitants. I dreamed about one day being able to work in the water and see sharks, whales and turtles every day. I wanted to understand and research their behaviour & ecology to ensure their survival. For me the best way to do that was to study marine biology and here I am today working for the Olive Ridley Project helping to conserve the turtle populations of the Indian Ocean 🙂

Everyone, not just girls, who has a dream like this shouldn't be afraid to pursue it. There are many different ways to reach your goals and Science is a very diverse field with many amazing opportunities! It enables you to live your dream and change the world for the better!

Kristina Loosen,
BSc in Biology & Biological Sciences, MSc in Marine Biology & Biological Oceanography and in Applied Marine Science
Laura Whiteley, Sea Turtle Biologist
Sea Turtle Biologist Laura Whitely from the UK is not only doing sea turtle research in the Maldives; she is also running our Sea Turtle Rehabilitation Centre in North Male Atoll for our long term patients.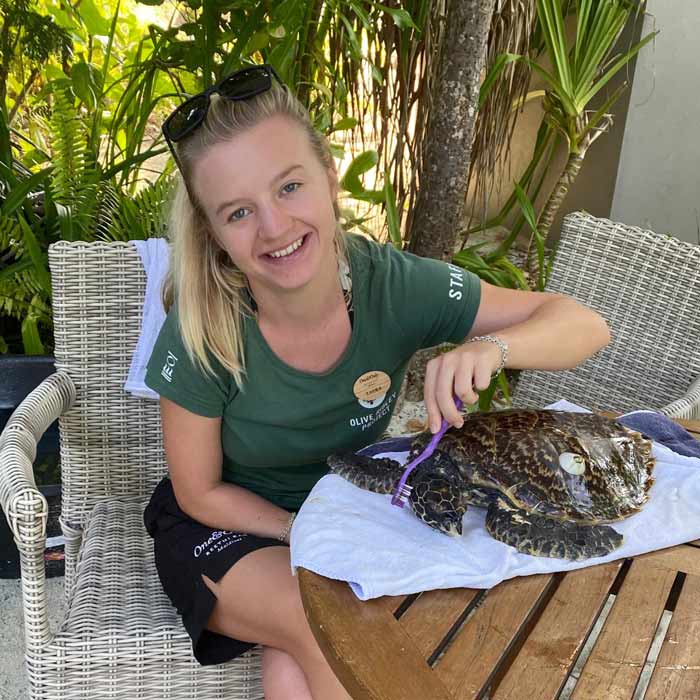 The ocean has always fascinated me, but it wasn't until I learned to scuba dive in Indonesia at the age of 15 on a Conservation Expedition with my school that I was sure I wanted to work in marine biology conservation.

To work in the scientific conservation field is extremely rewarding, particularly when you see all the work and effort that you put in finally pays off. For me this is releasing our turtles back into the wild and giving them a second chance at life, I don't think anything can compare to that feeling of happiness and relief. I hope more girls will be inspired to also carry out a career in science. It is extremely exciting to be out at sea every day and not knowing what you may find and what discoveries could be made.

Laura Whiteley,
BSc (Hons) in Animal Science, MSc in Marine Environmental Protection
Jane Lloyd, Sea Turtle Biologist
Jane Lloyd from the UK is our newest team member and our second Sea Turtle Biologist to be stationed in Oman. Equally important to her sea turtle population research is her work to combat ghost gear in the region.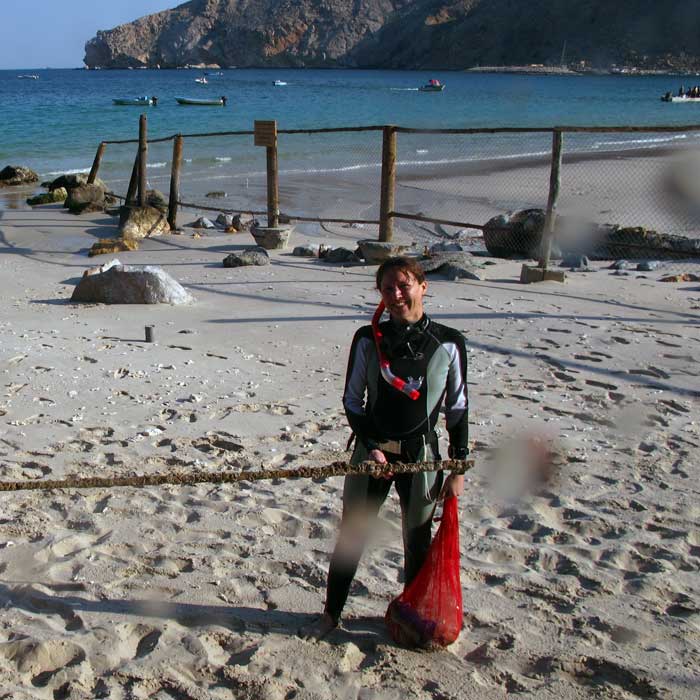 When selecting my degree, it was important to me to effect positive change, I truly believe that as a professional scientist, I am able to positively influence government policies for the protective of our ecosystems with evidence-based data.

Jane Lloyd,
BSc (Hons) Environmental Science
Dr. Joana Hancock, Project Manager, Kenya
Dr. Joana Hancock from Portugal joined ORP as our first Sea Turtle Biologist in Kenya. She is now the Project Manager for the Kenya side of ORPs operations.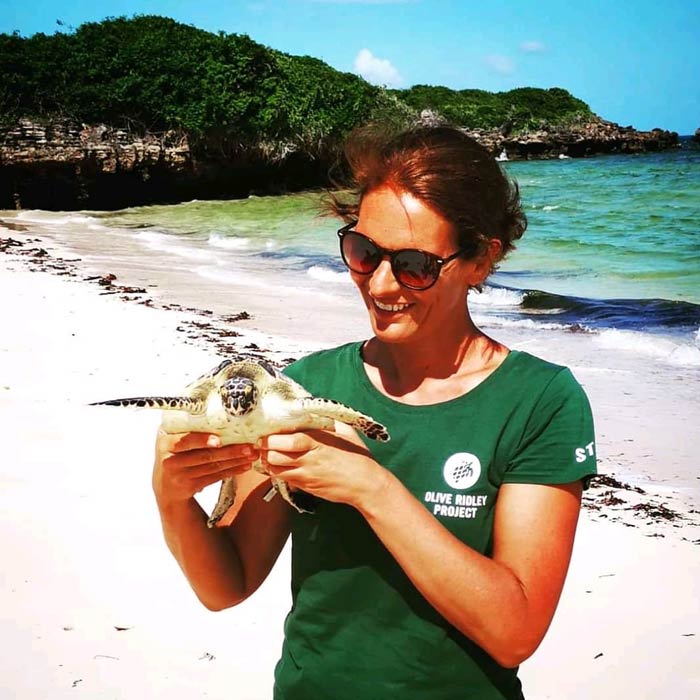 As I started my career as a sea turtle biologist, one of my mentors shared with me this quote that defined my path in conservation science: "At the end we conserve only what we love; we will love only what we understand and we will understand only what we are taught". Sea turtles are fascinating animals and it's a never-ending process of learning and teaching. Science has provided beautiful insights on these species' complex lives and with threats to them ever increasing in a changing world, science is paramount to their conservation.

Dr. Joana Hancock,
BSc in Marine and Freshwater Biology, MSc in Conservation and Biodiversity, PhD in Biodiversity, Genetics and Evolution
Leah Mainye, Sea Turtle Monitoring Assistant
Leah Mainye from Kenya joined ORP at the end of 2019 as a Sea Turtle Monitoring Assistant at Dianin Beach Kenya. She spends most of her time under water, researching the local sea turtle population.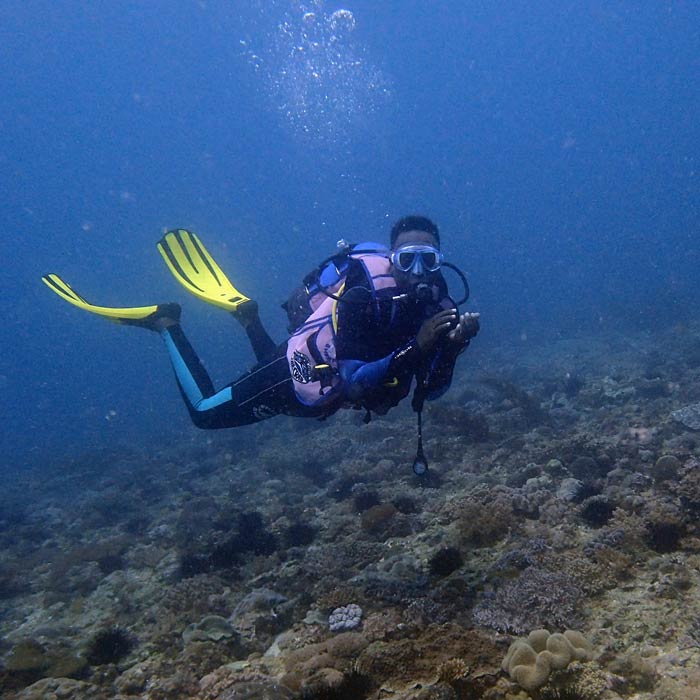 My decision to join science I'd say was majorly driven by my desire to be unique, to delve into places others have been scared to and to want to leave a legacy someday.

Just the idea of being in a field that had for long been considered a "male" field thrills me. Knowing that I am part of the small percentage of women in science gives me unprecedented sense of satisfaction. Knowing that our effort and contribution as women in science is recognized is motivation enough for me to keep pushing hard. Hard enough to motivate some little girl somewhere to pursue this field, hard enough to know that my dream of leaving a legacy will someday be realized.

As a BSc. Marine Biology, my favorite part is particularly inclined to the marine environment as you'd guess. In all these, as a Sea Turtle Monitoring Assistant with the Olive Ridley Project in Kenya for 3 months now, I'd say I am beyond excited and can see myself achieving my dreams. (e. g saving the marine lives and conserving the endangered species).

Leah Mainye,
BSc Marine Biology
Dr. Stephanie Köhnk, Researcher
Dr. Stephanie Köhnk joined ORP from Germany as our first in field Sea Turtle Biologist in the Maldives. She now focuses on research.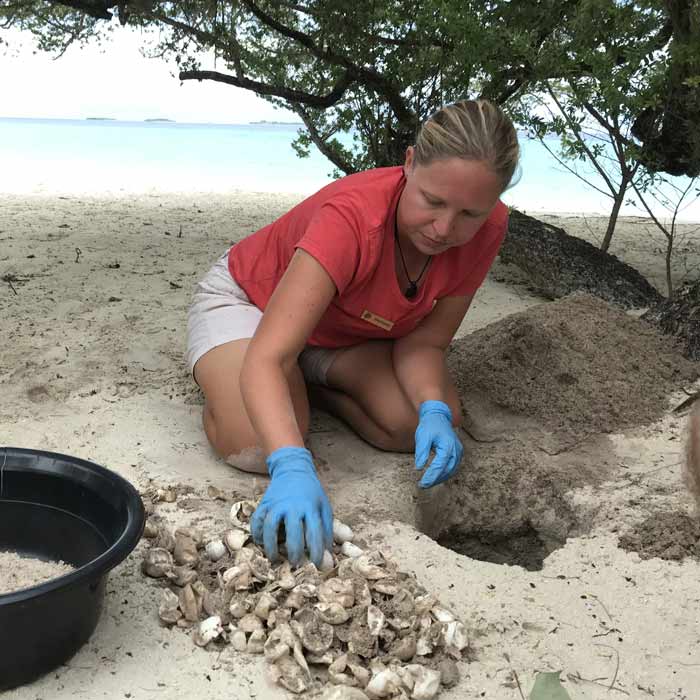 I have always wanted to go into science, specifically biology. Nature has always fascinated me, how all the creatures work & live their lives. Biology gives us the opportunity to understand this, their anatomy, physiology and behaviour. It does teach you to see details that you might not look for otherwise. Since I want all of it to still be around in 100 years, I developed an interest in conservation. I'd recommend science and STEM for everyone, regardless of gender or cultural background. We need diversity in science because different perspectives and ways of thinking will help us tackle the big questions and challenges we are facing.

Dr. Stephanie Köhnk,
BSc, MSc & PhD in Biology (functional morphology, crustaceans)