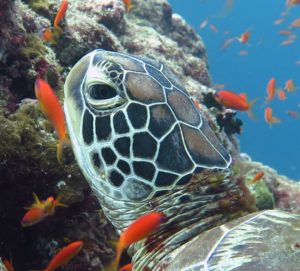 Sea turtles have been around for a really long time – since before the extinction of the dinosaurs 65 million years ago!  Sea turtles, also known as marine turtles, can be found in the waters of all the planet's oceans, except in the Arctic.
There were once many species, but now we have only seven left: green, hawksbill, olive ridley, leatherback, loggerhead, kemp ridley and flatback. Sadly, six of the sea turtle species fall under IUCN's category of being at risk of extinction. The seventh species, the flatback, is not listed due to lack of data and needs more research.
Sea Turtle Facts – Everything You Need To Know About Sea Turtles
Below you will find answers to some of the most frequently asked questions we get about turtles.
c

Expand All
C

Collapse All
Sea Turtles FAQ - The Answers to All Your Sea Turtle Questions
Want to Learn More About Sea Turtles?
Enroll today for free!
Have a Question About Sea Turtles That We Have Not Answered?
Send us your question and we will do our best to give you an answer!
(We will answer and publish all question on this page.)