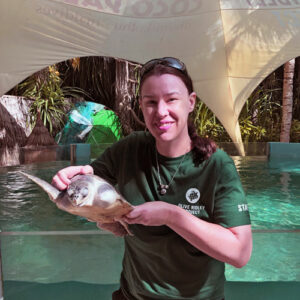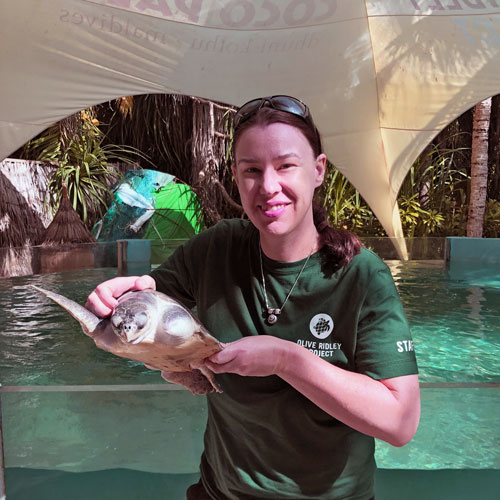 Dr. Jackie Reed was ORP's Resident Veterinarian at the Marine Turtle Rescue Centre from May 2019 to March 2020.
Jackie is from Melbourne, Australia, but has lived all over the country and in different parts of the world.  Always knowing she wanted to be a vet, her whole life revolved around animals.  Her love of the marine environment started during her first bachelor's degree in Animal Science, where every special topic was directed towards marine animals.
During her honours year project, she focused on bottle-nose dolphin and Australian fur seal behaviour in Port Phillip Bay. She also spent a humpback whale migratory season on board a research vessel in Hervey Bay where she helped identify individuals and document whale behaviour.
Jackie then began veterinary school at Murdoch University in Perth, Australia. While at veterinary school, she volunteered with the government. One of her jobs was to carry out necropsies on stranded marine animals along the Western Australian coastline.
Following vet school, Jackie became a zoo and wildlife vet. She worked for multiple organizations, including Australia Zoo, where she was able to treat and rehabilitate sea turtles. Furthermore, Jackie carried out post graduate education in wildlife and conservation medicine, spending time in California, USA, treating injured and stranded seals and sea lions.
Continuing to follow the path of conservation medicine, she has travelled to Africa to treat rhinos, Asia to treat pangolins and now to the Olive Ridley Project to treat sea turtles. She will continue to travel to where she can make a difference, helping endangered animals around the world.