Released
Atlas, Arrived 6th January, Released 24th February
Atlas had been impressing us for weeks with his perfect diving and resting on the bottom, and he was also active, alert and hungry with very good body weight. Not to mention, his cheeky little turtle self had constantly been stealing food from his big tank companions through sheer speed!

After some discussion amongst the team,we decided it was best to release him, as with time, his fully healed left flipper was bound to improve. Though he still hadn't regained complete function of his flipper, he had full sensation and his X-rays had come out well.
We watched him happily sail over the drop off with complete ease, escorted along the way by an inquisitive juvenile green turtle, which was a lovely moment to witness.
Tawny, Arrived 23 January 2022, Released 16 February 2022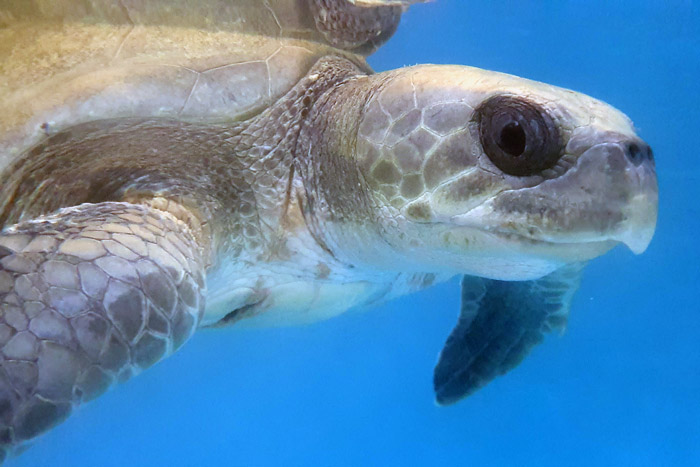 Tawny was released on 16th February 2022 after 24 days in care. She had some pretty big wounds upon arrival and had to undergo minor surgery. Once she was all healed up, and had started swimming and diving perfectly, we knew it was time for her to go home. We finished her final X-rays and on the day of her release, she sped off into the deep without an issue. We wish Tawny a long and happy life!
New Arrivals
Crwban, Arrived 8 March 2022
Crwban is a juvenile olive ridley who was found entangled in a large ghost net conglomerate (see image below) near Lux South Ari Atoll. The net had already claimed Crwban's entire front right flipper except for the bone (which is exposed) when he was rescued. Thankfully he otherwise seems in good condition but he is suffering from mild buoyancy syndrome. We are hoping to avoid surgery and will be managing his wounds carefully.
Crwban, pronounced Cruban, is Welsh for turtle. He was named by one of our volunteers. Although he is such a recent arrival he in not up on our website yet, you can still adopt Crwban by entering his name on the adoption form.
Minnie, Arrived 4 March 2022
Minnie is a juvenile hawksbill found with a significantly damaged left front flipper and a large external parasite burden. We X-rayed her upon arrival and were sad to see that her entire digestive system was backed up with faeces and grit like material.
We gave her a fresh water bath overnight to remove all the parasites and this worked very well. She was put back in salt water after which she passed some faeces and even began eating prawns. Luckily, her left flipper is salvageable, and with some good food, rest, antibiotics and wound care, we are sure she will make an excellent recovery.
Cleopatra, Arrived 25 February, Deceased 5 March 2022
Cleopatra arrived from quite far north in the Maldives, and was found with significant buoyancy issues and a broken jaw. Despite intervention, including draining the excess air, complete stress reduction and also managing to get her to eat, she passed away abruptly on the morning of the 5th. It's devastating as always, but unfortunately we know all too well how fragile these highly buoyant distended turtles are and despite everything, we often find that they suddenly die. We will conduct her post mortem as soon as possible.
Autumn, Arrived 22 February 2022
Autumn is a sub-adult olive ridley who was found in a large ghost net in Baa Atoll. She came to us with complete loss of her left flipper and exposure of the humerus bone. Her right flipper had a deep healing ligature wound, one that seems to have damaged the underlying bone as she was unable to use her flipper completely normally.

We performed surgery on her left flipper to remove the remains of the stump and that went very well. Though she was mildly buoyant on arrival, she can now rest at the bottom of the tank. She has started swimming and diving as well, and though her right flipper will need more time for wound care, her prognosis looks great. We are hopeful that we will be able to get Autumn back into the ocean pretty soon.
Leonardo, Arrived 14 February 2022
Leonardo is a subadult olive ridley who was found severely entangled in a ghost net. His left flipper bone was sticking out, while his right front flipper wasn't moving very much, possibly due to pain or an injury from flapping. He came to us very weak and underweight with a very severe skin infection, but thankfully he responded to treatment fairly quickly and even started to eat soon enough!
Over the last two weeks, Leonardo has made great strides with a significant improvement in his demeanor and his skin infection. He is eating tuna well now and the remains of his left flipper is actually healing very well so we might be able to avoid surgery. Unfortunately his right flipper remains a real issue, and we are unable to determine the cause. He has significant swelling of the joint but no radiographic changes, so we continue to treat symptomatically and will encourage him to use it with physio and with our feeding techniques!
The Resident Patients
Izzy, Arrived 7 February 2022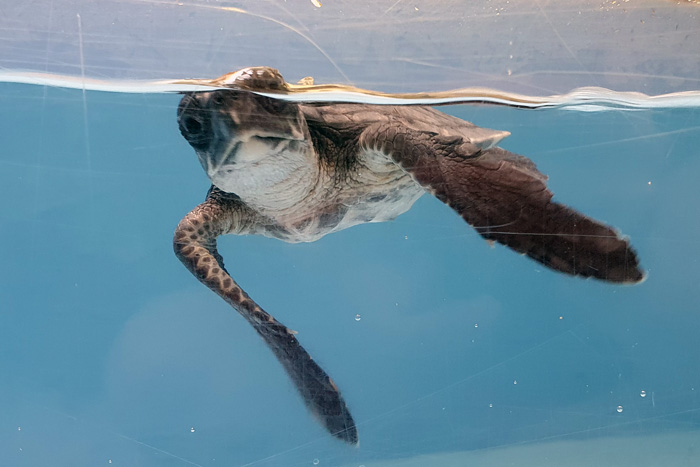 Izzie started showing his feisty personality after the first course of treatment. He had started diving, and speeding around the tank looking for food. Only recently, over the last two weeks has his appetite wavered and he seems to have become a little lethargic. Since his X-rays are still good, we believe he may be dealing with intermittent bouts of constipation due to his damaged cloaca. However, once he's able to pass the blockage, he is generally back to normal! We will continue to monitor him closely but the good news is that overall Izzy is able to maintain a decent appetite and has settled well at the rescue center.
Zeo, Arrived 23 January 2022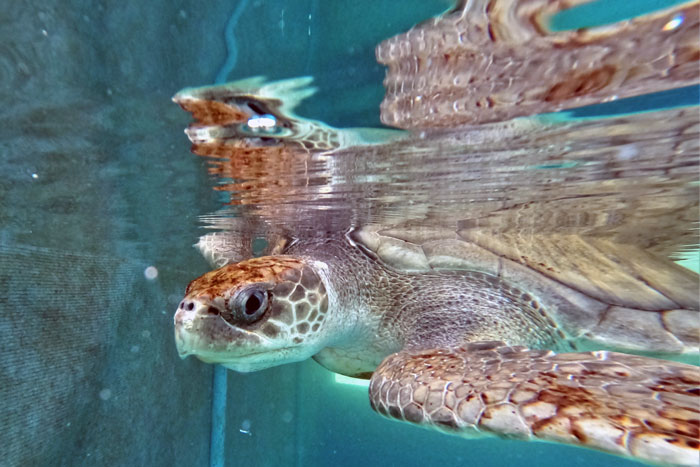 Zeo has been doing his absolute best to dive and this week he managed to reach the bottom of the tank before he pinged back up! We are really pleased with his progress and will continue to monitor him at our Rehabilitation Centre as he recovers. For now, he hasn't shown any signs of other health issues and he is eating well.
Kalo, Arrived 20 January 2022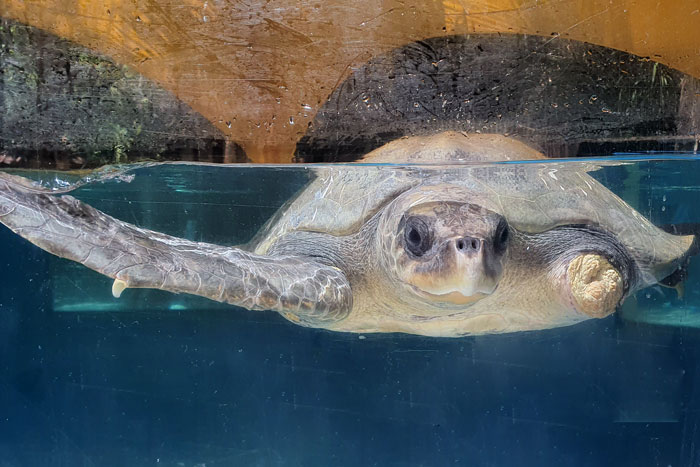 Last month, Kalo underwent surgery to clean up all the dead tissue on his left flipper. We were so hopeful that we could save it, as he did have moderate function, but we were still concerned by how much of his humerus bone was exposed (nearly 80%). However, after a successful procedure and a smooth anaesthetic, he woke up very vigorously and in a freak accident, he put a lot of pressure on his left flipper and snapped his exposed humerus. We were devastated and had to re-anaesthetise him again to amputate the rest of the flipper. Unfortunately there was not sufficient tissue to close the wound over, so we are now managing this as an open wound.

Thankfully, Kalo has picked up strength in the last two weeks. His left amputated stump is healing surprisingly well, but we are still monitoring it closely since there is significant bone exposure. We will be repeating his X-ray in the next few days to assess the flipper again. His right flipper wound, which was a big concern when he started, has healed very well in a relatively short space of time with the combo of good nutrition, wound care and antibiotics, plus a hefty dose of sea turtle's natural amazing healing abilities!

He has been moved to the big tank in order to give him more space to practice diving and he seems to be handling life with Jodie and Pickle quite well. He is also finally eating tuna now instead of just prawns, and with increasing strength in that right flipper, he has been attempting a few dives.
Sumo, Arrived 10 January 2022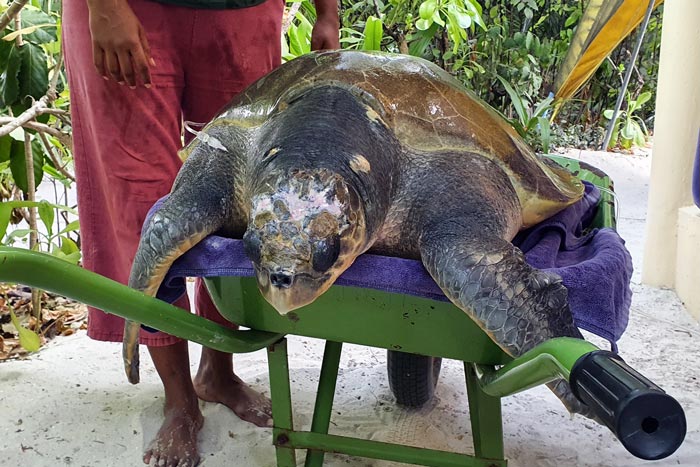 Sumo was given an injection of oxytocin earlier this month, to try and induce her to lay her eggs. Although it did send her into a very trance-like state, she sadly didn't pass any eggs. She remains stable but is still not eating and is unable to dive. We will attempt this again after a while, in a slightly different set-up to see if that aids her in passing some of these shelled eggs.
In some good news, we were finally able to see a breakthrough, since after weeks of refusing to eat, Sumo finally ate a prawn consecutively for 2 days! She was also able to reach the bottom of a medium tank, if only for a quick moment! Her follicles remain approximately the same size so we are keeping an eye on those. In general her demeanor is still a bit subdued, with massive bouts of activity. She proves to be a challenging case but so far there is nothing else wrong with her that we can identify, so we are just monitoring closely and encouraging her to eat.
Jodie, Arrived 9 January 2022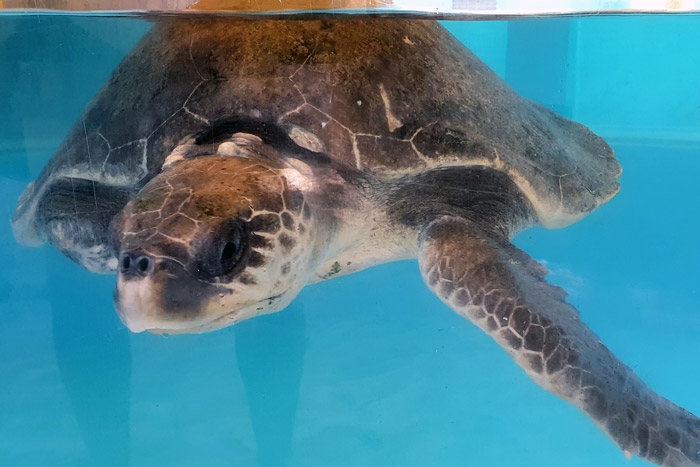 Jodie is such a delightful turtle! Her follow up X-rays showed that her wrist infection has stabilised and is improving. She is also diving so much better through the last couple of weeks and having spent some consistent time in the big tank, she is able to slip under the surface with increasing ease day by day. She is incredibly food motivated and will speed around the tank in an attempt to steal everyone's food, although she isn't as quick and mobile as Atlas for now!
We will repeat her X-ray a week after her medications run their course by the middle of this month. Once she has nailed her diving (she is already about 95% of the way there!) and has gained sufficient weight, we will release her!
Pickle, Arrived 10 December 2021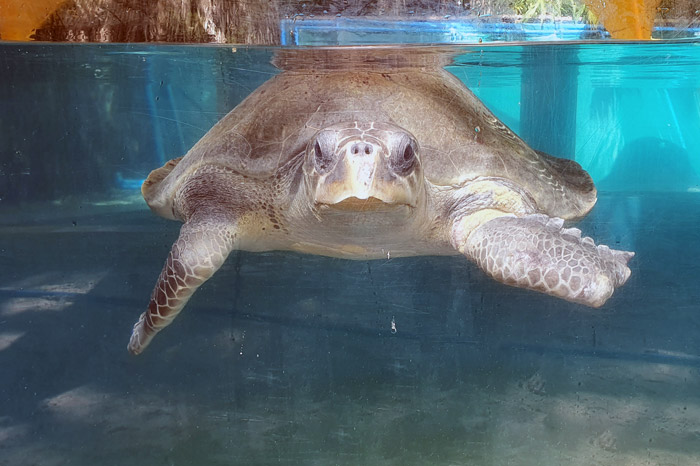 Pickle has been happily co-existing with Atlas and Jodie, and although she is very slow and cumbersome when she dives, she is able to comfortably rest at the bottom most of the time now, which is great news. However, an X-ray of her shoulder and an ultrasound earlier this month did reveal significant abnormalities to her shoulder joint, with large abnormal fluid pockets appearing around it. It was hard to ascertain if this was due to a moderate dislocation or something else, but she only has very small amounts of movement in a downwards position.
Over the last few weeks, there has been a gradual improvement in Pickle's right flipper, though she still seems to be struggling. She is generally a bit quicker, more mobile and is cruising around the bottom of the big tank, picking up bits of food that the rest of her tank mates can't catch. Since she is a bit slower than everyone else which means she needs special attention at feeding time, but overall we are happy with her progress.
Tibby – Arrived 26 July 2021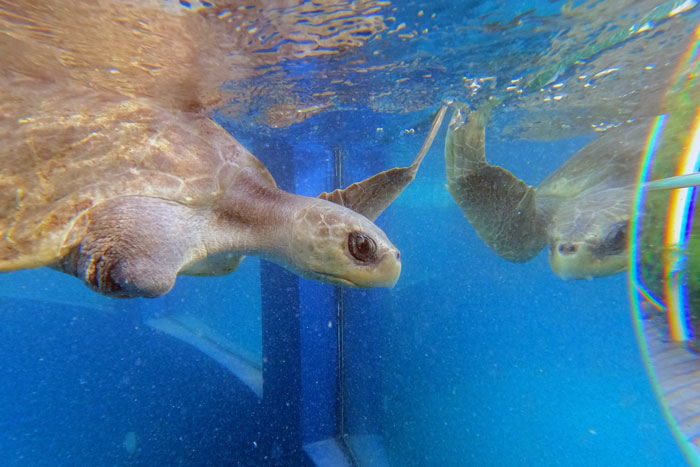 Tibby continues to be stable. We are hoping to take her out on some sea swims again to assess her, but unfortunately it does appear that she is going to significantly struggle to swim. We continue to remain hopeful, but realistic to the prospect that she may not be releasable.
Xena – Arrived 1 November 2020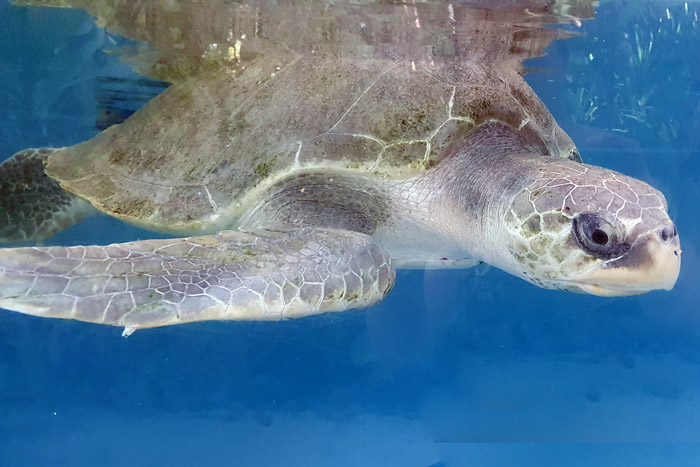 Xena was moved to a larger tank recently but to make up for all the time she spent cooped up for the past couple of weeks, we decided to take her out for a couple of sea swims. This also gave us a chance to monitor her flipper usage.
To our delight, Xena performed incredibly. Despite the intermittent issues with her shoulders, she demonstrated completely normal function while out swimming in the sea, and could dive with increasing ease. Even post-swim, she was able to maintain good flipper usage without any reduction that could have occurred due to exertion.
We took her out on a second sea swim, and though the water was very choppy, Xena did exceedingly well, impressing us all! She is eating happily, consistently sitting much lower in the water and with time, her shoulder issue seems to have settled as well. Safe to say we are quite confident that we can release her in the coming months!
Discovery – Arrived 7th February 2020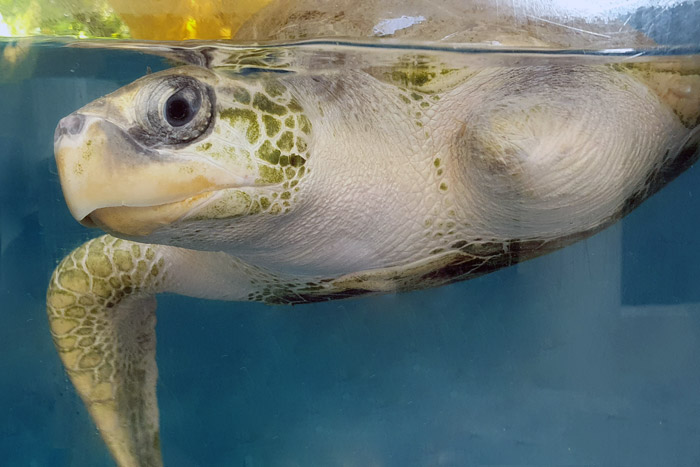 Disco is doing well; always continuing to be her best self by trying to dive. She has also been eating regulalry, making minimal mess, impressing all of us here at the Rescue Center.
She had to temporarily share a tank at one point with a divider across, but we think her tank mate might have tried to bite her face, as she has a little scratch near her eye. However it doesn't seem to have bothered her and she is healing fine.
Heidi – Arrived 21st April 2018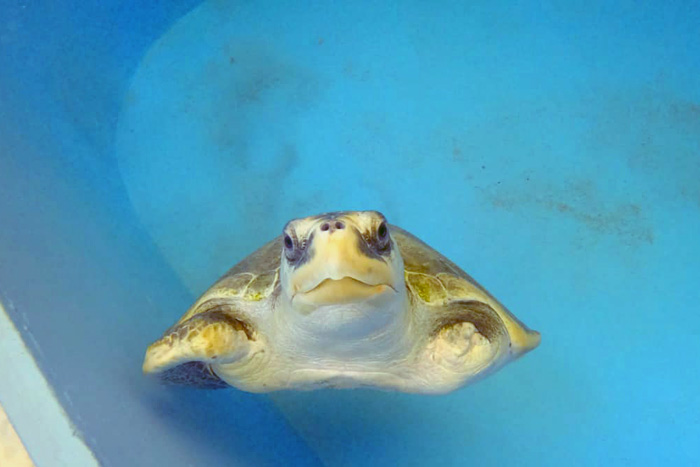 Heidi is doing great, generally pretty active and alert with a massive appetite. We are making good headway with getting his import and export certificates; we are working closely with the aquarium in the UK to get this sorted as quickly as possible!
Transferred
Biscuit, Arrived 16 December, Transferred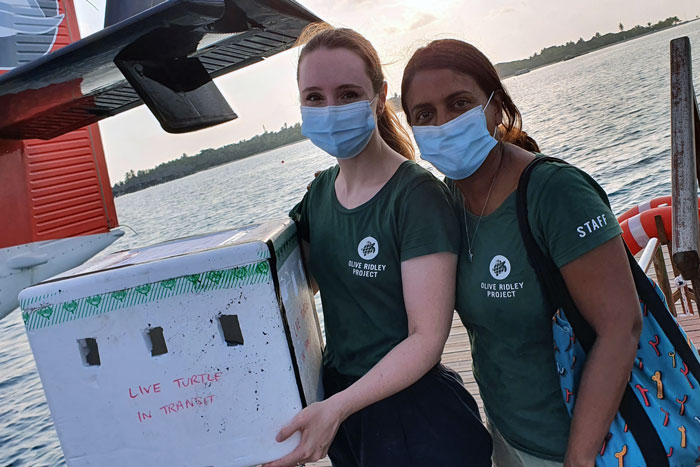 Biscuit was doing amazingly well and also figured out how to rest on the bottom! This was wonderful to see as it means she can exhibit some of her natural behaviour – and it is not an easy thing to do when you're missing 3 flippers! We were quite impressed at her resolve. As she no longer needed veterinary care, just time in a safe environment, we transferred Biscuit to our friends at Atoll Marine Centre in Lhaviyani Atoll to make room for a critical patient in need of immediate veterinary care. She traveled well and reached her new tank safely only a few hours later, ready to chow down again! We took her on one big sea swim the day before she left and she did so well considering how challenging it is for her with only one working flipper.
Deceased
Mariyambu, Arrived 29 January 2022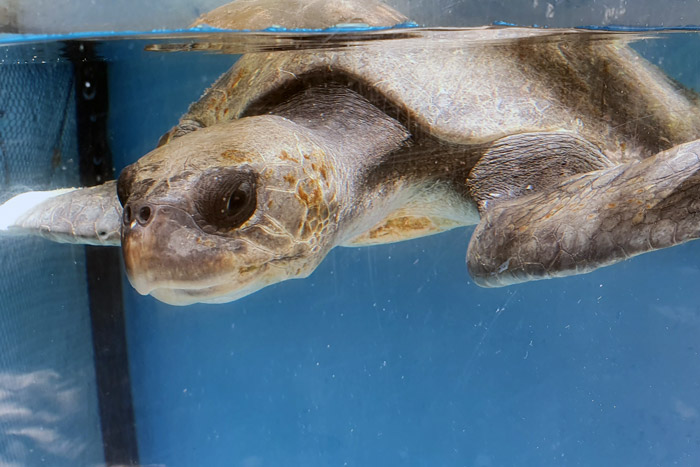 Mariyambu tragically passed away last week, which unfortunately hit the team hard as we had put so much effort into trying to save her over the last few weeks. However she ended up having one of the most serious surgical reproductive issues Dr Minnie has seen so far in our turtle patients. It turns out her left oviduct (the tube that the eggs travel through) had developed a huge infection that was filled with old rotting shells and eggs, weighing at least 500g. It's unclear how this developed but we suspect blunt trauma resulted in a hole forming in the suspensory ligaments, that then part of the oviduct fell through and became trapped and cut off, resulting in the eggs being unable to pass normally.

Unfortunately the procedure was very challenging, and Mariyambu lost blood due to the challenge of visualising the arteries that supply the ovaries. Between that, the severe sepsis from her infected reproductive tract, and her poor metabolic and nutritional state, Mariyambu was too weak to pull through. She did not wake up from anaesthetic, despite Dr Minnie being able to get her back once with adrenaline and manual ventilation.
It's always a tragedy not being able to save reproductively active adults but we are glad she is no longer suffering.