Turtle Patient 177: Izzy, Post-Hatchling Olive Ridley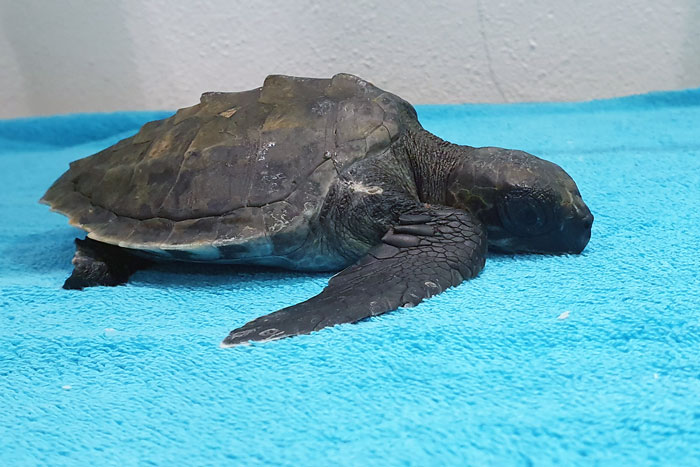 Izzy was found floating near a jetty at Anantara Resort in South Malé Atoll. Babies of this size should be out in the open ocean, so we knew something wasn't right straight away.
The Vitals
Intake Date: 07 February 2022
Patient Number: 177
Rescue Location: South Malé Atoll
Reason: Found floating
Transport Method: Seaplane
Status: Deceased 20 March 2022
Species: Olive ridley
Scientific Name: Lepidochelys olivacea
Sex: Unknown
Age: Post-Hatchling
Length: 12 cm
Weight: 196 g
The Adoptive Parents
Izzy has kindly been adopted for Anas and Izzy, by Petra Schneider, Kat & Jes, and by Sara Capeti.
Izzy's Story
Izzy is a very young juvenile olive ridley; he is only 12cm curved shell length and weighs 196g. Babies of this size should be out in the open ocean, not in the shallows of the atolls. Izzy was very weak on arrival, and had a well healed partial amputation of some toes on the back right flipper and a large thick scab over his tail and cloaca that was occluding all passage of faeces. He has received fluids, antibiotics and pain relief.
This morning he needed help from Dr Minnie to pass 4 substantial pieces of plastic, and we can tell he is already feeling more comfortable as he has started to eat. Yesterday he refused. Although he is still very quiet an subdued, we are making sure he is comfortable with a cosy bed of seagrass to rest on, and we are hopeful he will be able to make a full recovery.
13 February 2022
Izzy arrived at the beginning of the week and was very weak and minimally responsive. We removed a large scab blocking his cloacal and gave him pain relief and antibiotics. Once the scab was gone and all meds were on board, he started to feel much better and became more active and alert. He started eating and was then able to pass faeces, which, unfortunately, contained a lot of tiny pieces of microplastic. We will be monitoring him closely to ensure it all comes out. He also started diving yesterday and eats from the bottom.
20 February 2022
Izzy, our youngest and smallest patient is quickly becoming the feistiest! He has bounced back extraordinarily well following treatment, and went from a weak, lethargic and uncomfortable baby to one who is now speeding around the tank looking for food and diving really well! He is still passing small pieces of plastic intermittently but this has decreased in frequency. Now we just need to get more weight on him as he is quite skinny, and continue to monitor his faeces.
6 March 2022
Izzy has been having a couple of slightly tough weeks with intermittent lapses in his appetite and becoming a little lethargic. His X-rays are still good, but he does get a bit bunged up with faeces due to his damaged cloaca. While that heals, we may be dealing with intermittent bouts of constipation. Once the blockage has passed, he is generally back to normal and overall he still maintains a good appetite and is settled, so we will continue to monitor him closely.
13 March 2022
Izzy has been really struggling this week, with very little interest in food and generally being very lethargic. There is a plug of material that will not shift from the end of his cloaca – likely a large piece of plastic. We are tube feeding him high energy food, giving him fluids, pain relief and regularly trying to clear out the blockage. He did start to show interest in food towards the end of the week but he wouldn't fully swallow it, just chew it a few times. We are working very hard to get him feeling back to his normal active and happy self.
20 March 2022
Izzy tragically passed away today. After initially arriving very weak and unwell, he responded incredibly well to treatment, and passed a huge number of small bits of plastic. Unfortunately, he hugely deteriorated in the last 2 weeks. despite multiple treatments, including fluids, pain relief, antibiotics and tube feeding, he succumbed to his illness.
On post mortem we found that the very end of his colon was severly dilated with faeces, bruised and damaged. His bladder (which in turtles is connected to their cloaca) was filled with damaged tissue and his cloaca was damaged and inflamed. We think the plastic ingestion caused significant trauma within his large intestine and colon and that this led to a lot of dead tissue which built up and caused a blockage. It's so incredibly sad and frustrating to have seen him respond so well to treatment to then lose him like this. It is also devastating to see that such a young turtle (he was likely only between 2-4 months old) had eaten so much microplastic.