Turtle Patient 175: Tawny, Sub-Adult Olive Ridley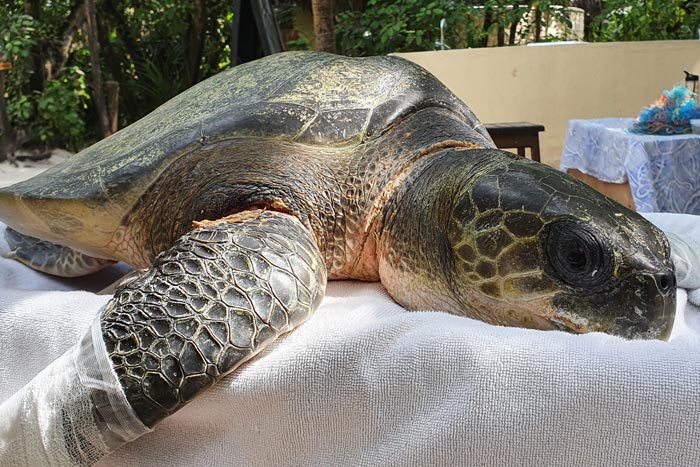 Tawny was found entangled in a ghost net at Kuredu Resort in Lhaviyani Atoll with severe constriction wounds.
The Vitals
Intake Date: 23 January 2022
Patient Number: 175
Rescue Location: Lhaviyani Atoll
Reason: Found entangled
Transport Method: Seaplane
Status: Released 16 February 2022
Species: Olive ridley
Scientific Name: Lepidochelys olivacea
Sex: Unknown
Age: SubAdult
Length: 66.5 cm
Weight: 24.1 kg
The Adoptive Parents
Tawny has kindly been adopted by Lisa Tritschel.
Tawny's Story
Tawny, sub-adult olive ridley turtle, was found in a ghost net in Lhaviyani Atoll. She has constriction wounds to her front flippers and her neck, and her back right flipper has been badly constricted and is dying off. We will need to perform surgery to remove the rest of that bone and to clean up her wounds. Luckily she has no buoyancy issues and she has already shown interest in food after a long stressful journey here, so she is a real trooper!
30 January 2022
Tawny underwent anaesthesia this week to clean up her neck and flipper wounds and to amputate a small portion of her back left flipper. Everything was going great until when in recovery she seemed to develop some kind of muscular damage, that resulted initially in complete stiffness of her front right flipper and inability to use it. Thankfully, with some time it does seem to be slowly returning to function. She is able to dive very well and she is happily eating tuna. She will likely need follow up surgery at a later date to remove more dead tissue from her neck, as this wound was fairly severe.
6 February 2022
Tawny is doing brilliantly; she has regained almost 80% use of her right flipper. Although we aren't sure what triggered it, thankfully time and space has sorted it out. Her wounds are looking really good and she is diving very well. As soon as she is 100% healed and her flipper usage is back to 100%, will be able to release her!
13 February 2022
Tawny is doing really well. She is active and alert and resting on the bottom almost all day. We did her final X-rays today and everything is looking good so we will clear her for release next week!
16 February 2022
Tawny was released today and is back home where she belongs!