Turtle Patient 168: Jodie, Adult Female Olive Ridley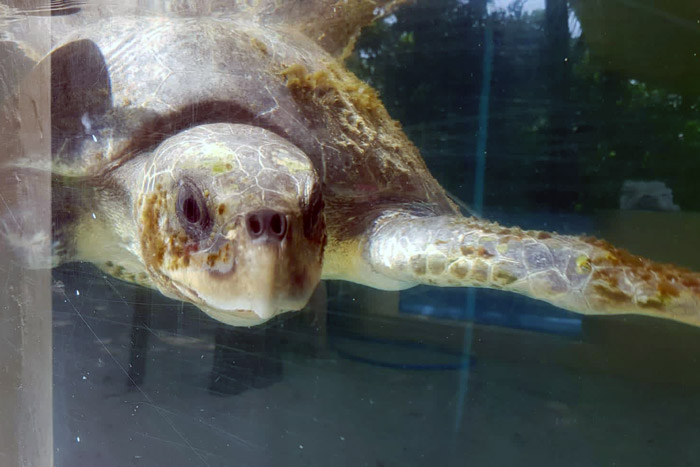 Jodie was found floating in the open ocean in Baa Atoll with two healed amputation wounds from ghost net entanglement. She was rescued by staff from Finolhu.
The Vitals
Intake Date: 9 January 2022
Patient Number: 168
Rescue Location: Baa Atoll
Reason: Found floating
Transport Method: Speedboat
Status: Released 22 March 2022
Species: Olive ridley
Scientific Name: Lepidochelys olivacea
Sex: Female
Age: Adult
Length: 66.5 cm
Weight: 24.1 kg
The Adoptive Parents
Jodie has kindly been adopted by Christina and Martin, the Zaprel-Toth Family, and for Matilda by Maddi Paull.
Jodie's Story
Jodie is a large adult female olive ridley turtle that was found floating in the open ocean with two healed amputation wounds from ghost net entanglement. She is dehydrated and underweight but otherwise seems OK. X-rays reveal no major abnormalities. She can't dive yet but given that she is missing the front right and the back left, it is likely that she will be able to swim properly and be released. We will watch her closely.
16 January 2021
Jodie is a lovely patient! She is very calm and amenable and has had a wonderful appetite right from the get go. She is very underweight at only 24 kg when she should be at least 30-35 kg, but she is doing her best to fix that with 200 gr of tuna twice a day!
She finally finished her X-ray series and it is apparent, as suspected from her clinical exam, that she has an infection in the wrist of her remaining front flipper. Thankfully this has likely only recently developed and she was found in the right time frame for us to fix it. She has started a course of antibiotics and anti-fungals, and she still has 100% normal function so it shouldn't get in the way of her regaining her diving abilities.
23 January 2022
Jodie has been on medication for her wrist infection and she is taking it fine. She is pretty active and attempting some good dives and we are also happy with her progress and her appetite!
30 January 2022
Jodie is very well – very active and alert and eating huge amounts regularly! She is about the same in her diving ability: She can pull herself under for food but is still a bit too weak to do it for anything else. She has gained a small 300g since arrival, but we expect that will increase by more as we go along. She is on treatment for a bone infection and will have follow up X-rays next week.
6 February 2022
Jodie has been moved to the big tank with Atlas and Pickle and she is loving all the space. She can zoom up and down the middle and is getting better at diving already with all the room she has to practice. She has gained nearly 1kg since she arrived which is great, and she is responding well to her medication for her bone infection.
13 February 2022
Jodie is such a delightful turtle! She is diving so much better this week having spent some consistent time in the big tank. She now finds it much easier to get under the surface, especially if there is food in the equation. She is gaining weight nicely and her follow up X-rays showed that her wrist infection has stabilised and is improving.
20 February 2022
Jodie is still an absolute delight. She is getting better and better at diving now, able to slip under the surface with increasing ease day by day. She is incredibly food motivated and will speed around the tank in an attempt to steal everyone's food, although she isn't as quick and mobile as Atlas (for now!)
6 March 2022
Jodie is going from strength to strength! We repeated her X-ray and are happy to report that her wrist infection still appears stable with no major deterioration or progression. We will repeat her X-ray a week after her medications finish in the middle of this month. Once she has nailed her diving (she is already about 95% of the way there!) and has gained sufficient weight we will release her!
13 March 2022
For the first time ever, Jodie was finally able to rest comfortably on the bottom of the tank! This is very exciting and combined with her now finishing her medications, this means we are on the home stretch! She needs a follow up X-ray in 1-2 weeks to ensure her wrist infection has resolved, but once she has received the all clear, it will be a matter of time before she can go.
20 March 2022
Jodie she has been off her medications for one week and recently had a follow up X-ray of her wrist. And everything is looking good! She has gained a good amount of body condition too, and she is looking much healthier and happier. She is still eating a huge amount in preparation for her release, which won't be too long now, and we are so excited to be able to return her to the ocean.
22 March 2022
Finally after 72 days at the Rescue Centre, we released Jodie from the beach today! It was a wonderful feeling to watch her swim over the reef and back home into the big blue.