Turtle Patient 178: Leonardo, Sub-Adult Olive Ridley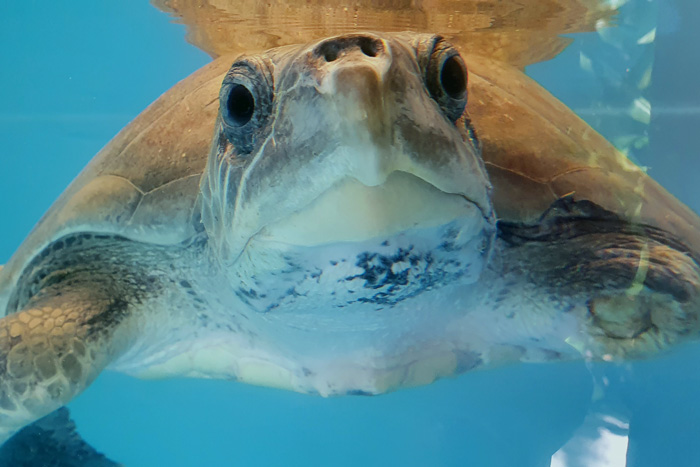 Leonardo is a subadult olive ridley turtle who was found entangled in a large ghost net in Lhaviyani Atoll. Our friends at the Atoll Marine Centre could see he needed veterinary care so they called Dr Minnie right away so she could arrange a transfer to the Rescue Centre. 
The Vitals
Intake Date: 14 February 2022
Patient Number: 178
Rescue Location: Lhaviyani Atoll
Reason: Found entangled
Transport Method: Seaplane
Status: Deceased 8 February 2023
Species: Olive ridley
Scientific Name: Lepidochelys olivacea
Sex: Unknown
Age: Sub-Adult
Length: 59 cm
Weight: 14.7 kg
The Adoptive Parents
Leonardo has kindly been adopted by Vitoria, by Gill, Mike & Guy, Corina, Manuela Mair, Isabelle Pöhler, for Elisabeth & Norbert by Karolin, by Sabine & Michael Abelem Christine Küper, Ingrid & Manfred, by Sarah, for Thomas & Natalie by Falko Sperling, by Louis, Maëva, Audrey, Hervé, Eliane & André, Claudi & Tom Miller, Jon, Turtlee Green, Anna Waite, for Max by Claire Martin & Max Luehrs, for The Ernst Family by Patricia D Gorton, by Nadine, for Frank by Anja Bogen, for Sabrina by Hardy, by Andreas Bauer, for Diana by Victoria Kiely, by Ulrike, for Simon by Holly Shapter, for chistopher by Dara, by Knox Vega, for Colton by Courtney Berg, for Marshall Ducote & Family by Denise Ducote, by Susie & Benji, for Brooke by Pamela Stefancic, by Nadia Villarreal, for Sharon by Samuel Mongelluzzo, for Kate by Katie O'Grady, by Melissa Zarf, for Teresa, Carmen & Natalie by Sandra, by Nash Ozolin, by Harlow & Elizabeth, fro Asher by Courtney Relyea, by Cate, by Isabelle Tamara & Jonas Altvater, for Zissou by Joshua, by Ana & Álvaro, Maggie, Maike, Bruce, Jamie Harrhy, Abbey, Alexandra, Vicky Word, for Patricia by Kim Hyde, fro Dad & Brooke by Julian Shepherd, by Mitchell Dudas, James, for Stephen, for Alexa by Tred Hulse, for Ryder & Rory by Jessica Walter, by Harper Smith, Marie Baker, Cody Iserman, Vivienne R Strate, Julea & Justin, Kathryn Stewart, Michelle Washington, Sydney Brengel, Makenzie Cryer, Barbara Douglas, for Jaden by Kristy Noel, by Collin & Deborah, Sarah, for Joey, by Lynn Peter, for Amanda by Amy Carder, for Charlotte, for Adeline by Douglas Thornton, by Erin & Nell Mary, by David Adair, Lara, Darcy, for Flynn by Erica Cozad, by Alexa, Sienna Reif, Andrea Rosado, Oliver Pires Santos, Janet Fiore, for Penn by Jennifer Blaha, by James Stage, Echo Dimitri, Brooke, Amber, Helena, Adrianna, for Julie & Michael by Nicola, by Rhianna, by Ella & Iestyn Spear Essery, for Asta by Lau, by Bradley, Gwenno & Sam, Biagio, Blair Bowers, Henry, Brendan Watkins, Haley, for Rachael by Adam Ross, by Sandra Gans, Kathi Sommer, Brody Powell, for Jaxon by Julie Harris, for Amber by Jan Novotny, by Cayla, Averi Fernandez, for Emma by Marc, for Lisa by Stephan, for Alex by Lora, by Liam, Terry, Amelia, Kevin Klein, Rémi Chauvet, for Lavinia by Marius Husar-Vastag, Grace, Tadhg Fay, Biagio, for Josh by Jerry, by Katherine Zhong, Dominga De Lucia, for Jake by Emily Cruse, by Klynn, Luis, Davian, Peyton, Christopher & Piper, Kimberly J Jacobson, Emma, Thomas Haines & Amy Fanning, Paula, Thom Verhagen, Kirsten, Missi Anne O'Connell, Joyce Cooper, Amy Siviglia, James Jeffery & Chris Harris, for Sami & Emily by Lisa Fosnot, by Sam, Casey & Liam Dickson, Elena Bauer, Jennifer Bryant, and by Emily & Zilong.
Leonardo's Story
Leonardo is a sub-adult olive ridley turtle found entangled in a large ghost net in Lhaviyani Atoll. He has severe exposure of his left humerus bone and an extensive skin infection all around his shoulders, face and neck. He is very underweight and weak but he still has some fight left in him. Thankfully, his other three flippers are OK. Once we have stabilised him, we will take him to surgery to remove the remains of his humerus bone.
20 February 2022
Leonardo is responding to treatment and has started to eat. He has a very long way to go but we are slowly starting on the road to recovery.
6 March 2022
Leonardo has made great strides these last 2 weeks with a significant improvement in his demeanor and his skin infection. He is eating tuna as well now, and the remains of his left flipper is actually healing very well so we might be able to avoid any surgery. Unfortunately, the right flipper remains a real issue, and we are unable to determine the cause; he has significant swelling of the joint but no radio-graphic changes, so we continue to treat symptomatically and will encourage him to use it with physio and with our feeding techniques.
13 March 2022
Leonardo is now looking 100% better, with almost full resolution of his dramatic skin infection. He is also diving very well but only with his back flippers. We still haven't been able to get to the bottom of why he won't use his front right flipper and the time has now come to anaesthetise him for a full examination and manipulation, plus special X-rays. Hopefully this will allow us to determine the cause. Thankfully he is eating well and swimming well.
20 March 2022
Leonardo's skin has completely resolved but his flipper usage was still zero. We gave him a short anaesthetic so that we could fully examine and feel it. He has markedly reduced range of motion and on X-ray and the head of his humerus (main flipper bone) has started to degrade, which has happened rapidly in only 3 weeks. It is still uncertain whether this is due to a serious bone infection or due to a prior dislocation that has now resulted in the degradation of the joint. We have started him on anti-inflammatories and we are continuing pain relief but unfortunately his prognosis has worsened.
27 March 2022
Leonardo is still not able to move his front flipper at all. We have finally managed to start him on some anti-fungal medication which we use with bone infection cases, as fungus can be implicated commonly in sea turtles. However, we are still sad to see that he can only swim with his back flippers. He remains on strong pain killers and will be closely monitored visually and via X-ray. He is at least full healed now with regards to his skin, and he is eating very well.
3 April 2022
For the first time, Leonardo moved his right flipper this week! We noticed him doing little movements to reach his food for 2 consecutive days, and this is very exciting! He still doesn't have good function, but it is a tiny move in the right direction. On examination, there is also a palpable reduction in the swelling over the top of that affected shoulder. He will have repeat X-rays next week to assess how the damaged shoulder joint is progressing.
10 April 2022
Leonardo is very slowly but surely improving. His little flipper twitch has become more of a flipper sweep and we are noticing more and more movement in that joint. We repeated ultrasound of his flipper and, unfortunately, the joint has completely deteriorated. However, we think that with the correct treatment, he will be able to form a secure pseudo joint that will allow him still to move the flipper.
24 April 2022
Leonardo has started using his flipper and his range of motion is now much better than how it was previously described. However, we have not seen much diving behavior. We are considering to stop his pain relief to see how he copes.
1 May 2022
The range of motion of Leonardo's right flipper is not consistent, but he was seen diving several times this week. We will consider stopping his pain relief at some point to see if he copes well.
8 May 2022
Leonardo made significant improvement this week. As with Kalo, we started Leonardo on buoy training and he showed multiple successful attempts diving, however, only within the top quarter of the water column. The range of motion in his right flipper is much better than before – despite the fact that we stopped is pain relief medication this week.
15 May 2022
We had to temporarily stop the buoy training this week after Leonardo ingested a husk string from the buoy and defecated the string that was more than 10cm long! He continue to dive deeper during feeding sessions without pain relief on board!
22 May 2022
Leo has been diving voluntarily without encouragement to a level that covered his carapace completely. This is very encouraging!
29 May 2022
This week we started to see Leo at the bottom of the large tank–outside feeding times and without encouragement! He continues to eat well and is able to reach the bottom of the tank for food.
5 June 2022
Leo is resting at the bottom more often now and has no issue reaching food at different depths in the water column. Despite the tremendous improvement in his diving, he has gradually lost >50% functionality of his right front flipper over time. Repeat radiography and bloodwork revealed the degeneration of the bone at the right front flipper, which was a pre-existing finding in February this year that was thought to be a fungal origin. We have initiated the medical therapy necessary for him and will continue to monitor for changes in the right front flipper over the next few months.
12 June 2022
Leo continues to show good diving attempts, especially during feeding time. However, he hasn't been using his right front flipper this week. We will continue his medical therapy and monitor closely for progress.
19 June 2022
Leo voluntary tried to dive several times in the last week. He used his right front flipper in approximately 20% of his deep dive attempts and but with a good range of motion with each attempt.
26 June 2022
Leo is often seen resting at the bottom of the tank and is using his right front flipper more frequently now. The range of motion of that flipper is also excellent.
3 July 2022
Leo is able to dive but relies heavily on his rear flippers instead of using his front right flipper. However, whenever he chose to use his front right flipper to swim, the range of motion is great. He is currently on a course of antibiotics and antifungals, repeat diagnostics will be scheduled to monitor his progress.
10 July 2022
Leo is often observed at the bottom of the large tank with Crwban these days. We have been training him to use his right front flipper during feeding times and he was responding very well to the training.
17 July 2022
Leo now dives perfectly fine with good range of motion at the right front flipper when encouraged to do so during feeding time.
24 July 2022
Leo started diving better after we removed the divider in the large tank and he got more space. He is still using his right front flipper selectively. We use feeding time as a training opportunity for him to adapt to using his remaining flippers.
31 July 2022
Leo often refuses to dive after being moved between tanks during tank cleaning, but otherwise we see him resting at the bottom of the tank most of the tome. He is still relying on his rear flippers to dive and we are encouraging him to practice using his right front flipper during feeding time.
7 August 2022
Leo topped diving for a few days, likely due to stress from the movement between tanks for tank cleaning. He is otherwise very active during feeding time and spends most of the day peeking at Pepe on the opposite side of the tank divider. His recent X-rays revealed some improvement at his shoulder joint at the right front flipper!
14 August 2022
Leo has started diving again and is mostly found at the bottom of the tank! Dive training during feeding has certainly seemed to help. We are planning to take him on sea swim to assess his ability to use his right front flipper when he is exposed to currents in the ocean.
21 August 2022
The repeat X-rays of Leo's right front flipper and left stump taken this week suggest good healing progress. His diving also seems to be more consistent now. His course of medications will end in 3 weeks and we will focus on providing physiotherapy and sea swim sessions to get him prepared for his release.
28 August 2022
Leo is using his right front flipper more when made to dive for food, so now we are combining methods of feeding, making him dive and making him practice his turning so he must use his flipper. He is slowly making improvement, however, we feel a swim in the sea may kick start him into swimming properly.
4 September 2022
Leo really loves resting at the bottom of his tank – so much so that he needs convincing to come up for his breakfast and dinner.
11 September 2022
Leo's repeat X-rays this week showed slight improvement at his right shoulder joint. With this, the team has decided to stop both his antibiotic and anti-fungal course. We will be repeating his diagnostics fortnightly to monitor his progress and will start to bring him out for regular sea swims as a form of resistance training for him to practice using his right front flipper in the current. He is otherwise diving and eating very well in the large tank.
18 September 2022
Leo loves sitting at the bottom of the tank peeking at Pepe from the gap under the divider of the tank. He does not voluntarily use his right front flipper as much as desired, except when we train him during feeding time. We believes that he will benefit greatly from a soft release in a sea cage, where he gets more resistance training with natural currents.
25 September 2022
Leonardo continues to dive without much usage of his right front flipper–except when motivated to do so during feeding time. We will be focusing on more physiotherapy sessions in the coming weeks to improve movement of the flipper and check his right shoulder joint with repeat X-rays.
2 October 2022
Leonardo is still not using his right front flipper and would relies on his back flippers to dive and navigate in his tank. We have been focusing on training during feeding to make him practice using his right front flipper.
9 October 2022
We repeated Leonardo's diagnostics and extended his course of medications based on tank side observation and X-ray findings. Meanwhile, physiotherapy session have been provided to facilitate the healing process of the bone infection at his right shoulder.
16 October 2022
Leo was a little quieter with a reduced appetite recently, so we have started him on pain relief due to deterioration of his shoulder joint in his right flipper. He was also restarted on treatment for the bone infection in the same shoulder. Since then, he does seem more active and his appetite has returned to normal. He is also moving the right flipper much more freely now.
23 October 2022
Leo has become more active since we started him on pain medication, and he is using his flipper more frequently and with a better range of movement. He continues to eat and dive well.
30 October 2022
Leo is using his right front flipper inconsistently and continues to rely on his rear flippers to move around in the tank. However, he rests comfortably at the bottom of his tank most of the time and finishes his meals as usual.
6 November 2022
Leo continues to have reduced movement in his right front flipper and using this flipper intermittently. We have swapped his pain relief to see if this improves the mobility in this flipper. Otherwise he is doing well and eats great.
13 November 2022
With only 6 patients, Leo no longer shares the large tank and has space to move. We feed him in a way that makes him swim around the tank to encourage him to use his front flipper. He continues to receive pain relief and antifungal medications to treat his bone infection. Once we can tackle this infection, we can look to release him.
20 November 2022
Leo started the week a little grumpy–he wasn't swimming or eating as well as he has been in the past. We placed him on a slightly stronger pain relief medication and moved him in to one of our medium tanks. To our surprise he's enjoyed the more confined space, perhaps as it's a little more secluded. He's now eating well and even been spotted using his flipper a little more too.
27 November 2022
Leo has been eating well this week. We're still monitoring his bone infection and he'll be receiving some more X-rays in the coming week to look for signs of improvement.
4 December 2022
Leonardo has not changed in the last week.
10 / 18 December 2022
Leonardo has not changed in the last couple of weeks. Eating and diving well but sadly no more use of this remaining front flipper. He seems happier in the medium sized tank and mostly spends his time at the bottom.
25 December 2022
There is no change in Leonardo's condition. He continues to eat and dive but is not using his remaining front flipper.
1 January 2023
Leonardo is still our quiet gentlemen. He has not improved the use of his front flipper and, sadly, this means we can't release him as he wouldn't be able to evade predators in the wild and would get caught at great depths if there were strong currents. We're reevaluating our plan for him.
8 February 2023
Despite our best efforts, Leo was not responding to therapy and began to deteriorate last month.
She underwent a procedure this week so that the veterinary team could investigate the extent of an infection of her bone and shoulder joint by using a small camera. Unfortunately, due to her failing condition, she did not recover from the anaesthesia after the procedure.
A postmortem examination was performed to help determine the cause of death. Leo was suffering from severe bone disease and had significant infection in other organs. Unfortunately, this is a common development after injuries suffered from entanglements with marine debris, and we will use Leo's death to learn more about entanglement injuries to improve future therapies. We also discovered during postmortem hat Leo was actuallya she during the postmortem.
Leo meant a great deal to our team here at the Olive Ridley Project and we are feeling to loss of a much-loved patient. We thank everyone who adopted Leo for their generous and continued support over the past year of Leo's care.