Turtle Patient 178: Leonardo, Sub-Adult Olive Ridley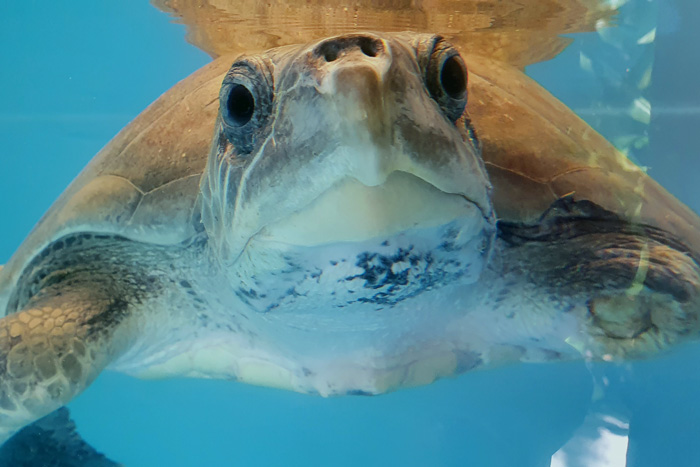 Leonardo is a subadult olive ridley turtle who was found entangled in a large ghost net in Lhaviyani Atoll. Our friends at the Atoll Marine Centre could see he needed veterinary care so they called Dr Minnie right away so she could arrange a transfer to the Rescue Centre. 
The Vitals
Intake Date: 14 February 2022
Patient Number: 178
Rescue Location: Lhaviyani Atoll
Reason: Found entangled
Transport Method: Seaplane
Status: Current patient
Species: Olive ridley
Scientific Name: Lepidochelys olivacea
Sex: Unknown
Age: Sub-Adult
Length: 59 cm
Weight: 14.7 kg
The Adoptive Parents
Leonardo has kindly been adopted by Vitoria, by Gill, Mike & Guy, Corina, Manuela Mair, Isabelle Pöhler, for Elisabeth & Norbert by Karolin, by Sabine & Michael Abelem Christine Küper, Ingrid & Manfred, by Sarah, and for Thomas & Natalie by Falko Sperling.
Leonardo's Story
Leonardo is a sub-adult olive ridley turtle found entangled in a large ghost net in Lhaviyani atoll. He has severe exposure of his left humerus bone and an extensive skin infection all around his shoulders, face and neck. He is very underweight and weak but he still has some fight left in him. Thankfully, his other three flippers are OK. Once we have stabilised him, we will take him to surgery to remove the remains of his humerus bone.
20 February 2022
Leonardo is responding to treatment and has started to eat. He has a very long way to go but we are slowly starting on the road to recovery.
6 March 2022
Leonardo has made great strides these last 2 weeks with a significant improvement in his demeanor and his skin infection. He is eating tuna as well now, and the remains of his left flipper is actually healing very well so we might be able to avoid any surgery. Unfortunately, the right flipper remains a real issue, and we are unable to determine the cause; he has significant swelling of the joint but no radio-graphic changes, so we continue to treat symptomatically and will encourage him to use it with physio and with our feeding techniques.
13 March 2022
Leonardo is now looking 100% better, with almost full resolution of his dramatic skin infection. He is also diving very well but only with his back flippers. We still haven't been able to get to the bottom of why he won't use his front right flipper and the time has now come to anaesthetise him for a full examination and manipulation, plus special X-rays. Hopefully this will allow us to determine the cause. Thankfully he is eating well and swimming well.
20 March 2022
Leonardo's skin has completely resolved but his flipper usage was still zero. We gave him a short anaesthetic so that we could fully examine and feel it. He has markedly reduced range of motion and on X-ray and the head of his humerus (main flipper bone) has started to degrade, which has happened rapidly in only 3 weeks. It is still uncertain whether this is due to a serious bone infection or due to a prior dislocation that has now resulted in the degradation of the joint. We have started him on anti-inflammatories and we are continuing pain relief but unfortunately his prognosis has worsened.
27 March 2022
Leonardo is still not able to move his front flipper at all. We have finally managed to start him on some anti-fungal medication which we use with bone infection cases, as fungus can be implicated commonly in sea turtles. However, we are still sad to see that he can only swim with his back flippers. He remains on strong pain killers and will be closely monitored visually and via X-ray. He is at least full healed now with regards to his skin, and he is eating very well.
3 April 2022
For the first time, Leonardo moved his right flipper this week! We noticed him doing little movements to reach his food for 2 consecutive days, and this is very exciting! He still doesn't have good function, but it is a tiny move in the right direction. On examination, there is also a palpable reduction in the swelling over the top of that affected shoulder. He will have repeat X-rays next week to assess how the damaged shoulder joint is progressing.
10 April 2022
Leonardo is very slowly but surely improving. His little flipper twitch has become more of a flipper sweep and we are noticing more and more movement in that joint. We repeated ultrasound of his flipper and, unfortunately, the joint has completely deteriorated. However, we think that with the correct treatment, he will be able to form a secure pseudo joint that will allow him still to move the flipper.
24 April 2022
Leonardo has started using his flipper and his range of motion is now much better than how it was previously described. However, we have not seen much diving behavior. We are considering to stop his pain relief to see how he copes.
1 May 2022
The range of motion of Leonardo's right flipper is not consistent, but he was seen diving several times this week. We will consider stopping his pain relief at some point to see if he copes well.
8 May 2022
Leonardo made significant improvement this week. As with Kalo, we started Leonardo on buoy training and he showed multiple successful attempts diving, however, only within the top quarter of the water column. The range of motion in his right flipper is much better than before – despite the fact that we stopped is pain relief medication this week.
15 May 2022
We had to temporarily stop the buoy training this week after Leonardo ingested a husk string from the buoy and defecated the string that was more than 10cm long! He continue to dive deeper during feeding sessions without pain relief on board!
22 May 2022
Leo has been diving voluntarily without encouragement to a level that covered his carapace completely. This is very encouraging!
29 May 2022
This week we started to see Leo at the bottom of the large tank–outside feeding times and without encouragement! He continues to eat well and is able to reach the bottom of the tank for food.
5 June 2022
Leo is resting at the bottom more often now and has no issue reaching food at different depths in the water column. Despite the tremendous improvement in his diving, he has gradually lost >50% functionality of his right front flipper over time. Repeat radiography and bloodwork revealed the degeneration of the bone at the right front flipper, which was a pre-existing finding in February this year that was thought to be a fungal origin. We have initiated the medical therapy necessary for him and will continue to monitor for changes in the right front flipper over the next few months.
12 June 2022
Leo continues to show good diving attempts, especially during feeding time. However, he hasn't been using his right front flipper this week. We will continue his medical therapy and monitor closely for progress.
19 June 2022
Leo voluntary tried to dive several times in the last week. He used his right front flipper in approximately 20% of his deep dive attempts and but with a good range of motion with each attempt.
26 June 2022
Leo is often seen resting at the bottom of the tank and is using his right front flipper more frequently now. The range of motion of that flipper is also excellent.