Turtle Patient 174: Kalo, Adult Male Olive Ridley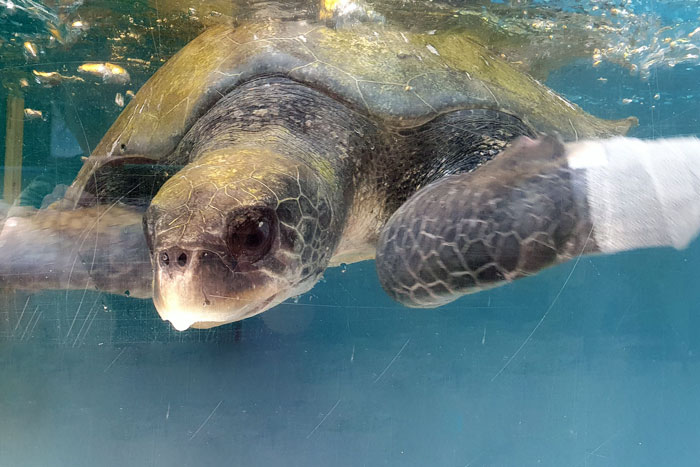 The Vitals
Intake Date: 20 January 2022
Patient Number: 174
Rescue Location: Baa Atoll
Reason: Found entangled
Transport Method: Speedboat
Status: Released from AMC 28 September 2022
Species: Olive ridley
Scientific Name: Lepidochelys olivacea
Sex: Male
Age: Adult
Length: 70.4 cm
Weight: 30.7 kg
The Adoptive Parents
Kalo has kindly been adopted for Tim by Andrea Koch, by Bri Cameron, Maddi Paull, for Darren by David Curtis, by Michael Heinen, Angela, Anna Katima Rothley, the Saywhat Bottles Team, Birgit Kebsak, for Claire B. by Maria Gorman, by Chandra, Taylor Fohr, and by Beatriz Fernandez Gomez.
Kalo's Story
Kalo is a large adult male olive ridley turtle. He was found entangled in a ghost net at Vakkaru Resort's house reef. He has bad entanglement wounds to both front flippers and a number of deep lacerations from shark bites. We will need to perform surgery on Kalo to clean up his wounds with the hope of saving all his flippers. He is quite sore at the moment, but stable.
6 February 2022
Kalo bounced back well from his surgery and has been having regular wound care this week. His right front flipper is still very concerning but thankfully he continues to have good motion in it. Unfortunately, his left flipper continues to deteriorate, and we are prepping for surgery this coming week – we will likely be performing a partial amputation, to see if we can preserve his first 2 digits so that he can continue to breed in the future. He is eating prawns well but hasn't moved on to tuna yet.
13 February 2022
Kalo underwent surgery this week to clean up all the dead tissue on his left flipper. We were so hopeful that we could save it, as he did have moderate function, but we were still concerned by how much of his humerus bone was exposed (nearly 80%). However, after a successful procedure and a smooth anaesthetic, he started waking up very vigorously and, in a freak accident, he put a lot of pressure on his left flipper and snapped his exposed humerus. We were devastated and had to re-anaesthetise him again to amputate the rest of the flipper. Unfortunately, there was not sufficient tissue to close the wound over, so we are having to manage this as an open wound. We will be monitoring it closely and ensuring the exposed bone end does not get infected.
20 February 2022
Kalo has recovered well from his surgery and is eating very well, although he hasn't moved on from prawns yet. His left amputated stump is healing surprisingly well, although it remains to be seen how his cut bone end will heal. We are keeping a close eye as it's very easy for that to become infected or start to die off. His right flipper is looking really good, despite the severity of the bone exposure. He has been moved to the big tank in order to give him more space to practice diving and he seems to be handling life with Jodie, Atlas and Pickle quite well.
6 March 2022
Kalo is healing very well. His right flipper wound, which was a big concern when he arrived, has healed very well in a relatively short space of time with the combo of good nutrition, wound care and antibiotics, plus a hefty dose of sea turtle's natural amazing healing abilities! His left amputation site is still being closely monitored as there is still significant bone exposure. We will repeat his X-ray in the next few days to assess how it is doing. He is finally eating tuna now, instead of just prawns, and with increasing strength in that right flipper, he has been attempting a few dives.
13 March 2022
Kalo had a repeat X-ray this morning which revealed that the bone end of his amputated left flipper is healing very well, and his right flipper is almost completely normal. This is really amazing news considering how much of his humerus was exposed. He made a very small attempt to dive this week but is still significantly buoyant, so it will take some time for that to resolve. Once his wounds have fully healed, he might be a good candidate for sea swims.
20 March 2022
Kalo continues to heal up really well and is a bright, active and alert turtle. We are very happy with his progress. His buoyancy is still a problem but we have noticed that he is starting to attempt some dives.
27 March 2022
Kalo is fit as a fiddle and doing some little dive attempts here and there, although he is still pretty buoyant. We are hopeful now he will ramp up his efforts given that his wounds are 95% healed. He is keen on his food at least!
3 April 2022
Kalo is doing really well; he had follow up X-rays this week which showed his left flipper stump is healing nicely. He developed a small bit of damage to his left eye, most likely from knocking into something, and it was causing him a little bit of discomfort, but within a few days it has already improved. We just need Kalo to dive now!
10 April 2022
Kalo is the superstar of the week! He made his first ever little dive attempt for food and managed to just about get the end of his carapace under water, although it's still very early days. We continue to encourage him to dive for his food, and we are confident he will regain his buoyancy in time.
24 April 2022
Kalo needs major encouragement to dive. We will continue to weigh down her food during feeding time and are also considering weight therapy. Kalo might also be a candidate for the sea cage at Atoll Marine Center in the future.
1 May 2022
Kalo needs encouragement at all points to dive when he is eating. We have been weighing down his food during feeding time, but he hasn't shown diving attempts so far. We are considering weight therapy and a repeat X-ray of his left flipper stump.
8 May 2022
We started Kalo on buoy training during feeding sessions and are delighted to report that he is diving deeper than he would before! We are planning to continue the training throughout the week to keep the momentum going.
15 May 2022
Similarly to Leonardo, we stopped the buoy training for Kalo due to the possibility of foreign body ingestion. He is otherwise making huge improvements in diving, however, the diving attempts are still limited to during feeding times only. We are looking into re-designing the buoy to reduce the risk of ingestion.
22 May 2022
We are still waiting for Kalo to dive voluntarily, but not joy thus far. We are planning to transfer Kalo to the Sea Turtle Rehabilitation Centre at One&Only Reethi Rah next week as Tibby will be coming back here for some checkups.
29 May 2022
This week we swapped Kalo and Tibby; Kalo is now at the Rehabilitation Centre at One&Only Reethi Rah – hopefully the big thank will help him recover faster – whilst Tibby has gone to Dr June for some tests.
5 June 2022
After his transfer to the One&Only Rehabilitation Center, Kalo stopped eating for a few days, but his appetite has finally returned and he has started eating a little bit–mainly mussels, lobster heads and prawns. He is sitting lower in the water and is actively trying to dive each day, so we hope it won't be long before he is ready to be released!
12 June 2022
Kalo continues show considerable improvement during his training against a strong current, staying lower in the water column with his shell completely under the water most of the time! This is great news and we hope he continues along this path. His eating habits are still a little tricky; he does not eat fish so we feed him a constant supply of lobster heads, prawns and fish liver to keep him happy and active.
26 June 2022
Kalo is doing great at the Rehabilitation Centre. He has put on 1.5 kg and is trying to dive for food every day. However, he is still very buoyant and struggles to get under the water. He also loves rubbing himself on the brushes in the tank to keep his shell nice and clean!
3 July 2022
Kalo is making amazing progress at the Rehabilitation Centre. He is eating lots of fish and lobster heads and his weight is a healthy 33.5kg. He is trying to dive and gets his shell completely under water whenever he has a bit of a run up. This is great to see and is really promising for his future.
10 July 2022
Kalo is doing fantastic at the Rehabilitation Centre. He is always eager to eat fish and lobster heads and is willing to push himself diving to reach food that is lower down. He is still very buoyant but making progress each week so we are happy with this! He also loves scratching on the brushes in the tank as well as hiding under the life ring that we put in the tank for him.
17 July 2022
Kalo continues to eat well and is active around the tank, but he is only attempting to dive when there is food involved. We intend to make him work even harder during feeding time to increase his diving ability! He still loves a good scratch on the brushes and hiding under the life ring that is in his tank.
24 July 2022
Kalo continues to eat well but is not diving as much as we would like, so we will start making him work harder for his food to improve his diving ability over the coming weeks. This will include attaching food to weighted buoys so he has to dive down to get his food.
27 July 2022
Due to technical issues with the tank at the Rehabilitation Centre, we had to move Kalo today. Thankfully, our friends at Atoll Marine Centre (AMC) accepted our request for an urgent transfer and are now looking after him. Hopefully Kalo will get a chance to practice diving in their sea cage – which would help speed up his recovery.
3 August 2022
Unfortunately AMC hasn't had the chance to take Kalo to the sea cage this week because the weather has been too rough and they could not get the boat close enough for a safe transfer. Kalo doesn't seem to like tuna – he takes it and then spits it out. However, he is really enjoying his crabs! After initially being a little stressed, he now seems to have settled in well at AMC and is a lot more relaxed.
14 August 2022
Kalo has finally been placed in the sea cage at AMC and he has been attempting to dive! More updates will be available soon.
11 September 2022
AMC is repairing the sea cage at the moment so Kalo has been brought back to the center. As soon as the sea cage is fixed, he will be sent back. Kalo is otherwise eating crabs very well, but no tuna at all. He managed to fully submerge his carapace, but there have been no successful dives yet.
19 September 2022
He is diving well in his tank – so well that the staff at AMC decided to take him to the sea cage yesterday to see if he could dive. As the cage is still broken, they watched him closely so that he didn't escape. He did not dive in the sea cage but the AMC said that they are hopeful he will improve and can be releasable soon.
25 September 2022
Kalo is diving well in his tank at AMC. He is expected to be released soon as he continues to show improvement in buoyancy control and diving ability. The sea cage is still under maintenance.
28 September 2022
Kalo has been consistently resting at the bottom of the tank at AMC so the team decided to bring him out for a sea swim today to see if how confidently he would swim. Once in the sea, Kalo decided he wanted to go home – he went straight to into the deep and they lost him at about 15-20 metres! Another patient has successfully returned to the wild and we could not be happier!