Turtle Patient 173: Zeo, Sub-Adult Olive Ridley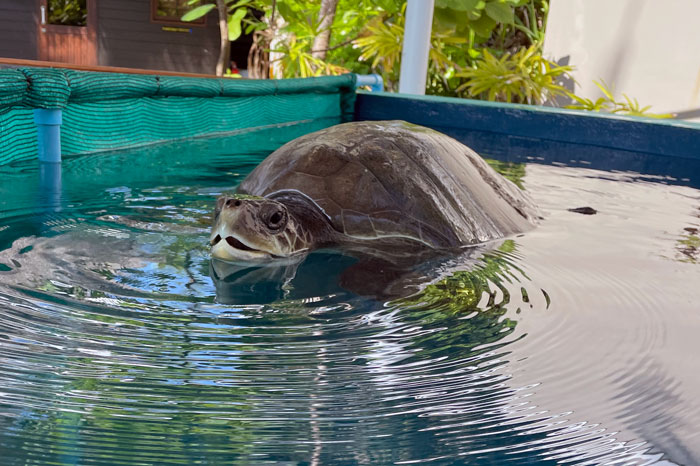 Zeo was found floating in Noth Malé Atoll with no visible external injuries. She was taken by boat to our Rehabilitation Centre at One&Only Reethi Rah.
The Vitals
Intake Date: 17 January 2022
Patient Number: 173
Rescue Location: North Malé Atoll
Reason: Found floating
Transport Method: Boat
Status: Transferred to Atoll Marine Centre
Species: Olive ridley
Scientific Name: Lepidochelys olivacea
Sex: Unknown
Age: Sub-Adult
Length: 49.5 cm
Weight: 11.4 kg
The Adoptive Parents
Zeo has kindly been adopted by Christina & Martin.
Zeo's Story
Zeo was found floating with no visible external injuries. She is very buoyant but has started to eat well. Hopefully she will improve over the coming weeks with some TLC and regular food.
8 February 2022
Zeo is continuing to eat well and seems a little lower in the water.Although he us still very buoyant, this is a good sign.
6 March 2022
Zeo has been doing his absolute best to dive and this week he managed to reach the bottom of the tank before he pinged back up! We are really pleased with his progress and will continue to maintain him at our Rehabilitation Centre to recover. He hasn't shown any signs of other health issues and he is eating well.
20 March 2022
Zeo is making great progress, diving around the tank for food every day. However, she is still very highly stressed when it comes to spa day and tank cleaning, so we are looking for ways to reduce this stress, possibly moving her to a different centre.
27 March 2022
Zeo has been transferred to our friends at the Atoll Marine Centre to take full advantage of their sea cage. This will give Zeo lots more space and encourage her to practice her diving skills as well as reducing her stress, which has been a persistent problem for her. We hope she will recover quickly and be released back into the ocean soon!
1 April 2022
Zeo was moved to the Atoll Marine Centre on 25th March to have a go in their excellent sea cage. It very quickly did its job and she was successfully released on 1st April!! We were so happy to see how quickly she figured it out when just given a little more space. Good luck Zeo!