Turtle Patient 166: Atlas, Sub-Adult Olive Ridley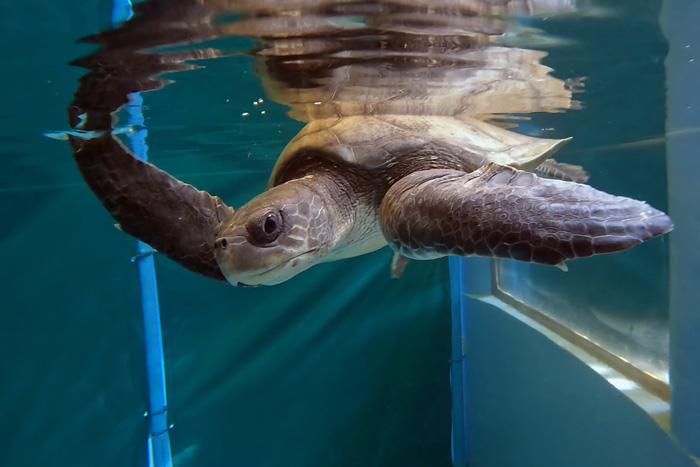 Atlas was found entangled in a ghost net and washed up on the beach of an uninhabited island in Noonu Atoll. There were so many people involved in his rescue, including Noku Maldives who took him in at short notice and built him a crate for transport.
The Vitals
Intake Date: 7 January 2022
Patient Number: 166
Rescue Location: Noonu Atolll
Reason: Found entangled on the beach
Transport Method: Seaplane
Status: Released 24 February 2022
Species: Olive ridley
Scientific Name: Lepidochelys olivacea
Sex: Unknown
Age: Sub-Adult
Length: 56.5 cm
Weight: 18.6 kg
The Adoptive Parents
Atlas has kindly been adopted for Lahja by Cliona, and by Dominique.
Atlas's Story
Atlas is a sub-adult olive ridley that was found entangled by his left flipper in a net and washed up on the beach, half buried in the sand on an uninhabited island. He had likely been there a while based on how he was positioned, and the net has significantly damaged his front left flipper.
Although his flipper bone isn't broken, the flipper is very swollen and with substantial tissue loss, but we will work hard to save it. He is currently moderately buoyant.
16 January 2022
Atlas has had an amazing week! He is happily munching on prawns and he was even seen resting on the bottom of the tank one morning – which is great news! This means his buoyancy issues are minimal, and we should be able to see a great recovery. His left flipper is still minimally functional at the moment, but we are sure he will be able to regain function back with time and care.
23 January 2022
Atlas is now consistently resting on the bottom of the tank, so his buoyancy issues are almost completely resolved. His left flipper is still very damaged but we can see he is intermittently using it ever so slightly. We will continue to monitor closely and work hard to save it!
30 January 2022
Atlas is doing really well. He has finally stopped being fussy about only eating prawns, and now chows down on tuna too. He can rest comfortably on the bottom of the tank and he sometimes does have slight movement in his left front flipper. Unfortunately the swelling is still significant and we will continue to monitor it closely and see if we can regain function. His wounds are healing well.
6 February 2022
Atlas has moved to the big tank with his new tank mates Jodie and Pickle – and so far so good! He is always cruising at the bottom and resting, and has a great appetite. Sadly there isn't much movement in that left flipper yet but the wounds are healing well, so we are hopeful we can regain some function once we start physio when everything is healed.
13 February 2022
Atlas is a real little champion; he is consistently cruising around the bottom and resting and it's a constant mission to feed his tank mates Jodie and Pickle without him swooping in to steal their food! He still has no major movement in the left flipper, but we will be repeating X-rays this week and starting intensive physio now that all his wounds he have almost healed.
20 February 2022
Atlas is an active, cheeky little turtle, constantly stealing food from his big tank companions through sheer speed! His left flipper still hasn't regained any function, but his X-rays show that it has now healed very well. We will start some physio and see what we can do for him. He is otherwise an excellent swimmer and diver though so his prospects are great!
24 February 2022
Atlas had been impressing us for weeks with his perfect diving and resting on the bottom. He was also an active, alert and hungry turtle with a very healthy body weight. After some discussion amongst the team, we decided the best thing for him was to release him. With time, his now fully healed flipper will improve as he had full sensation in it; he just needed some more time. We watched him happily sail over the drop off with complete ease, escorted along the way by an inquisitive juvenile green turtle which was a lovely moment.