Turtle Patient 169: Sumo, Adult Female Olive Ridley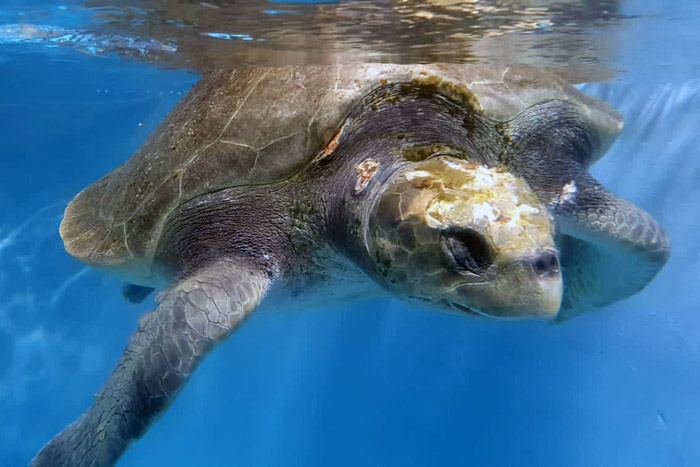 The Vitals
Intake Date: 10 January 2022
Patient Number: 169
Rescue Location: North Malé Atoll
Reason: Found floating with a cracked skull
Transport Method: Seaplane
Status: Released 2 April 2022
Species: Olive ridley
Scientific Name: Lepidochelys olivacea
Sex: Female
Age: Adult
Length: 68.5 cm
Weight: 35 kg
The Adoptive Parents
Sumo has kindly been adopted by Corina Oehler, for Gemmah by Helen Morris-Ruffle, and for Julia.
Sumo's Story
Sumo was found floating with the top of her skull smashed in. She is otherwise seemingly OK and has no signs of being entangled. She will undergo general anesthesia to remove the dead bone from her head and discover the extent of her injuries. She is quite buoyant at the moment but luckily has all four flippers.
16 January 2022
Sumo had surgery this week to remove all the dead and infected material from her cracked skull. It took her a while to come round from the anesthetic and we had to monitor her overnight, but she has done well and is now gradually getting more active. She was eating before her anesthetic but she hasn't eaten since, although we are confident she will get there. Her buoyancy is still significant.
23 January 2022
Sumo is still refusing to eat but this is quite common amongst new adult patients, especially those recovering from anesthesia. We will be encouraging her with the tastiest foods we can find. Her buoyancy is still quite an issue but we note that she is a little lower in the water than before.
30 January 2022
Sumo is a frustrating case this week; although her head wound has been healing beautifully, and she has been trying to dive regularly and even reaching the bottom on a few occasions before she pinged back up, she refuses to eat anything. This is particularly frustrating as she was eating before she underwent surgery to clean her wound. We were giving her fluids but have held off for the last week in order to try and decrease her stress levels and see if we can encourage an appetite, but so far no luck. We will be repeating blood works, X-rays and ultrasound to assess if anything has changed that we need to be concerned about.
6 February 2022
Sumo is still having a rough time. Although she remains pretty bright and active, she refuses to eat anything. Her head wound is looking superb but her appetite just won't follow. We are trying everything in order to encourage her to eat. We will be repeating her X-rays and ultrasound soon, as we suspect her active ovaries may have something to do with her lack of appetite. If that is the case, we may attempt to induce her to lay her eggs to reduce her stress and allow her appetite to recover while she regains control of her buoyancy.
13 February 2022
Sumo is still refusing to eat anything, so we have given her time this week with minimal human contact in preparation for a procedure to induce her to lay eggs. We have obtained the relevant medication needed, called oxytocin, and we will be undertaking this procedure in the next few days. This way, we can ensure she can focus purely on recovery and not risk major infection as a result of retained eggs.
20 February 2022
Sumo was given an injection of oxytocin at the beginning of the week to try and induce her to get rid of some of her eggs. Although it did send her into a very trance-like state, she sadly didn't pass any eggs. She remains stable but not eating and unable to dive. We will try again, but this time in a slightly different set-up, to see if that aids her in passing some of these shelled eggs.
6 March 2022
We had a bit of a breakthrough with Sumo and she ate prawns consecutively for 2 days! She was also able to reach the bottom of a medium tank, if only for a quick moment. Her follicles remain approximately the same size so we are keeping an eye on those. In general, her demeanor is still a bit subdued with occasional bouts of activity. She proves to be a challenging case, but still so far there is nothing else wrong that we can identify, so we are just monitoring closely and encouraging her to eat.
13 March 2022
Sumo has gone back to not eating now and continues to baffle Dr Minnie. All her test results come back normal but she refuses to eat. She has managed to dive a few times, but overall her activity levels are low. We leave her largely to her own devices right now due to her intense stress levels, but we still don't have any idea what is wrong with her. We continue to monitor her closely and hope that in time her buoyancy issues will resolve.
20 March 2022
Sumo has eaten a prawn this week, which is great! And she has also been a lot more active. We are planning on moving her to the big tank so that we can see how she does with more space, but as she isn't very comfortable sharing with other turtles, we will need to move everyone else out first!
27 March 2022
Sumo was moved to the big tank this week and, although stressed at first, it has made a noticeable improvement to her diving efforts. She has been able to repeatedly reach the bottom, although she still has to put in quite a lot of effort and corks up pretty rapidly afterwards. However, there is a definite improvement so we continue to monitor her closely.
2 April 2022
During the course of Sumo's diagnostics, we discovered that she was filled with follicles, which are like early eggs. We knew we needed to get her out to the wild as soon as possible, because she was entering a state called pre-ovulatory follicular stasis, where all the follicles get stuck because they haven't been fertilised.
After seeing great improvement in her diving in the big tank, we decided it was in her best interests to be released as soon as possible. We therefore took her on a sea swim to see how she would do. After a shaky start, she really picked up speed and was able to get under the water and stay down easily, so we decided to let her swim off! We really hope she is able to find a mate and get those follicles turned into eggs! Good luck Sumo!