Released
Kakuni – Arrived 20 July 2022, Released 22nd January 2023
Kakuni's diving skills had improved considerably and she was released on 22nd January. We opted for a beach release so that we could monitor her first few minutes in the water as she was a very stressed turtle when handled. However, Kakuni did great. She took a few seconds to get comfortable in the water, but a nice deep breath later, she found her balance. She began swimming calmly into the deeper waters, and not long after she was spotted munching on some sea grass!
New Patients
Hawwa – Arrived 30 January 2023
Our sweet girl Hawwa, which is the Dhivehi name for "Eve", is a juvenile olive ridley. She was found entangled in a ghost net in North Malé Atoll, unable to dive. Fortunately enough, the X-rays showed all her flippers to be in good condition and her ligature wounds (on both front flippers and one back flipper) are already showing signs of healing. However, we could also see she had a lot of air accumulating in her gastro intestinal tract which is the cause of her buoyancy issues. Hawwa is receiving therapy to help her gut motility (movement of food through the intestines) and pain relief. She recently started eating on her own and is slowly becoming more active. We plan to take her out on sea swims once she is feeling less stressed.
Handhuvaru – Arrived 29 January 2023
Handhuvaru, which in Dhivehi means "moonlight", is an adult olive ridley female who was found floating and unresponsive by the guests of The Ritz-Carlton Maldives, Fari Islands in North Malé Atoll. She arrived at our Rescue Centre with severe head trauma, caused by blunt force (possibly boat strike).
In the first couple of days she was so neurologically depressed that we needed to keep her out of the water and on intensive care. She is now more responsive, and is placed in a tank with full water where she is breathing well on her own. This last week we performed a successful surgery on her head to remove all bone fragments and infected material to allow for her skull to start healing. However, Handhuvaru is still not eating and we are keeping a close watch to decide the next steps of her therapy. For now, she is on antibiotics, fluid therapy and strong pain relief, while we conduct regular wound cleaning. We are taking it day by day and rooting for her!
Ekaanlo – Arrived 22 January 2023
Ekaanlo, which in Addu dialect means "darling", is our only hawksbill sea turtle patient at the moment and she is an adult female. She was found floating in Addu Atoll, she was very lethargic and covered in algae. Initially, Ekaanlo was unresponsive and her X-rays showed a massive amount of air accumulating outside of her lungs. We immediately drained part of it as an emergency procedure and started her on intensive therapy. After the second draining procedure she started diving and eating. Ekaanlo is now resting at the bottom of the tank, avoiding people and diving comfortably. She is very close to being released and we are hoping to do a final round of bloodwork and X-rays.
Muraka – Arrived 19 January 2023
Muraka, which in Dhivehi means "coral", is our 200th patient to be admitted to the Rescue Centre. She is a juvenile olive ridley and was found floating in North Malé Atoll by the same team from The Ritz-Carlton Maldives, Fari Islands, that had also rescued Fari. Her X-rays showed that she has pneumocoelom, which means that there is air trapped in her body cavity causing her to be buoyant. Muraka has already undergone three procedures to help drain some of that air but unfortunately these haven't been very successful. We are hopeful that with time the lung will heal and seal the tear. Furthermore, she is receiving therapy for an infection and we have also found plastic in her faeces which is a worrying sign. We will continue to monitor her closely.
Shara – Arrived 15 January 2023
Shara is an adult female olive ridley who was found floating and unable to dive in South Ari Atoll. Her X-rays showed signs of drowning and a lung infection (known as pneumonia), as well as a lot of gas build up in her gastro-intestinal tract. We put her on therapy and pain relief and after some days she passed different types of plastic in her faeces (from styrofoam to rubber). After that she started feeling better and began eating. She now has a voracious appetite and is much brighter. However, she is still buoyant and thus we are starting her on an adapted feeding scheme to motivate her to dive down since she is very food orientated.
Resident Patients
Fari, Arrived 6 January 2023
Fari has been on regular intensive therapy and wound cleaning. With each session, we noted significant improvement and eventually, we were able to keep all her flippers fully functional. Fari has now gained nearly 2 kgs since arrival, she is stronger, happier and loves to swim and explore her tank. We are hoping to release her soon, as her final round of bloodwork and X-rays are coming up soon!
Fida – Arrived 6 August 2022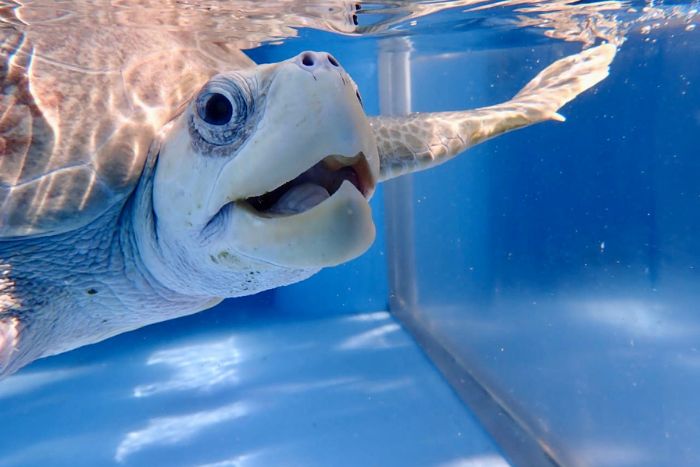 Fida has been very stable clinically and is maintaining a great appetite. She is very curious and loves to munch on cuttlefish bones. Fida, in the beginning of the month, was spending a lot of time diving down and foraging for food off the floor – specially if crabs or prawns were involved. However she gets tired very quickly and more recently, she has been buoyant most of the time as diving demands a lot from her. We are taking her out on sea swims to offer her a more exciting environment.
Deceased
Leonardo – Arrived 14 February 2022, Deceased 8 February 2023
Our dear Leo, who had arrived on Valentine's Day in 2022, started clinically declining throughout the past couple of weeks. Her bloodwork showed a persistent infection and despite several therapies attempted, she was unresponsive. Leo had lost use of three of her flippers due to a severe bone disease. She was also suffering from an infection that had spread to her other organs, such as the liver. Unfortunately, Leo passed away on the evening of February 8th. In her postmortem we also found out that Leonardo was, in fact, a female olive ridley.
Raani – Arrived 31 January 2023, Deceased 6 February, 2023
Raani, which in Dhivehi means "queen", was a female adult olive ridley. She was found in Lhaviyani Atoll, floating and unable to dive. She had suffered a boat collision which had caused fractures on both her carapace and plastron. Her X-rays showed that she had a lot of air accumulating within her body cavity which was causing too much pressure on her lungs and other organs. Raani underwent a procedure to surgically clean her wounds and to drain some of that air on February 5th. Although she initially recovered well from the anaesthesia, later that evening her condition started deteriorating. Despite our best efforts she passed away on February 6th. Her postmortem confirmed she had a large tear on her left lung. She also had quite a damaged liver and small intestine and several abscesses through her body cavity.
Redhan – Arrived 11 January 2023, Deceased 13 January 2023
Redhan, which in Dhivehi means "bioluminescence", was a juvenile olive ridley found floating in Gaafu Alifu Atoll. She arrived at our Rescue Centre quite thin and unfortunately her X-rays showed a severe accumulation of air in both her intestines, lungs and her body cavity. All this air was preventing her from being able to dive and also to properly breathe. Furthermore, her lungs showed signs of drowning and infection (pneumonia). We put her on fluid therapy, antibiotics, pain relief and multivitamins. The following day she underwent a procedure to help drain some of the air from her body. Although she was initially coping, her condition worsened in the afternoon and after several hours of intensive care, Redhan passed away.