Turtle Patient 201: Ekaanlo, Adult Female Hawksbill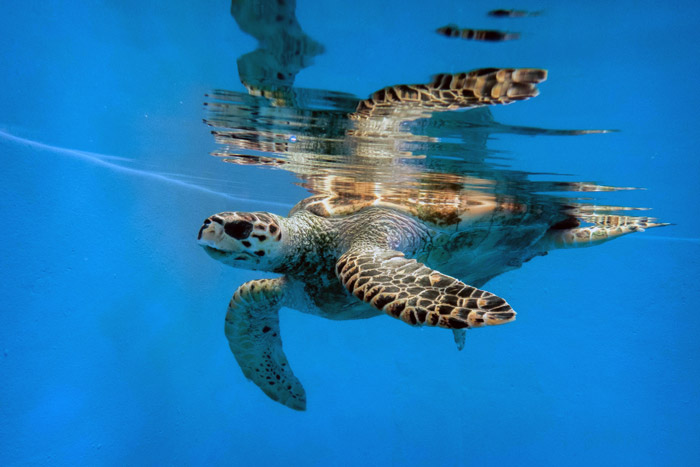 Ekaanlo, meaning "darling" in Dhivehi, arrived on January 22nd. She was found by a group of kayakers in Addu Atoll, the southernmost atoll in the Maldives.
The Vitals
Intake Date: 22 January 2023
Patient Number: 201
Rescue Location: Addu Atoll
Reason: Found floating
Transport Method: Domestic flight & Seaplane
Status: Released 19 February 2023
Species: Hawksbill
Scientific Name: Eretmochelys imbricata
Sex: Female
Age: Adult
Length: 66.7 cm
Weight: 24 kg
The Adoptive Parents
Ekaanlo has kindly been adopted by Mariane Affonso Medeiros, for Klaudia by her children, by Aleksandr, by Adam Pahal & Dominika Szewczyk, and by Andrea Hendrickx Infosys.
Ekaanlo's Story
Ekaanlo was found floating and extremely quiet. As soon as she arrived at the Rescue Centre, we provided emergency treatment including fluid therapy. Her X-rays revealed a large amount of air in her body cavity – this is causing her buoyancy issues.
We performed a procedure to remove some of the air and reduce the pressure on her lungs. The veterinary team will continue this procedure to keep removing air, and support her with fluids and medications.
For now, her condition is quite critical, and we are trying to keep her as calm as possible. She hasn't eaten since her arrival but we continue to tempt her in hopes she starts to feel better and eats.
12 February 2023
After the second procedure to drain trapped air, Ekaanlo started diving and eating. She is now resting on the bottom, avoiding people and diving with no effort. She is very close to being released and we are hoping to do a final round of blood-work and X-rays before clearing her.
17 February 2023
Ekaanlo has been given the all clear! She will be going back home on Sunday 19th February 2023. As she is rather aggressive and difficult to handle, we have decided to release her from the beach to minimise the stress to both Ekaanlo and the veterinary team.
19 February 2023
Ekaanlo was released from the beach at Coco Palm Dhuni Kolhu right by our house reef. This way she has easy access to food for the first days until she likely decides on starting her migration south back home again!
The release went really well; we were joined by the resort guests that were all cheering for her. Initially, Ekaanlo seemed slightly confused but not long after she got her confidence back and just headed into the reef! Thank you all so much for your support, we could not have done this without your help!