Turtle Patient 201: Ekaanlo, Adult Female Hawksbill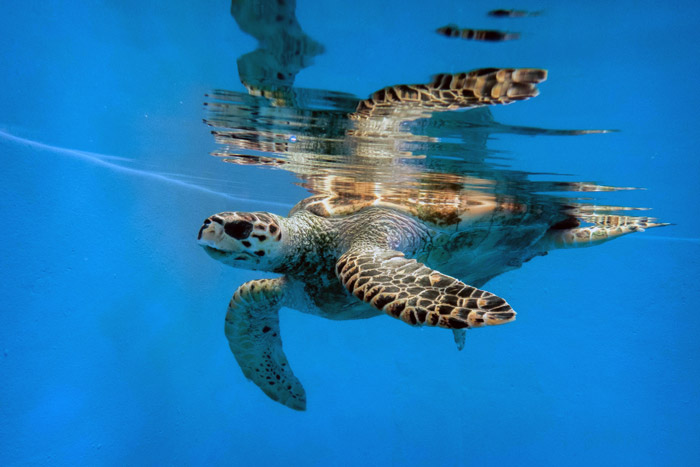 Ekaanlo, meaning "darling" in Dhivehi, arrived on January 22nd. She was found by a group of kayakers in Addu Atoll, the southernmost atoll in the Maldives.
The Vitals
Intake Date: 22 January 2023
Patient Number: 201
Rescue Location: Addu Atoll
Reason: Found floating
Transport Method: Domestic flight & Seaplane
Status: Current patient
Species: Hawksbill
Scientific Name: Eretmochelys imbricata
Sex: Female
Age: Adult
Length: 66.7 cm
Weight: 24 kg
The Adoptive Parents
Ekaanlo has kindly been adopted by Mariane Affonso Medeiros, and for Klaudia by her children.
Ekaanlo's Story
Ekaanlo was found floating and extremely quiet. As soon as she arrived at the Rescue Centre, we provided emergency treatment including fluid therapy. Her X-rays revealed a large amount of air in her body cavity – this is causing her buoyancy issues.
We performed a procedure to remove some of the air and reduce the pressure on her lungs. The veterinary team will continue this procedure to keep removing air, and support her with fluids and medications.
For now, her condition is quite critical, and we are trying to keep her as calm as possible. She hasn't eaten since her arrival but we continue to tempt her in hopes she starts to feel better and eats.
Adopt Ekaanlo
We ask for a minimum one time gift donation of £50 to adopt a turtle patient. You can also choose to make a monthly donation.
Once we receive confirmation of the donation and your adoption form (please make sure the names on the donation and adoption forms match), we will issue the adoption certificate with details about the turtle patient to you or the gift recipient. Please allow 7 days for the issuing of the certificate.