Turtle Patient 205: Raani, Adult Female Olive Ridley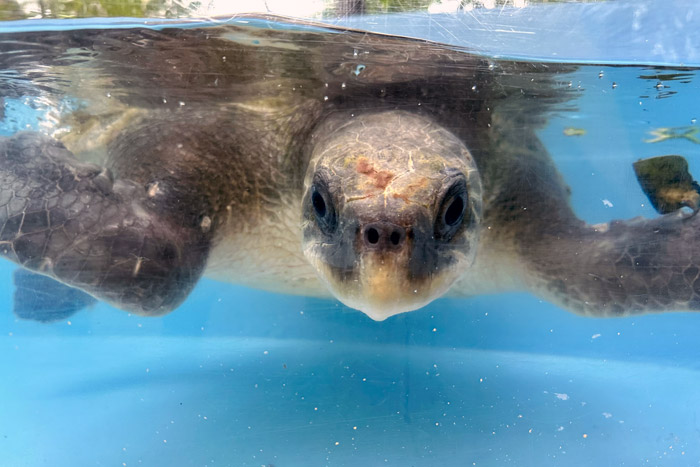 Raani was found floating and unable to dive by the staff from our partner resort Kuredu Maldives in Lhaviyani Atoll Atoll.
The Vitals
Intake Date: 31 January 2023
Patient Number: 205
Rescue Location: Lhaviyani Atoll
Reason: Found entangled
Transport Method: Seaplane & Speedboat
Status: Deceased 6 February 2023
Species: Olive ridley
Scientific Name: Lepidochelys olivacea
Sex: Female
Age: Adult
Length: 67.8 cm
Weight: 26.7 kg
The Adoptive Parents
Raani has kindly been adopted for Joris by Jeroen.
Raani's Story
Raani, which in Dhivehi means "Queen", arrived weak and dehydrated with a severe fracture to both her top and lower shells (carapace and plastron) on the right side of her body – consistent with a boat strike injury. Due to the crash, her lungs suffered a tear and her X-rays showed a lot of air accumulation in her body cavity which is the cause of her buoyancy issues.
Raani is the feistiest and strongest turtle we have at the Rescue Centre now! She has picked up some food items but is still not really interested in eating. Currently, we are treating her with initial stabilization therapy. Once she settles in, more diagnostics will be performed.
9 February 2023
Unfortunately, Raani passed away Monday morning. Due to the crash, her lungs suffered a tear and her X-rays showed a massive amount of air accumulating in the coelomic cavity, which was severely compressing her organs and causing her buoyancy issues. Her blood work also showed a raging infection was happening.
Raani was started on antibiotics, fluid therapy, multivitamins, and strong analgesia. After a few days of supportive care and stabilisation, Raani underwent a sedation to repeat X-rays and perform two procedures: the first was to remove the air from her body cavity to allow the pressure to be relieved from her lungs, and the second was a surgery to remove the bone fragments from her plastron (under shell) which were very infected. Initially she woke up fine from her sedation, however, over the course of the evening she started declining. Sadly, after hours of intensive care from the veterinary team, Raani passed away.
As with all our patients, we carry out a post mortem to determine the cause of the injuries. As suspected, Raani did have a large lung tear to the left lung. She also had a generalised infection spread throughout her organs (mainly gastrointestinal tract and liver) with some abscesses present in the body cavity.
We are extremely sorry to have to share this news with you. But we now need to continue caring for our remaining patients.