Turtle Patient 198: Redhan, Juvenile Olive Ridley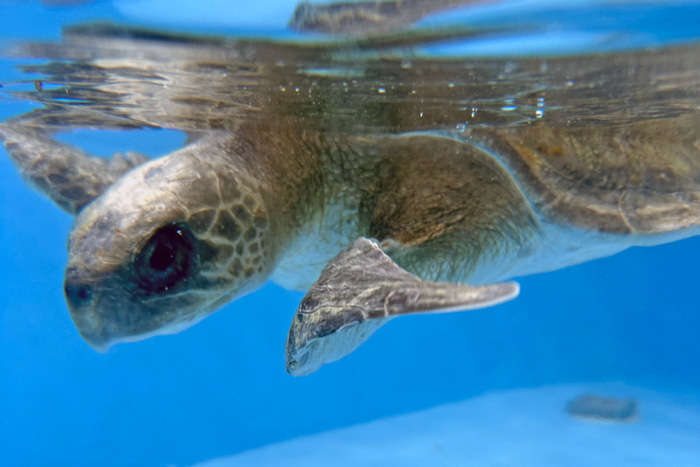 Redhan is a juvenile olive ridley that was found was found floating in Gaafu Alifu Atoll, by the staff of Park Hyatt Maldives who promptly called us for help.
The Vitals
Intake Date: 11 January 2023
Patient Number: 198
Rescue Location: Gaafu Alifu Atoll
Reason: Found floating
Transport Method: Domestic Flight & Seaplane
Status: Deceased 13 January 2023
Species: Olive ridley
Scientific Name: Lepidochelys olivacea
Sex: Unknown
Age: Juvenile
Length: 42.5 cm
Weight: 5.25 kg
Redhan's Story
Redhan, which means Bioluminescence in Dhivehi, had a long journey to reach the Rescue Centre. Gaafu Alifu Atoll is located in the far south the of Maldives, so Redhan had to take a domestic flight to Malé, spend the night at our Rehabilitation Centre at One&Only Reethi Rah in Northe Malé Atoll, and then finally take a sea plane to the Rescue Centre.
Redhan is quite thin and unfortunately her X-rays showed a severe accumulation of gas in both her intestines and lungs as well as in her coelomic cavity (reptiles lack a diaphragm so the body cavity is connected as a whole). All this air is preventing her from being able to dive and swim properly. Her lungs also showed signs of drowning.
Although we are unsure what caused this, we are treating her the best we can. She is currently receiving fluid therapy, antibiotics, analgesia and multivitamins. We are considering starting nebulisation therapy and draining the air out in a series of treatments will follow.
13 January 2023
Redhan passed away today after six hours of intensive care. She had severe pneumocoelom (air accumulation in her body cavity). We will perform a necropsy tomorrow.