Turtle Patient 192: Fida, Juvenile Olive Ridley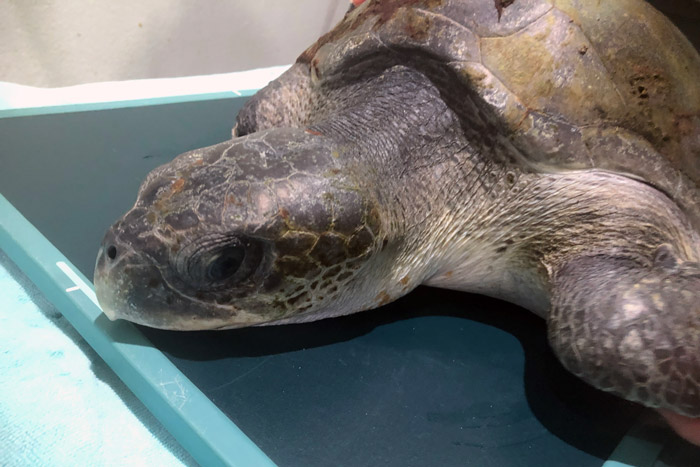 Fida is an a juvenile olive ridley who was found floating and struggeling to breathe in the lagoon at Soneva Jani, Noonu Atoll.
The Vitals
Intake Date: 6 August 2022
Patient Number: 192
Rescue Location: Noonu Atoll
Reason: Found floating, missing flippers
Transport Method: Seaplane & Speedboat
Status: Current patient
Species: Olive ridley
Scientific Name: Lepidochelys olivacea
Sex: Unknown
Age: Juvenile
Length: 41 cm
Weight: 6.6 kg
The Adoptive Parents
Fida has kindly been adopted by Jutta Sandeck, Andrea Hendrickx, and by Elisa Liebig.
Fida's Story
Fida was found floating on the surface. She was weak and struggling to breathe and swim. She had also lost her right front flipper and half of her rear right flipper where her bone was bone exposed. On arrival at the Rescue Center, she appeared much brighter than expected but she was dehydrated and her shell was covered with red algae.
We took X-rays and blood samples on the day of her arrival and started a treatment plan based on the findings. We will focus on pain control, prevention of infection, regular wound debridement and cleaning. We also will continue fluid therapy to keep her hydrated and. Since her already amputated flippers are healing well, the approach we have decided on is to leave her with as much stump as possible, especially since the lesions are on the same side. We will be repeating diagnostics fortnightly to monitor her.
14 August 2022
Fida underwent a deep wound debridement procedure this week; small amount of exposed bones were gently trimmed off. She is now much more active than before and chases after her food while being trained to turn in both directions during feeding. Despite having lost both right flippers, she can still swim speedily in a straight line.
21 August 2022
Fida is active and bright, chasing after her food and doing well during dive and swim training. She can turn in both directions, but has made no attempt to dive yet.
28 August 2022
Remarkably, Fida, even with only 2 flippers, continues to impress us with her willingness to learn to dive and swim in straight lines. She also has learnt how to turn both ways. We are glad to see her adapting.
4 September 2022
Fida was 'upgraded' to a medium tank this week and it has really encouraged her to dive. She is submerging her whole carapace which is a huge improvement from when she first arrived. She loves her food. We are hoping that when the weather clears up, we can take her for a sea swim and see how she copes in the waves.
11 September 2022
The wounds on Fida's right front stump and right rear stump continue to heal well. We do wound debridement on a weekly basis and see improvement each time. She has shown interest in diving but attempts were unsuccessful so far. We continue to train Fida in swimming in a straight line and to turn in both directions during feeding time. On a positive note, her repeat X-rays this week revealed that there was no significant change or deterioration at both stumps on the right side.
18 September 2022
The wounds on Fida's right front and right rear stumps continue to improve, however, she remains positively buoyant most of the time. She has otherwise been adapting to swimming very well without her right flippers, and she also responds well to training during feeding.
25 September 2022
Fida's wounds are healing well. She is navigating fine and adapting well to the use of her flippers on the left side. 
2 October 2022
Fida started diving this week!  She successfully submerged her carapace and stayed below the water surface for a few seconds, which was a huge achievement compared to the day she arrived. We have adjusted her diet plan to help her build some muscle mass and strength to help with her diving!