Turtle Patient 192: Fida, Juvenile Olive Ridley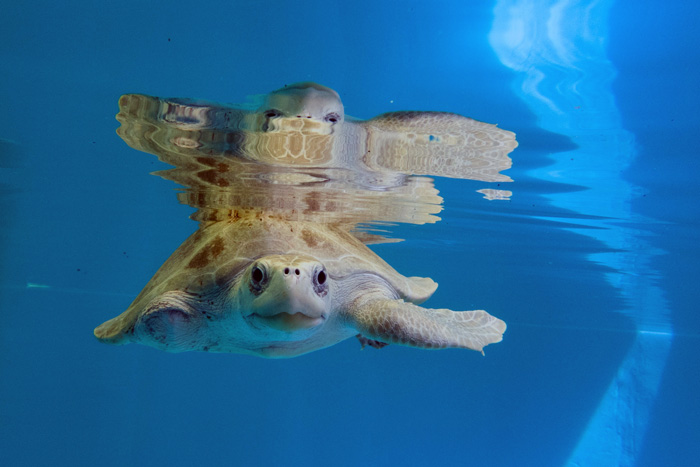 Fida is an a juvenile olive ridley who was found floating and struggeling to breathe in the lagoon at Soneva Jani, Noonu Atoll.
The Vitals
Admission Date: 6 August 2022
Patient Number: 192
Rescue Location: Noonu Atoll
Reason: Found floating, missing flippers
Transport Method: Seaplane & Speedboat
Status: Current patient (North Malé)
Species: Olive ridley
Scientific Name: Lepidochelys olivacea
Sex: Unknown
Age: Juvenile
Length: 41 cm
Weight: 6.6 kg
The Adoptive Parents
Fida has kindly been adopted by Jutta Sandeck, Andrea Hendrickx, by Elisa Liebig, for Joline & Charlotte by Anna, by Lisa & Philipp Petermann, for Allison by Kaitlyn, by Briana Roldan, for Lauralyn by Amanda Landry, for Linda by Beth Whitehead, for Sandra by Rebecca, by Amanda & Rac, Martin & Joanna Sladden, for Ben by Kim, by Ulrike Unverhau-Schniedermeyer, for Vera by Jan Hyner, for Oskar by Claudia Zoranic, or Alex by Jason E Smith, for Michael by Jessica, by Miles Helm, Asante Kivoi, for Christina by Samantha Mohrbacher, by Chelsea Craib, for Gaia by Yen Lund, for Lilly by Janet, by Angela, by Katie Hinshaw, Louise Kelly, Chelsea, Reka Jancsovics, for Jeremy by Bonnie Booth, by Matthew & Melanie Fierstein, for Martha by Beatrice, for Paulina by Gabriela, for Teta by Amanda, for Debie by Cristian Rivera, by Meg Farnam, for Danielle by Lillie Kasim, by Chris Bertoni, Anders Vestergaard Nielsen, for Amelia by Claire Gibson, by Karina, Lola, Nadine Richburg, for Ross by Kate Davis, for Sevi by Rafael Buchser, by Bailey Mahoney, by Rosa, for Maria & Anat by Barak Unger, by Sabrina, for Alina by her Friends in B3, for Nina by Christoph, for Kirstie by Ellie Bailey, for Tessa by Beate Haufe, by Taylor Roush, for Mrs. Garmyn's Class by Karima Bostick, for Bailey by James Jeffery, for Saniya by Angelique, for Aiyana by Claire, by Lyan Garritsen, for Lisa by John Keane, for Callum by Lewis Mullins, by Maria Borchardt, Cassidy, Caidee Salmond (The Aqua Trust), for Julia by Sabrina, by Diana Köhler, Astrid & John by Slegers, for Fareeha by Aishath Sulthana Usman, by Laura Lancu, by Nadin Dewert for Penelope, by Aliona for Aliona & Giuseppe & Mia & Renata Blasotti, by Bright Leaf Recruitment, by Bre, by Yuliya Mincheva, by Timo Ortiz and by $TRTL Community.
Fida's Story
Fida was found floating on the surface. She was weak and struggling to breathe and swim. She had also lost her right front flipper and half of her rear right flipper where her bone was bone exposed. On arrival at the Rescue Center, she appeared much brighter than expected but she was dehydrated and her shell was covered with red algae.
We took X-rays and blood samples on the day of her arrival and started a treatment plan based on the findings. We will focus on pain control, prevention of infection, regular wound debridement and cleaning. We also will continue fluid therapy to keep her hydrated and. Since her already amputated flippers are healing well, the approach we have decided on is to leave her with as much stump as possible, especially since the lesions are on the same side. We will be repeating diagnostics fortnightly to monitor her.
14 August 2022
Fida underwent a deep wound debridement procedure this week; small amount of exposed bones were gently trimmed off. She is now much more active than before and chases after her food while being trained to turn in both directions during feeding. Despite having lost both right flippers, she can still swim speedily in a straight line.
21 August 2022
Fida is active and bright, chasing after her food and doing well during dive and swim training. She can turn in both directions, but has made no attempt to dive yet.
28 August 2022
Remarkably, Fida, even with only 2 flippers, continues to impress us with her willingness to learn to dive and swim in straight lines. She also has learnt how to turn both ways. We are glad to see her adapting.
4 September 2022
Fida was 'upgraded' to a medium tank this week and it has really encouraged her to dive. She is submerging her whole carapace which is a huge improvement from when she first arrived. She loves her food. We are hoping that when the weather clears up, we can take her for a sea swim and see how she copes in the waves.
11 September 2022
The wounds on Fida's right front stump and right rear stump continue to heal well. We do wound debridement on a weekly basis and see improvement each time. She has shown interest in diving but attempts were unsuccessful so far. We continue to train Fida in swimming in a straight line and to turn in both directions during feeding time. On a positive note, her repeat X-rays this week revealed that there was no significant change or deterioration at both stumps on the right side.
18 September 2022
The wounds on Fida's right front and right rear stumps continue to improve, however, she remains positively buoyant most of the time. She has otherwise been adapting to swimming very well without her right flippers, and she also responds well to training during feeding.
25 September 2022
Fida's wounds are healing well. She is navigating fine and adapting well to the use of her flippers on the left side.
2 October 2022
Fida started diving this week! She successfully submerged her carapace and stayed below the water surface for a few seconds, which was a huge achievement compared to the day she arrived. We have adjusted her diet plan to help her build some muscle mass and strength to help with her diving!
9 October 2022
Fida has been diving consistently with encouragement during feeding time over the last week. We plan to take her out for a sea swim as an enrichment and also to stimulate her natural diving behavior.
16 October 2022
Fida has now taught herself to dive to the bottom of her tank–which is 2 metres deep! We have also been taking her on sea swims and she is successfully diving in the wild, even if it is quite shallow.
23 October 2022
Fida is making slow progress with her diving; with only two flippers, this is much harder work than having 3 or 4 flippers.
She dives for her food but otherwise is swimming on the top of the water. Her appetite is good and she is gaining weight.
She currently does not need any medications.
30 October 2022
Fida stopped diving in her tank over the past week. While she needs more encouragement during feeding time, she may need more swim sessions in the sea to continuously stimulate and improve her diving skills.
6 November 2022
Fida's progress is slow when it comes to diving as she finds it very exhausting with just two flippers to get herself submerged. She continues to eat well and we encourage her to dive where possible.
13 November 2022
Fida was slowly starting to dislike the food we offered and now she only really eats prawns! There is no improvement in her diving abilities at the moment.
20 November 2022
Fida is doing well, just happily eating and enjoying the company of our guests and volunteers at the Rescue Centre.
27 November 2022
Fida is gaining strength and eating well. Her diving is improving but she's still popping back up again when she makes it to the bottom to eat.
4 December 2022
Fida continues to try and dive for food, however, she remains positively buoyant.
10/18 December 2022
Still no improvement for Fida. She continues to try and dive for food but is still positively buoyant.
25 December 2022
Fida continues to try and dive for food, however she remains positively buoyant. We'll take her out for a sea swim for some enrichment next week.
1 January 2023
Fida, our youngest olive ridley, has shown some signs of improvement this month. She is now able to dive for food to the bottom of her tank! However, she still really struggles to do anything quickly, as she is missing both flippers from the same side.
12 February 2023
Fida is clinically stable and has a great appetite. She is very curious and loves to munch on cuttlefish bones. In the beginning of the month, she was spending a lot of time diving down and foraging for her food off the floor – specially if crabs or prawns were involved. However, she gets tired very quickly and more recently has been just buoyant most of the time as diving demands a lot from her. We are still taking her out on sea swims to offer her a more exciting environment.
12 March 2023
Fida Continues to have a great appetite and being active. Since she is a very curious turtle, we have added new environmental enrichment devices in her tank to promote interaction.
9 April 2023
Fida is our most curious and playful turtle. She is very active and enjoys interacting with the enrichment devices we often place in her tank.
1 May 2023
Fida continues to be visitors' favourite. She is active and interacting lots with the enrichment devices in her tank.
13 June 2023
Fida has been doing great! She loves to scrub her shell on the brushes we place in her tank and is crazy about prawns.
9 July 2023
We have started Fida on Targeted External Weight Therapy. She continues to be a favourite amongst our visitors, especially the children.
13 August 2023
Fida continues her dive training – specially during feeding sessions given she is so food oriented! Her X-rays and blood work are now normal, so we are now just focusing on behavioural training and physiotherapy to assure she can start diving.
12 September 2023
We have slowly been increasing and readjusting Fida's Targeted External Weight Therapy to improve her diving skills. She has been responding well, although slowly. Therefore, we are using buoys to sink her food, motivating her to dive during feeding sessions. Apart from that she continues to be a healthy patient.
10 October 2023
We are continuing Fida's Targeted External Weight Therapy and dive training to improve her diving skills. She is responding well and we have slightly increased the depth that she is diving to during her buoy feeding sessions. As always, Fida remains a healthy patient with very good motivation for food.
31 October 2023
Fida's monthly medical check up shows she continues to be a very healthy little bug. She is likely the most determined patient we have ever seen at the Rescue Centre. Fida is very food motivated and thus her dive training, which combines Targeted External Weight Therapy with feeding enrichment devices, truly motivates her to dive down to reach for her food. Slowly we have been yielding positive results!
13 September 2023
This has been a really important week for Fida! She has now been transferred to our North Malé Atoll Sea Turtle Rehabilitation Centre at One & Only Reethi Rah Resort, her new home for the foreseeable future. At this facility, Fida will have a very large enclosure just for herself and be under the care of Philippa, our sea turtle biologist based there, and the veterinary team's direct supervision.
Fida will continue her special buoyancy therapy programme that includes targeted external weights (placed in very deliberate points of her carapace) and submersible buoy feeding. She has made considerable progress since her therapy started and we are very hopeful she will continue to improve As this new chapter begins, we are giving Fida the very best chance possible to be returned to her ocean home.
Adopt Fida
When you symbolically adopt one of our turtle patients you will receive:
A personalised adoption certificate with the history of your adopted turtle patient
A fact sheet about the species of sea turtle
Updates on how your adopted turtle's recovery is going (if you wish)
Notification in the case of a release
We ask for a minimum one time gift donation of £75 to adopt a turtle patient. You can also choose to make a monthly donation.
Once we receive confirmation of the donation and your adoption form (please make sure the names on the donation and adoption forms match), we will issue the adoption certificate with details about the turtle patient to you or the gift recipient. Please allow 7 days for the issuing of the certificate.
By adopting one of our turtle patients, you will contribute towards the cost of our patients' veterinary care, medications, and transport. You will also help fund our core charitable objectives to protect sea turtles and their habitats through rescue and rehabilitation, scientific research, and education and outreach.