Turtle Patient 191: Kakuni, Adult Female Olive Ridley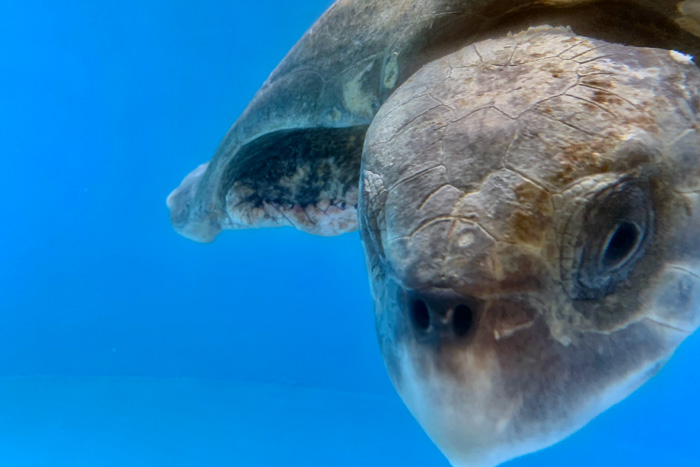 Kakuni is an adult female olive ridley who was found with entanglement wounds near Heritance Aarah in Raa Atoll.
The Vitals
Intake Date: 20 July 2022
Patient Number: 191
Rescue Location: Raa Atoll
Reason: Found floating
Transport Method: 2 seaplanes
Status: Current patient
Species: Olive ridley
Scientific Name: Lepidochelys olivacea
Sex: Female
Age: Adult
Length: 60.5 cm
Weight: 18.35 kg
The Adoptive Parents
Kakuni has kindly been adopted for Samantha, for Tina by Lauren, by Sam & Bitsy Clawson, Priscilla, Hannah Hieden, for Egor & Diana by Egor Silikov, by Hazel & Anthony Almond, for Rolf by Erika, by Meg And Adam, and by Steve & Dee Ridden.
Kakuni's Story
Kakuni was found with entanglement wounds in Raa Atoll on July 17, 2022. She was transferred to our partner resort Joeli Being on the same day. Here she was kept in a seawater tank whilst we arranged her flight transfers to the Rescue Centre. During this time, she finished 50g of tuna belly and appeared to be active.
It took two seaplane flights for her to reach the Rescue Centre. Upon admittance, Dr June found a deep entanglement wound at the right front flipper with multiple exposed bones. X-rays shows that the flipper is broken, so, unfortunately, we will have to amputate her flipper. She also has a corneal injury in her right eye and many other wound injuries on her shell and skin.
24 July 2022
Due to Kakuni's poor body condition and hydration status, the anesthesia and recovery process of her flipper ampuration surgery were challenging. Despite this, the surgery went well and she recovered uneventfully overnight. 12 hours after surgery, she was active and eating already. This is a good sign!
31 July 2022
Kakuni is gradually gaining energy and hydration. We will repeat her diagnostics next week to reassess the treatment plan.
7 August 2022
Kakuni has been doing well since her amputation surgery. With regular wound assessment and debridement, her wounds are gradually improving and healing well. She has a great appetite and is showing improvement in he ractivity level and demeanor. However, there she has made no attempts to dive – despite encouragement during feeding.
14 August 2022
Kakini's wounds have improved significantly with continued rounds of debridement and wound cleaning, pain relief management and antibiotic medication. He still remains positively buoyant but responds well to dive training during feeding.
21 August 2022
Kakuni's wounds continue to improve and she is showing obvious interest in diving during feeding time.
28 August 2022
Kakuni continues to show improvement with her diving attempts and her appetite is great. Unfortunately, her shell wounds were extensive, so although they are healing well, there is still a long recovery road ahead before her shell is healthy again.
4 September 2022
Kakuni's shell wounds are reducing in size quickly; it is only now the edges that are damaged. Although this will take a long time to heal, we are happy that Kakuni is responding well to treatment and seems settled in her tank.
11 September 2022
The wounds on Kakuni's carapace and plastron have improved markedly since she first arrived. There was no significant change in her repeat X-rays this week so we will continue her treatment plan as scheduled and release her as soon as she finishes her course of medications and starts diving. She was able to submerge her carapace when encouraged to dive during feeding times, but there was no successful diving attempt so far.
18 September 2022
Although there has been no successful diving attempt so far, Kakuni continues to show great interest in food during feeding and has consistently been able to get her entire carapace submerged when we train her. She also uses the buoy feeders well.
25 September 2022
Kakuni consistently displays great attempts in diving during feeding times and responds well to training, using buoy feeders effectively. We are hopeful that she will start diving soon if she continues to improve with enrichment training.
2 October 2022
Kakuni is using the buoy feeders very well and is always very motivated to dive during feeding. She managed to get her carapace fully submerged during feeding almost every day over the past two weeks. Her wounds were healing very well, except for the deep wounds at her lower shell (plastron) that might progressively slough off as part of the healing process.
9 October 2022
Kakuni's wounds are healing well, especially the deep wounds at her lower shell (plastron). She tries hard to dive for food and completely submerges her carapace (top shell) for longer with each feeding session.
16 October 2022
Kakuni's injuries are healing slowly but we are happy with the progress she is making. For now, her diving attempts are consistent but she is still not quite diving without encouragement.
23 October 2022
Kakuni's diving is progressing slowly but her wounds are improving every day. She remains on trice weekly wound checks and cleans. Her appetite is good. We are encouraging her to dive for her food by using a weighted buoy and attaching the fish to this.
30 October 2022
Kakuni's wounds are showing significant improvement. The next challenge is to get her to dive again. She responds well to dive training during feeding but the progress has been slower than expected. We plan to bring her out for sea swim sessions to stimulate and train her to voluntarily dive again. Kakuni may potentially require time in a sea cage to speed up the recovery process.
6 November 2022
Kakuni's diving progress remains slow but the wound on the top of her shell is almost healed now. However, underneath, there is still quite far to go. She sometimes has a reduced appetite, but we think that is beccuse she is quite particular about her fish.
Her recent blood tests show that she still has an infection so we are continuing treatment for this; it is likely related to the shell wounds.
13 November 2022
Kakuni had more blood tests this week and they showed a persistent white blood cell count. This suggests an ongoing infection. We also checked a faecal sample for parasites, but fortunately found none. Dr Claire and Vet Nurse Lauren hope to investigate this next week. She continues to attempt to dive for food but progress is very slow.
20 November 2022
Kakuni is a much happier turtle this week. Her personality is really shining through. She's being much more inquisitive and really interested in food. Hopefully she'll start to improve her diving soon, we're really encouraging her during feeding times.
27 November 2022
Exciting news for Kakuni this week! She has started to dive, both with food and spontaneously. She is much lower in the water column too, so if she keeps this up, we expect her to be diving properly next week and it means a likely release before Christmas.