Turtle Patient 191: Kakuni, Adult Female Olive Ridley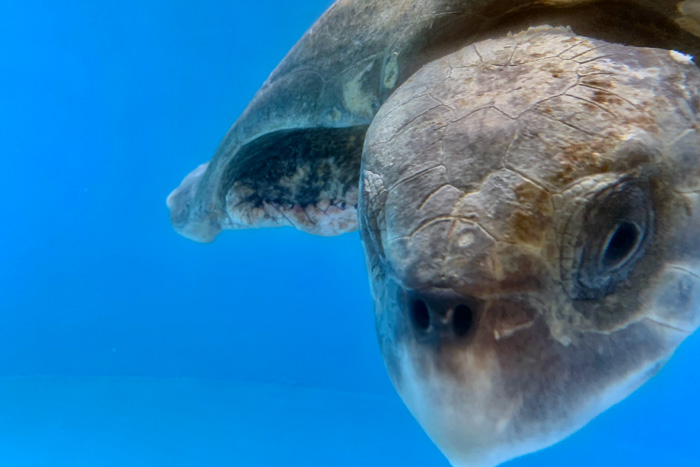 Kakuni is an adult female olive ridley who was found with entanglement wounds near Heritance Aarah in Raa Atoll.
The Vitals
Intake Date: 20 July 2022
Patient Number: 191
Rescue Location: Raa Atoll
Reason: Found floating
Transport Method: 2 seaplanes
Status: Current patient
Species: Olive ridley
Scientific Name: Lepidochelys olivacea
Sex: Female
Age: Adult
Length: 60.5 cm
Weight: 18.35 kg
The Adoptive Parents
Kakuni has kindly been adopted for Samantha.
Kakuni's Story
Kakuni was found with entanglement wounds in Raa Atoll on July 17, 2022. She was transferred to our partner resort Joeli Being on the same day. Here she was kept in a seawater tank whilst we arranged her flight transfers to the Rescue Centre. During this time, she finished 50g of tuna belly and appeared to be active.
It took two seaplane flights for her to reach the Rescue Centre. Upon admittance, Dr June found a deep entanglement wound at the right front flipper with multiple exposed bones. X-rays shows that the flipper is broken, so, unfortunately, we will have to amputate her flipper. She also has a corneal injury in her right eye and many other wound injuries on her shell and skin.
24 July 2022
Due to Kakuni's poor body condition and hydration status, the anesthesia and recovery process of her flipper ampuration surgery were challenging. Despite this, the surgery went well and she recovered uneventfully overnight. 12 hours after surgery, she was active and eating already. This is a good sign!
31 July 2022
Kakuni is gradually gaining energy and hydration. We will repeat her diagnostics next week to reassess the treatment plan.