Turtle Patient 199: Shari, Adult Female Olive Ridley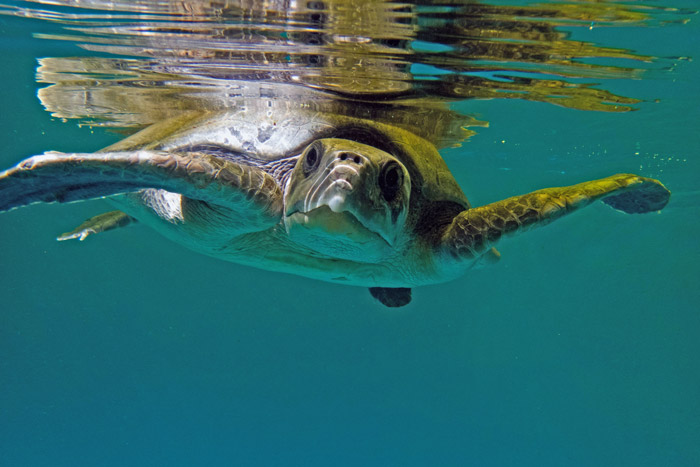 Shara was found floating and unable to dive despite her many attempts in South Ari Atoll. With the help of the staff of Maafushivaru's dive centre, this big girl was rescued and transported to our Marine Turtle Rescue Centre.
The Vitals
Intake Date: 15 January 2023
Patient Number: 199
Rescue Location: South Ari Atoll
Reason: Found floating
Transport Method: Seaplane & Speedboat
Status: Current patient
Species: Olive ridley
Scientific Name: Lepidochelys olivacea
Sex: Female
Age: Adult
Length: 63 cm
Weight: 22.2 kg
The Adoptive Parents
Shara has kindly been adopted by for Vincent by Anne Carey, by Kris Zimmerman, and by Laura Hiscock.
Shara's Story
Upon arrival, Shara did not have any obvious external injuries so we did some imaging to get a better idea of her condition. Her X-rays showed signs of drowning and pneumonia (a secondary lung infection). They also showed an abnormal accumulation of material in her stomach and excessive gas build up in her lower intestinal tract, which is preventing her from diving.
Her blood work however is not critical although she has an infection, which we will treat her for. She is currently receiving fluid therapy, antibiotics, analgesia and multivitamins. We will soon be performing further diagnostics pending on her progress in the next few days.
Adopt Shara
We ask for a minimum one time gift donation of £50 to adopt a turtle patient. You can also choose to make a monthly donation.
Once we receive confirmation of the donation and your adoption form (please make sure the names on the donation and adoption forms match), we will issue the adoption certificate with details about the turtle patient to you or the gift recipient. Please allow 7 days for the issuing of the certificate.