Turtle Patient 204: Hawwa, Juvenile Olive Ridley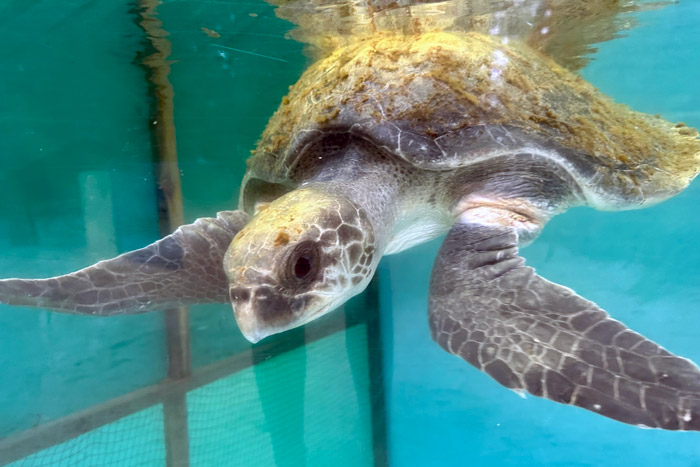 Hawwa was found entangled in a ghost net by the staff from our partner resort One&Only Reethi Rah in North Malé Atoll.
The Vitals
Intake Date: 30 January 2023
Patient Number: 204
Rescue Location: North Malé Atoll
Reason: Found entangled
Transport Method: Seaplane & Speedboat
Status: Tagged and released 13 September 2023
Species: Olive ridley
Scientific Name: Lepidochelys olivacea
Sex: Unknown
Age: Juvenile
Length: 55.5 cm
Weight: 13.9 kg
The Adoptive Parents
Hawwa has kindly been adopted for Karoline & Leon by Daniel Lefrancois, by Creig Duncan, for Hazel by Shannon Westgate, by Cameron, for Lida by Inka, and Schnatti by Andre, for Jenna & Kyle by Khang Lam, by Lisanne Dunkel, for Jana by Tim, for Alexander by Ana, for Teta by Amanda, or Jennifer by Axel, for Andeas by Timo Weihard, by Luca Wilp, Heinz Martin Wächter, for Sebastian by Karin, for Jackson, Jameson, & Jordyn by Julia, for Theódór by Gundega Jaunlinina, for Brooklyn Easton and Ms E's 1st grade class by Shannon Eubanks, by Vera Gaer, Franziska Vogt, for Maïa by Elise, by Stacey Heidler, by Laura Binder, for Giudi by Michael, by Ziggy Bish, Melinda, Peyton, by Robbie Cates, by Paige and by Nathalie Labahn.
Hawwa's Story
Hawwa, the Dhivehi name for "Eve, has ligature injuries on three of her flippers. Luckily, all are functioning well and the injuries have started to heal. Unfortunately, she is unable to dive due to gas accumulation in her gastrointestinal tract. We will treat her with regular wound care and medical therapy. We will also be encouraging her to relearn to dive while she is in our care.
She is interested in food but hasn't yet started to eat completely on her own.
12 February 2023
Hawwa is receiving therapy to help her gut motility and pain relief. She just recently started eating on her own and becoming more active. We are hoping to be able to take her out on sea swims as soon as she is feeling less stressed and more at ease at the Rescue Centre.
12 March 2023
Our sweet girl Hawwa has been improving substantially over the past month. She has a great appetite, is much calmer and has started diving much more consistently. She now eats off the bottom of her tank and likes to swim low, exploring her enclosure. She is completely off medication; her blood work is normalizing, and her X-rays are clear. Hopefully soon enough Hawwa will start sleeping on the bottom and get ready to be released!
23 March 2023
Hawwa has been consistently swimming on the bottom of her tank and although she is still not able to fully rest on the bottom by herself, she has been finding clever ways to stay under. Every morning over this past week she has been wedging herself under the environmental enrichment devices we have placed in her tank, and this way she is able to sleep on the bottom without effort.
9 April 2023
Hawwa has been spending most of her time submerged, doing laps around the tank and interacting with the enrichment devices we have placed. Because she still struggles to sleep on the bottom by herself, she has been finding clever ways to stay under – by wedging herself under the tank divider. Her appetite continues strong, and her blood-work is back to normal now.
1 May 2023
Hawwa is now spending all her time swimming around the bottom of the tank and resting submerged. We have spottet her resting on her own without help on a couple of occasions and are hoping she will keep on improving her buoyancy skills.
Hawwa hurt her right shoulder some weeks back. We started her on laser therapy to promote pain relief and healing. She has responded well to the treatment and is now moving her right flipper better again. Her appetite is good, and her blood work continues to be stable. We are hoping we will be able to release her soon!
13 June 2023
Hawwa continues her dive training. We have started her on the Targeted External Weight Therapy hoping to accelerate her diving skills. She continues to spend most of her time submerged but still not fully horizontal when resting on the bottom. Other than that, she has been doing very well and eating lots.
9 July 2023
Hawwa is finally starting to make stronger diving progress while on the Targeted External Weight Therapy. She has the whole big tank for herself and she loves swimming in all that space. We find her resting on the bottom more often and with less effort, so we are hopeful of taking her off her treatment soon.
13 August 2023
Hawwa continues to receive Targeted External Weight Therapy however, we are hoping to discontinue it slowly during the month of August. Her blood work and X-rays are normal, so we only need to focus on her behavioural issues at the moment.
6 September 2023
Hawwa is now completely off any therapies. All her behavioural issues seem to have resolved, and her blood work and X-rays are stable. We are keeping a final eye on her to assure there is no regression in her demeanour, but if all continues well she will be fitted with a satellite tag and released next week!
13 September 2023
Hawwa was tagged and released from the beach at Coco Palm Dhuni Kolhu on 13th September 2023. Stay tuned for updates on her journey soon!