Turtle Patient 200: Muraka, Juvenile Olive Ridley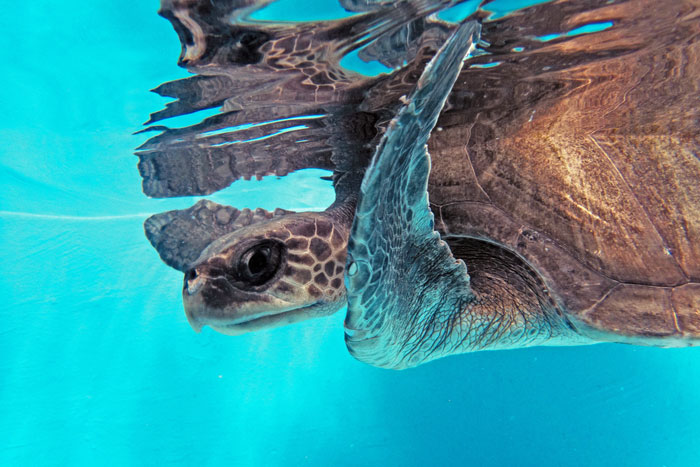 Muraka, meaning "coral" in Dhivehi, is a juvenile olive ridley turtle who was found floating near Fari Islands, North Malé Atoll. She is our 200th patient!
The Vitals
Intake Date: 19 January 2023
Patient Number: 200
Rescue Location: North Malé Atoll
Reason: Found floating
Transport Method: Seaplane & Speedboat
Status: Current patient
Species: Olive ridley
Scientific Name: Lepidochelys olivacea
Sex: Unknown
Age: Juvenile
Length: 48.5 cm
Weight: 10.5 kg
The Adoptive Parents
Muraka has kindly been adopted by Julie Berks, the O'Connell Family, and by Sabrina & Chris.
Muraka's Story
When Muraka arrived at the Rescue Centre, we provided pain relief, antibiotics and fluid therapy and took X-rays. These revealed signs of drowning and lung injuries which are causing air to leak into her body cavity causing her buoyancy issues.
We have drained air from her body cavity, which we hope will improve her buoyancy issues. However, she is still extremely buoyant, so the veterinary team will continue to treat her appropriately.
Adopt Muraka
We ask for a minimum one time gift donation of £50 to adopt a turtle patient. You can also choose to make a monthly donation.
Once we receive confirmation of the donation and your adoption form (please make sure the names on the donation and adoption forms match), we will issue the adoption certificate with details about the turtle patient to you or the gift recipient. Please allow 7 days for the issuing of the certificate.