Turtle Patient 200: Muraka, Juvenile Olive Ridley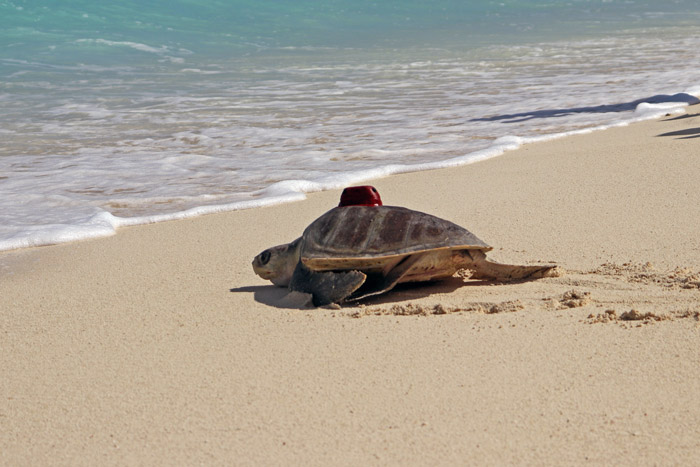 Muraka, meaning "coral" in Dhivehi, is a juvenile olive ridley turtle who was found floating near Fari Islands, North Malé Atoll. She is our 200th patient!
Follow Muraka's Journey
The Vitals
Intake Date: 19 January 2023
Patient Number: 200
Rescue Location: North Malé Atoll
Reason: Found floating
Transport Method: Seaplane & Speedboat
Status: Tagged & Released 17 August 2023
Species: Olive ridley
Scientific Name: Lepidochelys olivacea
Sex: Unknown
Age: Juvenile
Length: 48.5 cm
Weight: 10.5 kg
Muraka's Journey
Tag Deployed: 15 August 2023
Tagged Turtle #: 4
Date Released: 16 August 2023
Release Location: Coco Palm Dhuni Kolhu
Release Region: Baa Atoll, Maldives

Travel Direction: East – southeast
Total Distance Travelled: 1,118 km
Est. Average Speed Per Hour: 1.32 km
Average Daily Distance: 31.7 km
Deepest Dive: 276-300 m
The Adoptive Parents
Muraka has kindly been adopted by Julie Berks, the O'Connell Family, by Sabrina & Chris, for Jena by Rylee, for Sarah by Tom, by Clarissa, Jamie, for Jasmin by Mirca, for Harper by Laurel Eshbach, for Andreas by Gunter, by Kaitlyn Hamilton, for Sophia by Cindy, for Jan by Stefanie, for Zbigniew by Claudia, for Troop 16084 by Malinda Stone, for Molly by Margaret Seeds, by The Ritz Carlton Maldives, for Eloise Potts by Caidee Salmond (The Aqua Trust), for Melanie by Sandro, for Rita by Sara, and by Philipp.
Muraka's Story
When Muraka arrived at the Rescue Centre, we provided pain relief, antibiotics and fluid therapy and took X-rays. These revealed signs of drowning and lung injuries which are causing air to leak into her body cavity causing her buoyancy issues.
We have drained air from her body cavity, which we hope will improve her buoyancy issues. However, she is still extremely buoyant, so the veterinary team will continue to treat her appropriately.
12 February 2023
Muraka is currently receiving therapy for an infection and has already undergone three procedures to help drain some of the air in her body cavity, but unfortunately they haven't been very successful. We are hopeful that with time the lung will heal and seal the tear. Furthermore, we have also found plastic in her faeces, which is a worrying sign.
12 March 2023
Muraka has been keeping a great appetite and passing normal stools. Unfortunately, she is still having trouble with her buoyancy; her right-hand side is more elevated than the left. Her lungs will need time to heal, so we are trying different therapy approaches to help her achieve a more central positioning in water and hopefully relieve some stress.
23 March 2023
Muraka continued to have issues with her buoyancy; her right-hand side was more elevated than her left side, which was causing her discomfort and stress. She underwent another procedure to help remove the air from her body cavity, but it wasn't as successful as we had hoped for. Instead we opted to start her on some external targeted weight therapy where we place a very small weight on her right side of the shell (carapace) to help her balance to a more physiological position. That has allowed her to feel calmer so we are now giving time to her lungs to heal.
9 April 2023
As you know, Muraka was struggling to keep balance in water as her right side was always tilted upwards. For this reason we started her on a targeted external weight therapy to achieve a more centralized position in the water. This helped reduce her stress a lot and she has been calmer and attempting to dive – which is great news!
1 May 2023
Muraka has been keeping more central position in the water with the help of targeted external weight therapy. We have also added an extra weight to her back area to motivate her to start diving down a bit, and she has been trying hard. Her appetite continues to be great and we use feeding sessions to teach her diving skills.
13 June 2023
Muraka has made incredible progress this past month. Her last X-rays show that her lungs have fully sealed and no more air is leaking into the body cavity. The Targeted External Weight Therapy has been working beautifully on her and Muraka is now resting at the bottom of the tank and improving her diving skills each day. We continue to use the feeding sessions as dive training, given how food-oriented she is. Slowly but surely, she is getting closer to a full recovery.
9 June 2023
Muraka's blood work and X-rays continue to be stable. Are are still giving her Targeted External Weight Therapy and she has been found consistently sleeping on the bottom of her enclosure. We also continue to use the feeding sessions as dive training, given how food-oriented she is. Slowly but surely, she is getting closer to completing her rehabilitation.
10 August 2023
Muraka had her last round of blood work and X-rays this week. All exams returned normal and, since her buoyancy control has been perfect, she has been deemed fit for release! Muraka will be our second recovered patient this year to be fitted with a satellite track! We are beyond excited to see how far she has come and cannot wait to follow her journey once back in the ocean.
17 August 2023
Muraka was released off the beach at CocoPalm Dhunikolhu and it could not have gone better! We are now anxiously waiting to see where she is heading next!
31 August 2023
After her release, Muraka left Baa Atoll travelling in an east- southeast direction. She left the Maldivian Archipelago just north of North Malé Atoll and continued to swim towards the middle of the Indian Ocean basin. She has since travelled over 360 km in 12 days and dove several times to depths of 276-300 m! Since our satellite tags can record a maximum depth of 300 m, it is possible that she is going much deeper than what the tag is measuring.
24th September 2023
Muraka has now covered 1,118 kms and is travelling in waters southeast of Sri Lanka.