Turtle Patient 200: Muraka, Juvenile Olive Ridley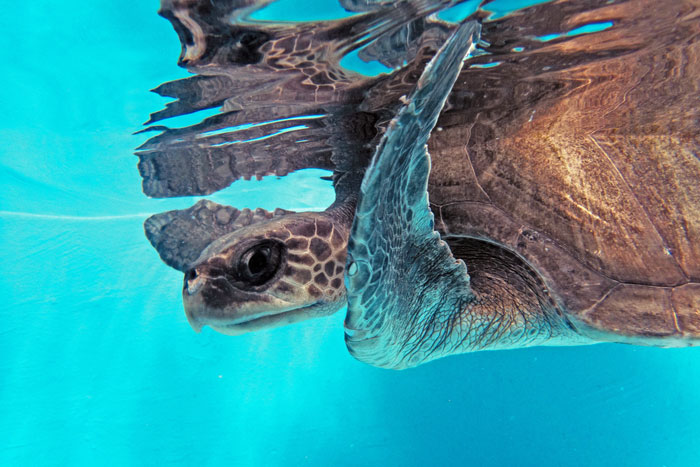 Muraka, meaning "coral" in Dhivehi, is a juvenile olive ridley turtle who was found floating near Fari Islands, North Malé Atoll. She is our 200th patient!
The Vitals
Intake Date: 19 January 2023
Patient Number: 200
Rescue Location: North Malé Atoll
Reason: Found floating
Transport Method: Seaplane & Speedboat
Status: Current patient
Species: Olive ridley
Scientific Name: Lepidochelys olivacea
Sex: Unknown
Age: Juvenile
Length: 48.5 cm
Weight: 10.5 kg
The Adoptive Parents
Muraka has kindly been adopted by Julie Berks, the O'Connell Family, by Sabrina & Chris, for Jena by Rylee, for Sarah by Tom, by Clarissa, Jamie, for Jasmin by Mirca, for Harper by Laurel Eshbach, for Andreas by Gunter, by Kaitlyn Hamilton, for Sophia by Cindy, for Jan by Stefanie, for Zbigniew by Claudia, for Troop 16084 by Malinda Stone, for Molly by Margaret Seeds, and by The Ritz Carlton Maldives.
Muraka's Story
When Muraka arrived at the Rescue Centre, we provided pain relief, antibiotics and fluid therapy and took X-rays. These revealed signs of drowning and lung injuries which are causing air to leak into her body cavity causing her buoyancy issues.
We have drained air from her body cavity, which we hope will improve her buoyancy issues. However, she is still extremely buoyant, so the veterinary team will continue to treat her appropriately.
12 February 2023
Muraka is currently receiving therapy for an infection and has already undergone three procedures to help drain some of the air in her body cavity, but unfortunately they haven't been very successful. We are hopeful that with time the lung will heal and seal the tear. Furthermore, we have also found plastic in her faeces, which is a worrying sign.
12 March 2023
Muraka has been keeping a great appetite and passing normal stools. Unfortunately, she is still having trouble with her buoyancy; her right-hand side is more elevated than the left. Her lungs will need time to heal, so we are trying different therapy approaches to help her achieve a more central positioning in water and hopefully relieve some stress.
23 March 2023
Muraka continued to have issues with her buoyancy; her right-hand side was more elevated than her left side, which was causing her discomfort and stress. She underwent another procedure to help remove the air from her body cavity, but it wasn't as successful as we had hoped for. Instead we opted to start her on some external targeted weight therapy where we place a very small weight on her right side of the shell (carapace) to help her balance to a more physiological position. That has allowed her to feel calmer so we are now giving time to her lungs to heal.
9 April 2023
As you know, Muraka was struggling to keep balance in water as her right side was always tilted upwards. For this reason we started her on a targeted external weight therapy to achieve a more centralized position in the water. This helped reduce her stress a lot and she has been calmer and attempting to dive – which is great news!
1 May 2023
Muraka has been keeping more central position in the water with the help of targeted external weight therapy. We have also added an extra weight to her back area to motivate her to start diving down a bit, and she has been trying hard. Her appetite continues to be great and we use feeding sessions to teach her diving skills.
Adopt Muraka
When you symbolically adopt one of our turtle patients you will receive:
A personalised adoption certificate with the history of your adopted turtle patient
A fact sheet about the species of sea turtle
Updates on how your adopted turtle's recovery is going (if you wish)
Notification in the case of a release
We ask for a minimum one time gift donation of £75 to adopt a turtle patient. You can also choose to make a monthly donation.
Once we receive confirmation of the donation and your adoption form (please make sure the names on the donation and adoption forms match), we will issue the adoption certificate with details about the turtle patient to you or the gift recipient. Please allow 7 days for the issuing of the certificate.
By adopting one of our turtle patients, you will contribute towards the cost of our patients' veterinary care, medications, and transport. You will also help fund our core charitable objectives to protect sea turtles and their habitats through rescue and rehabilitation, scientific research, and education and outreach.