New Arrivals
Zeliya – Arrived 22 April 2023
Zeliya is a sub-adult olive ridley that was found entangled in a ghost net by the staff of Hilton Maldives Amingiri Resort, in North Malé Atoll. She had deep ligature injuries to her right front and back flippers, with bone exposed on both. There is also an extensive wound around her neck caused by the net and a perforation near her right thigh area (called the inguinal region).
On arrival Zeliya's blood work and X-rays showed signs of infection, so we started her on supportive therapy and pain relief in preparation for her surgery. On 26th April, Zeliya underwent a big surgery to clean and debride all her wounds. The procedure went well, all tissues looked healthy after it and she recovered well. Zeilya has now moved to a larger tank, and is eating small pieces of fish and prawns. We are hoping to salvage her flippers as she has full movement on all four.
Handhu – Arrived 18 April 2023
Handhu, which in Dhivehi means "Moon", is a sub-adult olive ridley that was found entangled in ghost net by NAKAI Dhiggiri resort in Vaavu Atoll. She arrived with a deep laceration to her right front flipper and an exposed bone. However her X-rays showed no signs of bone infection nor any fractures which was great news. We provided her with supportive therapy and pain relief. On 20th April, Handhu underwent surgery to deep clean her injuries and her underlining tissues were looking well. We have also started her on laser therapy to promote quicker healing. Handhu has been resting on the bottom of the tank, swimming around and interacting with the enrichment. Her appetite is improving and she loves to forage for prawns and fish.
Resident Patients
Zuhura – Arrived 30 January 2023
Zuhura has become a voracious eater and is putting on some healthy weight. She also loves to swim around the tank and crawl the walls like a spider to come to the surface and curiously check her surroundings. We have placed a couple of enrichment devices in her tank, which she spends her time interacting with, especially the brushes panel. Her ligature wounds on the flippers have healed nicely, but unfortunately, she has signs of bone infection on multiple joints. We have been targeting our therapy to tackle it aggressively.
Hawwa – Arrived 30 January 2023
Hawwa is now spending all her time swimming around at the bottom of the tank and resting submerged. This indicates an improvement in her buoyancy skills. Unfortunately, Hawwa had hurt her right shoulder some weeks back, so we started her on laser therapy to promote pain relief and healing. She is responding well and moving her right flipper better again. Her appetite is good, and her blood work continues to be stable. We are hoping to be able to release her soon!
Muraka – Arrived 19 January 2023
Muraka has been keeping a more central position in the water with the help of Targeted External Weight Therapy. We have also added an extra weight to her back area to motivate her to start diving down a bit and she has been trying hard. She is maintaining a great appetite and we use feeding sessions to help her with her diving skills.
Shara – Arrived 15 January 2023
Shara has been responding really well to the Targeted External Weight Therapy we placed her on last month. She no longer requires a lateral weight as she has learned how to maintain a central position in the water. She has also been improving her diving skills, and is now able to spend most of her day submerged.
Fida – Arrived 6 August 2022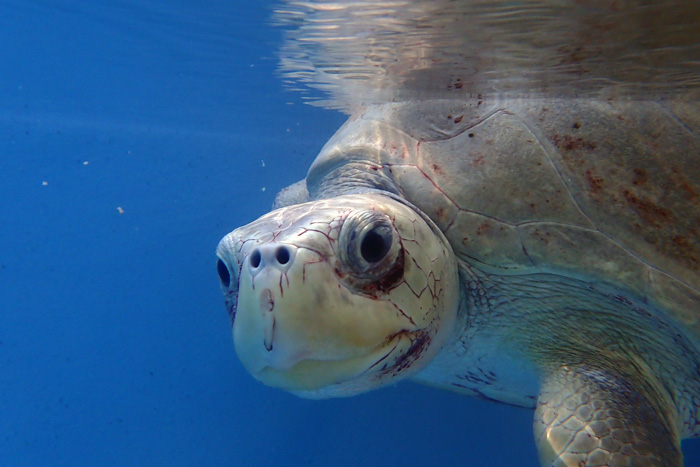 Fida, remains a favourite amongst the guests at our Rescue Centre! Thanks to her curious nature, she loves interacting with the enrichment devices in her tank.
Deceased
Aluvi – Arrived 22 April 2023, Deceased 8 May 2023
Aluvi, meaning "potato" in Dhivehi, was a juvenile hawksbill found floating and unable to dive near the harbour of Kadhdhoo Airport in Laamu Atoll. Her rescuers took her to our resort partners Six Senses Laamu, where she spent the night before taking a domestic and a seaplane flight to arrive at our Rescue Centre.
On arrival, she was responsive but weak and dehydrated. We started emergency treatment, but unfortunately, Aluvi was diagnosed with acute kidney failure. Despite intensive therapy, she passed away on 8th May as a result of her condition.
Hudumaa – Arrived 24 April 2023, Deceased 25 April 2023
Hudumaa was a sub-adult olive ridley that was found drifting in the currents by JA Manafaru resort, in Haa Alifu Atoll. She had lost three of her flippers due to ghost net entanglement and was unable to dive. Hudumaa was admitted to the Rescue Centre on 24th April and her blood work showed a severe infection, which despite immediate critical care she did not respond to. Sadly, she passed away the following day. On her post-mortem we confirmed she was a female, although still immature.