Turtle Patient 209: Handhu, Sub-Adult Olive Ridley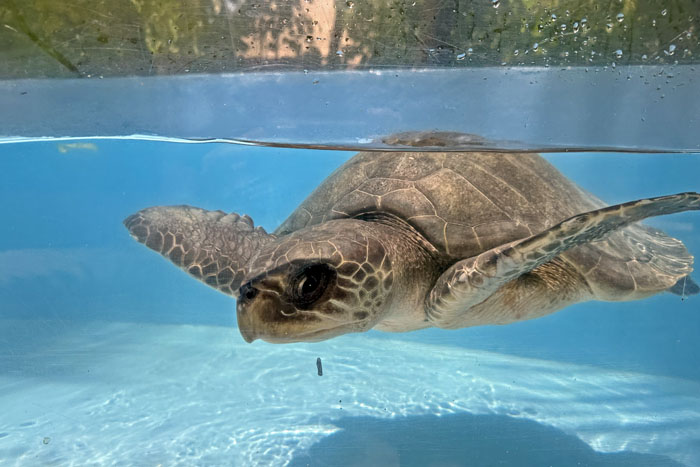 Handhu was found entangled in a ghost net by the dive team at Nakai Dhiggiri Resort in Vaavu Atoll.
The Vitals
Intake Date: 18 April 2023
Patient Number: 209
Rescue Location: Vaavu Atoll
Reason: Found entangled
Transport Method: Speedboats & seaplane
Status: Current patient
Species: Olive ridley
Scientific Name: Lepidochelys olivacea
Sex: Unknown
Age: Sub-Adult
Length: 55.4 cm
Weight: 15.6 kg
The Adoptive Parents
Handhu has kindly been adopted for Simone by Vincent Olivier, by Lindsay Dearden, for Niko by James Jeffery, for Neal by Ximena, for Francie by Nicki Comeau, and for Mathis by Antoine.
Handhu's Story
Handhu, which means "Moon" in Dhivehi (quite the fitting name for a Ramadan rescue!), was brought onto the boat and then carefully disentangled. Once the rescuers realised that Handhu had a deep laceration to her right front flipper, they promptly called us for a veterinary check. It was decided she would need to be seen and assessed.
After a very long day of travels by different speedboats and a seaplane, Handhu was admitted to the Rescue Centre in the late evening of 18th of April. Her X-rays are looking OK – we found no fractures, which is great news. The veterinary team started Handhu on supportive therapy and pain relief, preparing her for a future surgery on that affected limb. Handhu has been resting in our ICU tank and adjusting to her new environment.
1 May 2023
Handhu has been resting on the bottom, swimming around her tank during the day and interacting with the enrichment devices we provide her with. Her appetite has improved and she loves to forage for her prawns and fish.
On April 20th Handhu underwent surgery to deep clean her injuries and the underlining tissues were looking well. We started her on laser therapy to promote a faster healing and are hopeful she will only require a couple more procedures to fully heal her lesion.
Adopt Handhu
When you symbolically adopt one of our turtle patients you will receive:
A personalised adoption certificate with the history of your adopted turtle patient
A fact sheet about the species of sea turtle
Updates on how your adopted turtle's recovery is going (if you wish)
Notification in the case of a release
We ask for a minimum one time gift donation of £75 to adopt a turtle patient. You can also choose to make a monthly donation.
Once we receive confirmation of the donation and your adoption form (please make sure the names on the donation and adoption forms match), we will issue the adoption certificate with details about the turtle patient to you or the gift recipient. Please allow 7 days for the issuing of the certificate.
By adopting one of our turtle patients you will contribute towards the cost of our patients' veterinary care, medications, and transport. You will also help fund our core charitable objectives to protect sea turtles and their habitats through rescue and rehabilitation, scientific research, and education and outreach.