Turtle Patient 210: Zeliya, Sub-Adult Olive Ridley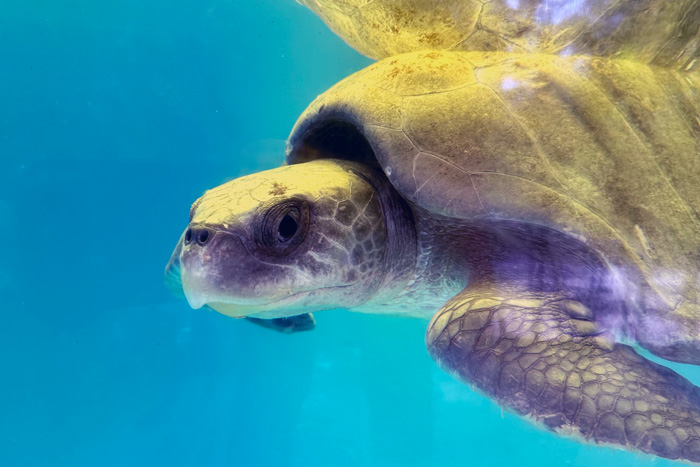 Zeliya was found entangled in a ghost net by the staff at Hilton Maldives Amingiri Resort & Spa in North Malé Atoll
The Vitals
Intake Date: 22 April 2023
Patient Number: 210
Rescue Location: North Malé Atoll
Reason: Found entangled
Transport Method: Speedboats & seaplane
Status: Current patient
Species: Olive ridley
Scientific Name: Lepidochelys olivacea
Sex: Unknown
Age: Sub-Adult
Length: 57.1 cm
Weight: 20.55 kg
The Adoptive Parents
Zeliya has kindly been adopted by Alaida, Marina Ling, Marielle, by Cassandra & Ahmed, Heidi, Lena & Harald, Jenny Crowe, for Lyonel Marcus by Patrick Stoll, and for Kelley by Joelle Beauchemin.
Zeliya's Story
Zeliya has quite deep ligature injuries to her right front and back flippers, with bone exposure on both. There is also an extensive laceration around her neck caused by the ghost net and a perforation near her right thigh area (called the inguinal region).
Both Zeliya's blood-work and X-rays show signs of infection, so we have started her on supportive therapy and pain relief, hoping to stabilise her before surgery to clean up her wounds.
Zeliya has started to eat small pieces of fish and is able to move all flippers while swimming in the ICU tank.
1 May 2023
On April 26th Zeliya underwent a big surgery to clean and debride all her wounds. The procedure went well, all tissues looked healthy after it and she recovered well. Zeilya has now started to eat small pieces of fish and prawns and has been moved to a larger tank. She still has full movement on all her flippers, and we are hoping we can salvage all of them.
Adopt Zeliya
When you symbolically adopt one of our turtle patients you will receive:
A personalised adoption certificate with the history of your adopted turtle patient
A fact sheet about the species of sea turtle
Updates on how your adopted turtle's recovery is going (if you wish)
Notification in the case of a release
We ask for a minimum one time gift donation of £75 to adopt a turtle patient. You can also choose to make a monthly donation.
Once we receive confirmation of the donation and your adoption form (please make sure the names on the donation and adoption forms match), we will issue the adoption certificate with details about the turtle patient to you or the gift recipient. Please allow 7 days for the issuing of the certificate.
By adopting one of our turtle patients, you will contribute towards the cost of our patients' veterinary care, medications, and transport. You will also help fund our core charitable objectives to protect sea turtles and their habitats through rescue and rehabilitation, scientific research, and education and outreach.