Turtle Patient 207: Zuhura, Juvenile Olive Ridley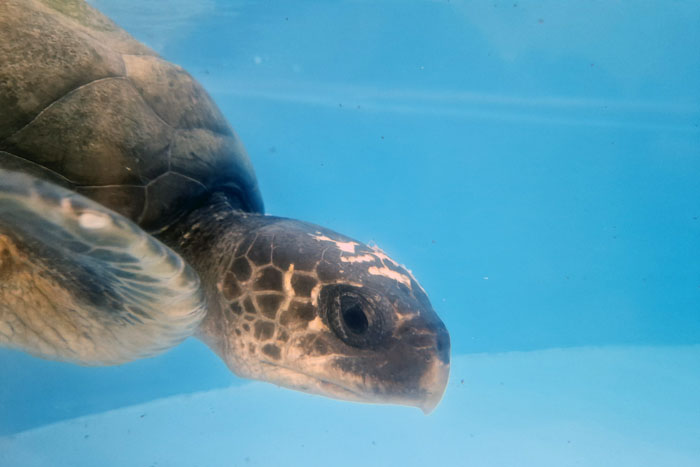 Zuhura was found entangled in a ghost net that luckily drifted to Coco Palm Dhuni Kolhu where the Rescue Centre is lcoated.
The Vitals
Intake Date: 10 March 2023
Patient Number: 207
Rescue Location: Baa Atoll
Reason: Found entangled
Transport Method: N/A
Status: Current patient
Species: Olive ridley
Scientific Name: Lepidochelys olivacea
Sex: Unknown
Age: Juvenile
Length: 46 cm
Weight: 9.5 kg
The Adoptive Parents
Zuhura has kindly been adopted by Grace Kay Maurin, by Tracy, John & Josh, and for Chelsea by Laura Hiscock.
Zuhura's Story
Zuhura found her own way to the Rescue Centre when no one came to her rescue! The ghost net in which she was entangled drifted by Coco Palm Dhuni Kolhu where we are based. A family staying at the resort spotted the net at sea and waited for it to arrive on the island. The net eventually got stuck in one of the water villa's pillars and that's when they realised that there was a turtle entangled in it. The father of the family, John, jumped in to try and help her while mom, Tracy, and their son called us.
Zuhura is skinny and with some abrasions on her carapace and head. She has ligature injuries on three of her flippers but, fortunately, her X-rays and blood work came back normal. We started a new photomodulation (laser) therapy to help decrease the inflammation on her front flippers and hope to nurture her back to health with proper nutrition.
23 March 2023
Zuhura underwent surgery to fully debride the ligature injuries on both her front flippers and her right hind flipper. The procedure went well and it will hopefully speed up her recovery.
Adopt Zuhura
We ask for a minimum one time gift donation of £50 to adopt a turtle patient. You can also choose to make a monthly donation.
Once we receive confirmation of the donation and your adoption form (please make sure the names on the donation and adoption forms match), we will issue the adoption certificate with details about the turtle patient to you or the gift recipient. Please allow 7 days for the issuing of the certificate.