Turtle Patient 207: Zuhura, Juvenile Olive Ridley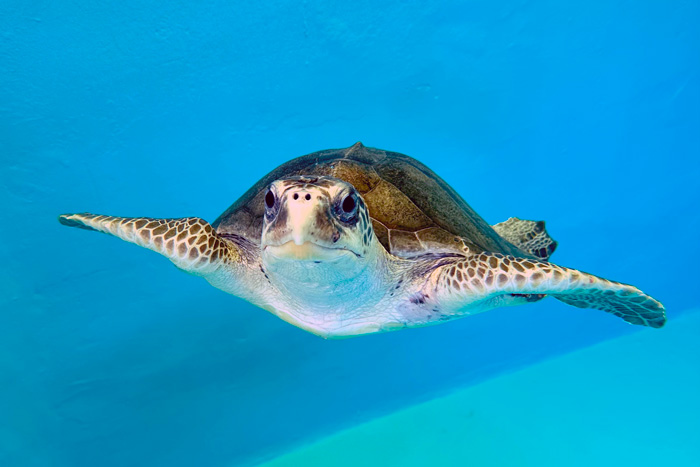 Zuhura was found entangled in a ghost net that luckily drifted to Coco Palm Dhuni Kolhu where the Rescue Centre is located.
The Vitals
Intake Date: 10 March 2023
Patient Number: 207
Rescue Location: Baa Atoll
Reason: Found entangled
Transport Method: N/A
Status: Released 16 June 2023
Species: Olive ridley
Scientific Name: Lepidochelys olivacea
Sex: Unknown
Age: Juvenile
Length: 46 cm
Weight: 9.5 kg
The Adoptive Parents
Zuhura has kindly been adopted by Grace Kay Maurin, by Tracy, John & Josh, for Chelsea by Laura Hiscock, by Karin, by Jutta Sommer, for Andy by Michaela Walton, by Cory, for Rachel by Jen, by Andrea Danner, by Caidee Salmond & Freja (The Aqua Trust), and by Gemma.
Zuhura's Story
Zuhura found her own way to the Rescue Centre when no one came to her rescue! The ghost net in which she was entangled drifted by Coco Palm Dhuni Kolhu where we are based. A family staying at the resort spotted the net at sea and waited for it to arrive on the island. The net eventually got stuck in one of the water villa's pillars and that's when they realised that there was a turtle entangled in it. The father of the family, John, jumped in to try and help her while mom, Tracy, and their son called us.
Zuhura is skinny and with some abrasions on her carapace and head. She has ligature injuries on three of her flippers but, fortunately, her X-rays and blood work came back normal. We started a new photomodulation (laser) therapy to help decrease the inflammation on her front flippers and hope to nurture her back to health with proper nutrition.
23 March 2023
Zuhura underwent surgery to fully debride the ligature injuries on both her front flippers and her right hind flipper. The procedure went well and it will hopefully speed up her recovery.
9 April 2023
Zuhura has started eating on her own and has also been passing normal stools. Crabs are her favourite food but she also enjoys prawns and tuna. Zuhura has undergone a couple of surgeries to help clean her ligature wounds around the left front and back right flippers, which have been responding really well to therapy. However, she has now developed an infection on her right elbow which we are aggressively treating for.
1 May 2023
Zuhura has become a voracious eater and keeps on putting on healthy weight. She loves to swim around the tank and crawl the walls like a spider to come to the surface and check her surroundings. Zu is a very curious turtle. We have placed a couple of enrichment devices in her tank and she interacts a lot with them, especially with the brushes panel. Her ligature wounds on the flippers have healed nicely but, unfortunately, she has signs of bone infection on multiple joints. We agressively targeting our therapy to tackle it.
13 June 2023
Zuhura has been doing great! Her injuries caused by the ghost net have fully healed. Blood work is normalised and her X-rays show the focus of bone infection she had is well under control now. We have discontinued therapy and are now evaluating her response before releasing her. So far, she has been eating nicely, resting on the bottom and swimming effortlessly.
14 June 2023
Zuhura had her last round of blood work and X-rays today. All exams came back stable and Zu has been deemed fit for release! Please join us live on Instagram Friday 16th June at 9am UK time (World Sea Turtle Day!) to watch her return home.