Released
Ekaanlo – Arrived 22 January 2023, Released 19 February
After three weeks at the Rescue Centre, Ekaanlo, our only hawksbill patient, was diving comfortably and eating well. Once her last health check including X-rays and blood work came in clear, she was released from the beach at Coco Palm Dhuni Kolhu, right by our house reef. This way she has easy access to food for the first days until she likely decides on starting her migration south back home again. The release went really well; we were joined by the resort guests who were all cheering for her. Initially, Ekaanlo seemed slightly confused. However, not long after she got her confidence back and just headed into the reef!
Fari – Arrived 6 January 2023, Released 21 February
After six weeks at the Rescue Centre, Fari, who arrived very weak and struggling to both breathe and swim, was back to normal. Her wounds were healing well, so she had a last health check where we repeated blood work and X-rays. She got a clean bill of health and therefore was deemed fit for release. Fari returned home on February 21st, 2023 and we hope she goes on to live a long ghost-net free life in the ocean.
New Patients
Zuhura – Arrived 10 March 2023
Zuhura is a juvenile olive ridley that was found entangled in a ghost net that luckily drifted right to Coco Palm Dhuni Kolhu, the resort where our Rescue Centre is based. Dr Mariana disentangled her in the water and brought her to the clinic immediately for a check. Zuhura arrived quite skinny, with some abrasions on her carapace and head. She has mild ligature injuries on three of her flippers, but fortunately her X-rays and blood work came back normal. We started her on a new therapy that uses photomodulation (laser), to help decrease the inflammation on her front flippers. We will also be nurturing her back to health with proper nutrition.
Maamui – Arrived 14 February 2023
Maamui, another juvenile olive ridley, was found floating and unable to dive by the Maldives Underwater Initiative (MUI) at Six Senses in Laamu Atoll. She was rescued by our Sea Turtle Biologist Julian and Intern Biologist Sarah, who knew exactly what to do and prepared her for transport. Maamui had to first take a domestic flight to Malé and later a seaplane in order to arrive at our Rescue Centre. With such a long journey she was quite stressed at arrival and required a mild sedation to help her calm down. Her X-rays showed a severe accumulation of air outside of her lungs, which was causing pressure on all her internal organs. Maamui underwent an emergency procedure to alleviate the air and has been on supportive therapy since. She also has signs of infection in her blood work. She has been eating, although she is quite the picky eater and prefers mostly crabs. Maamui is still very buoyant but we are giving time for her lungs to heal and hopefully the remaining air to be absorbed.
Resident Patients
Hawwa – Arrived 30 January 2023
Our sweet girl Hawwa has been improving substantially over the past month. She has a great appetite, is much calmer and is diving more consistently. She now eats off the bottom of the tank and likes to swim low exploring her enclosure. She is completely off medication, her blood work is normalising, and her X-rays are clear. Hopefully, Hawwa will soon start sleeping on the bottom and be ready for release.
Handhuvaru – Arrived 29 January 2023
Handhuvaru has been showing slow but steady improvements. The wound on her head is healing nicely and her front flippers are now acquiring a much more normal position (initially she would keep them very tightly tucked under her body). We started Handhuvaru on an appetite stimulant and hope it will motivate her to eat more consistently. Her blood work shows marked improvement, meaning we are getting her infection under control.
Muraka – Arrived 19 January 2023
Muraka's appetite has been great lately and she is passing normal stools. Unfortunately, she is still having trouble with her buoyancy; her right side is more elevated than the left, so she is tilting in the water. Her lungs will need time to heal, therefore we are trying different therapy approaches to help her achieve a more central positioning in water and hopefully relieve some stress.
Shara – Arrived 15 January 2023
Shara is diving down for her food, although not very graciously yet. We started her on weight therapy last week to promote a more physiological body position and hopefully help Shara improve her diving abilities. The injuries on her flippers are healing and she is now off any medication as well.
Fida – Arrived 6 August 2022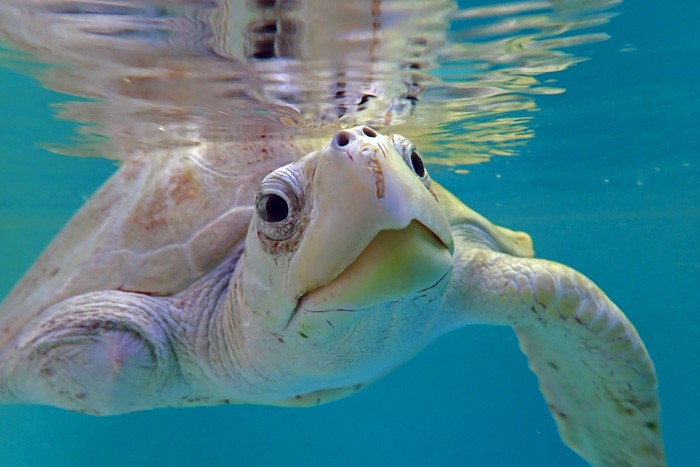 Fida continues to have a great appetite and is also quite active. Since she is a very curious turtle, we have added new environmental enrichment devices in her tank to promote interaction.