Turtle Patient 206: Maamui, Juvenile Olive Ridley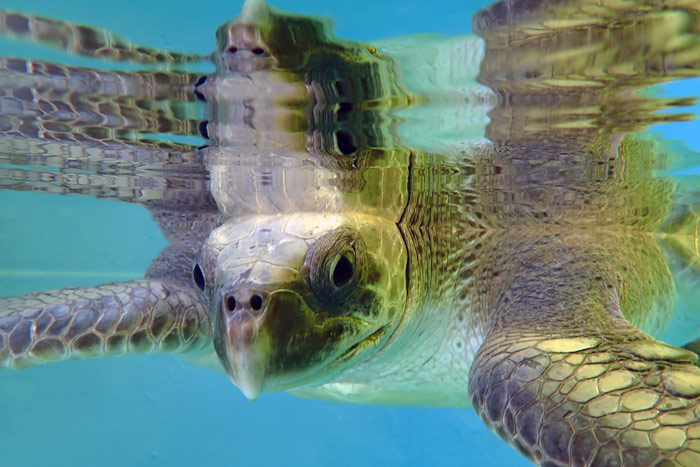 Maamui was found floating and unable to dive by the Maldives Underwater Initiative by Six Senses, in Laamu Atoll.
The Vitals
Intake Date: 14 February 2023
Patient Number: 206
Rescue Location: Laamu Atoll
Reason: Found floating
Transport Method: Domestic Flight & Seaplane
Status: Current patient
Species: Olive ridley
Scientific Name: Lepidochelys olivacea
Sex: Unknown
Age: Juvenile
Length: 53 cm
Weight: 12.1 kg
The Adoptive Parents
Maamui has kindly been adopted for Luka by Sabra, for Lotte, Basile & Timo by Timothy De Mey, by Alyssa and by Minhee.
Maamui's Story
Maamui, which in Dhivehi means "Honey", was rescued by our ORP biologist Julian and intern Sarah, who had recently been to the Rescue Centre to receive training and knew exactly how to act. Maamui had to travel by domestic plane to Malé and from there take a seaplane to arrive at Coco Palm Dhuni Kolhu.
Upon arrival, Maamui was quite stressed and needed a mild sedation to help her calm down. Her blood-work showed signs of infection and her X-rays revealed a severe accumulation of air outside of her lungs which was pressuring all her internal organs. Maamui underwent an emergency procedure to alleviate it, although it wasn't very successful. She has been on supportive therapy since arrival. We are closely monitoring her as her condition is still quite critical.
12 March 2023
Maamui has been on supportive therapy since she arrived as she has signs of infection on her blood work. She has been eating although she is quite the picky eater and prefers mostly the crabs. Maamui is still very buoyant but we are giving time for her lungs to heal and hopefully the remaining air to be absorbed.
Adopt Maamui
We ask for a minimum one time gift donation of £50 to adopt a turtle patient. You can also choose to make a monthly donation.
Once we receive confirmation of the donation and your adoption form (please make sure the names on the donation and adoption forms match), we will issue the adoption certificate with details about the turtle patient to you or the gift recipient. Please allow 7 days for the issuing of the certificate.