Released
Thiki – Arrived 2 April 2023, Released 11 April 2023
Thiki, which in Dhivehi means "spots", was found floating and unable to dive by the staff at Constance Moofushi Maldives in South Ari Atoll. Luckily, Thiki had no external injuries, and her blood work came back normal except that she was dehydrated. Her radiographs showed faecal impaction, which means she was constipated, so we provided her with therapy to help with her gut movement. Thiki recovered quickly and was soon resting at the bottom of the tank. She was swimming with no difficulties, and her last set of X-rays and blood work came back normal. Considering her good health, we released Thiki off the beach at Coco Palm Dhuni Kolhu, near a shallow reef where she will be able to find enough food for the first few days.
Resident Patients
Zuhura – Arrived 10 March 2023
Zuhura started eating on her own and has been passing normal stools. Crabs are her favourite food but she also enjoys prawns and tuna. She has undergone a couple of surgeries to help clean her ligature wounds around the left front and back right flippers, which have been responding really well to therapy. However, Zuhura has now developed an infection on her right elbow which we are aggressively treating.
Hawwa – Arrived 30 January 2023
Hawwa has been spending most of her time submerged, doing laps around the tank and interacting with the enrichment devices we have placed. Since she still struggles to sleep on the bottom by herself, she finds clever ways to stay under – by wedging herself under the tank divider. Her appetite continues strong, and her blood work is back to normal now.
Muraka – Arrived 19 January 2023
Muraka had been struggling to keep balance in water as her right side was always tilting upwards. For this reason we started her on a targeted external weight therapy to help her achieve a more centralised position in the water. This has reduced her stress a lot. She is calmer and is now attempting to dive.
Shara – Arrived 15 January 2023
Shara has been improving her diving skills. The targeted external weight therapy that she has been on for the past weeks has really been helping her adapt to a more physiological position in the water. The therapy is also helping rewire her brain on how diving works. Given her voracious appetite, we use feeding sessions to train her diving abilities.
Fida – Arrived 6 August 2022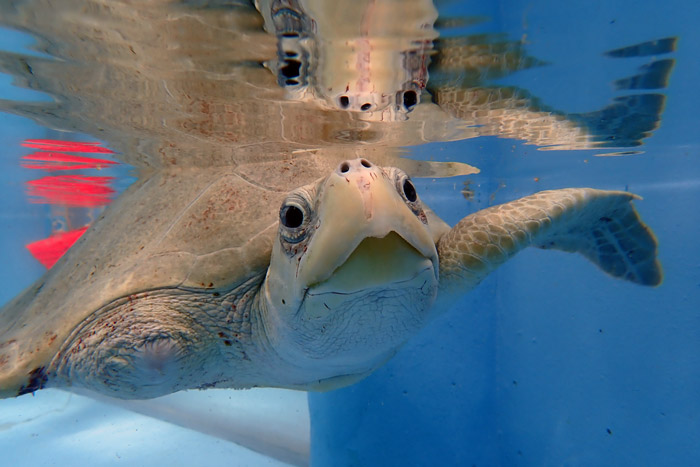 Fida is our most curious and playful turtle. She is very active and enjoys interacting with the enrichment devices we often place in her tank.
Deceased
Maamui – Arrived 14 February 2023, Deceased 27 March 2023
Our lovely Maamui passed away on Monday morning, 27th of March. During her rehabilitation, Maamui underwent a couple of surgical procedures to help alleviate the air in her body cavity, but these did not achieve the success we had hoped for. Despite intensive therapy, she continued to decline and did not respond to treatment. We were able to determine that Maamui was suffering from acute renal failure, meaning her kidneys stopped working abruptly, which is a complication related to her torn lungs. After her death, we performed a post-mortem examination which confirmed that she was indeed a female sea turtle. We suspect she passed due to kidney failure and will use her case to help guide therapy for future patients with the same disease process.
Handhuvaru – Arrived 29 January 2023, Deceased 31 March 2023
Our sweet lady Handhuvaru passed away on 31st of March. Ever since her arrival she was not able to feed by herself. So after some weeks it was decided to place a tube down her oesophaghus (called and oesophageal tube) that would allow us to bypass her mouth and feed her in a stress-free manner. This would give her some much-needed time to build up an appetite and start eating on her own, while guaranteeing proper nutrition. Unfortunately, Handhuvaru's overall condition deteriorated rapidly. Over the course of the week the infection spread throughout her body, and she did not survive despite our team's best efforts.