Turtle Patient 208: Thiki, Juvenile Hawksbill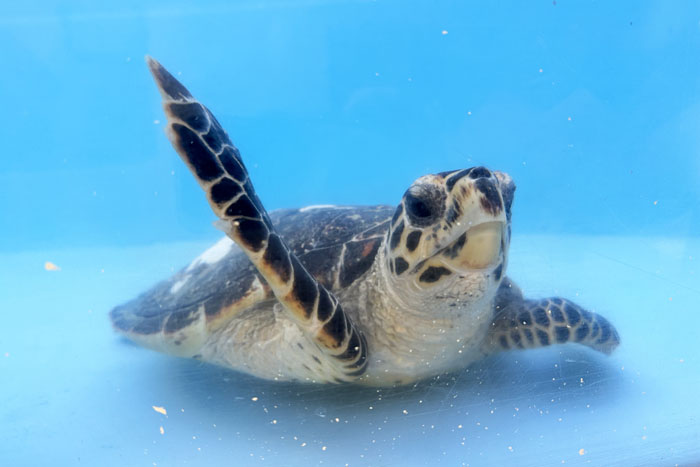 Thiki was found floating and unable to dive by staff at Constance Moofushi Resort in South Ari Atoll.
The Vitals
Intake Date: 2 April 2023
Patient Number: 208
Rescue Location: South Ari Atoll
Reason: Found floating
Transport Method: Seaplane
Status: Released 11 April 2023
Species: Hawksbill
Scientific Name: Eretmochelys imbricata
Sex: Unknown
Age: Juvenile
Length: 42.5 cm
Weight: 7.15 kg
Thiki's Story
Thiki, which in Dhivehi means "Spots", has no external injuries. His blood work also came back normal, except he was dehydrated upon arrival. His X-rays showed faecal impaction – which means he is constipated – so we are providing him with therapy to help with his gut movement.
10 April 2023
Thiki had another round of X-rays which showed his intestinal tract is emptying nicely. We have also performed an ultrasound to confirm his gut motility and the last blood analysis came back normal. Thiki has been resting on the bottom of his tank and swimming with no difficulties, so we have cleared Thiki for release!
11 April 2023
Thiki was released today from the beach at Coco Palm Dhuni Kolhu near a shallow reef where he will be able to find enough good food for the first days. He swam off quickly, came up for a breath and then dived down. Safe travels Thiki!