Released
Autumn, Arrived 22 February 2022, Tagged & Released 18 April 2022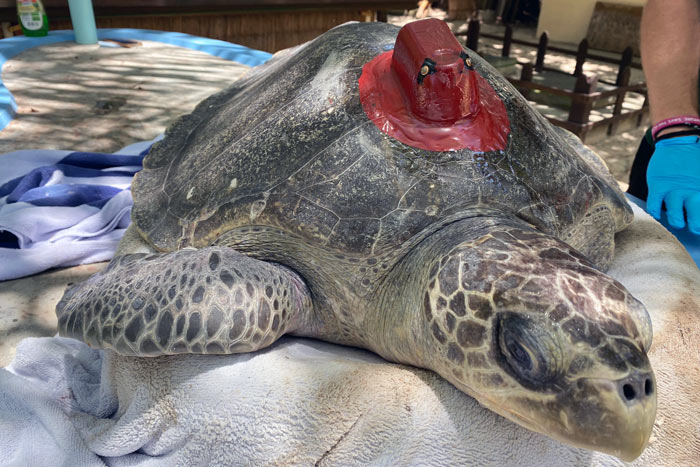 Autumn had been doing very well – her wounds had healed completely, she had regained full control of her buoyancy and was diving excellently.  Once her last round of blood tests came in clear, we knew it was time for her to go home. Excitingly, we also decided to make Autumn our first ORPTrack candidate – and fitted her with a satellite tag. We released Autumn from the beach on 18 April 2022, officially kick starting our satellite tagging project!
When she was released, Autumn first travelled south east before turning east. She is currently south of Sri Lanka and has already travelled 788 km at an average speed of 35.8 km per day. She has completed hundreds of dives with one dive clocking in at between 131 and 140 metres!! Not bad for a three-flippered young turtle who just spent two months in rehabilitation after being rescued from ghost gear entanglement! You go Autumn!!!
New Arrivals
Jazeera, Arrived 24 April 2022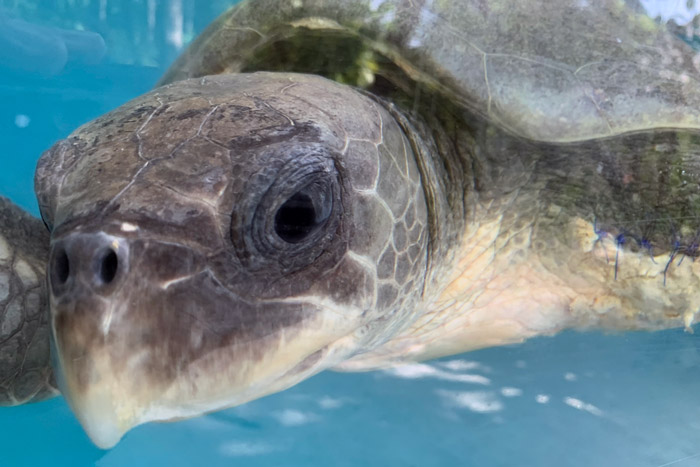 Jazeera, a sub-adult olive ridley, was found entangled in a ghost net at Constance Moofushi in South Ari Atoll. He had been bleeding from the struggle to free himself but instead ended up exposing the bone of his entangled front left flipper.
When he arrived at the Rescue Centre, we immediately put him on antibiotics, pain relief and administered fluids. After one night of rest, Jazeera underwent an amputation surgery, as his front left flipper was dying off and could not be saved. He spent the last few weeks getting better and we're happy to report that Jazeera's amputation wound is healing well, he has a good appetite, and has even started diving around the tank.
The Resident Patients
Crwban, Arrived 8 March 2022
Crwban was so close to his release last month, only, when the day came, he refused to dive. Instead of releasing him, we therefore took him back to the Rescue Centre. We repeated his blood tests and found that he had a small infection – for which he was put on an antibiotic course.
Over the last month, we have also noticed that every time Crwban dives for food, it seems to involve great effort and he pings back up immediately afterwards. Given his positive buoyancy, we are planning to conduct imaging to further investigate his lung condition, once his antibiotic course is finished. We will also be repeating his X-rays for his right flipper stump to check for bone infection.
Leonardo, Arrived 14 February 2022
In some good news, Leonardo's flipper has shown great progress over the last month. His flipper usage has increased, and there is much greater range of motion from the earlier small flipper twitches and sweeps.
Towards the end of last month, there was a breakthrough and Leonardo finally began to dive. Given this progress, just last week we started him on buoy training and to our delight, he made multiple successful diving attempts, although only within the top quarter of the water column.
We've taken Leonardo off his pain medication, despite which his right flipper thankfully continues to show improvement in motion.
Kalo, Arrived 20 January 2022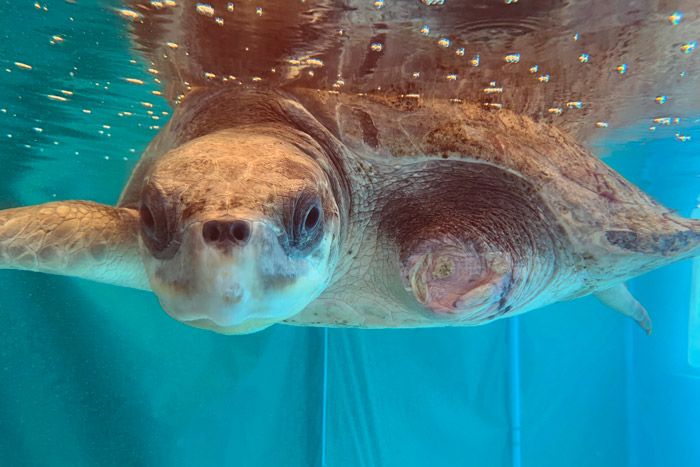 Early last month Kalo wasn't showing any attempts to dive and needed encouragement at all points to dive while eating. We continued to weigh down her food during feeding time to encourage her diving, but there was initially little to no progress.
However, last week we were delighted to see her dive deeper than she usually does. We are planning to continue the training throughout the next couple of weeks to keep the momentum going.
Pickle, Arrived 10 December 2021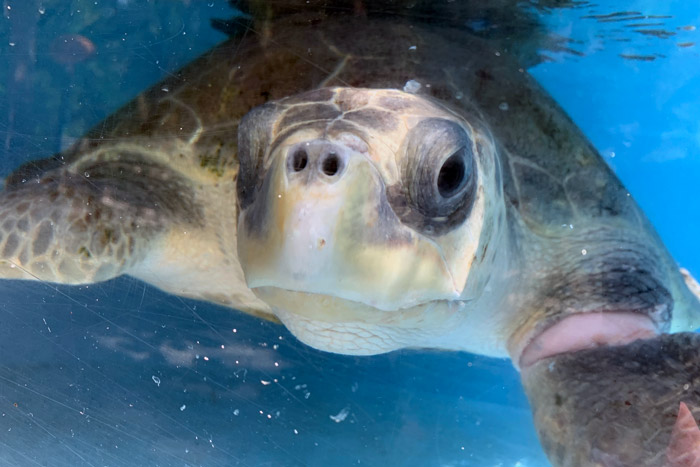 Pickle has been using her flipper with a marked improvement in range of motion and flexibility. We also regularly see her resting comfortably at the bottom of her tank. Her appetite has been consistently healthy throughout the last three weeks.
Pickle is still on antibiotics for a suspected shoulder infection, and once that is done, we will be scheduling a repeat X-ray to re-assess her shoulder.
Considering her great progress, Pickle is likely to be our next best candidate for satellite tag placement and release, hopefully in late May this year.
Tibby – Arrived 26 July 2021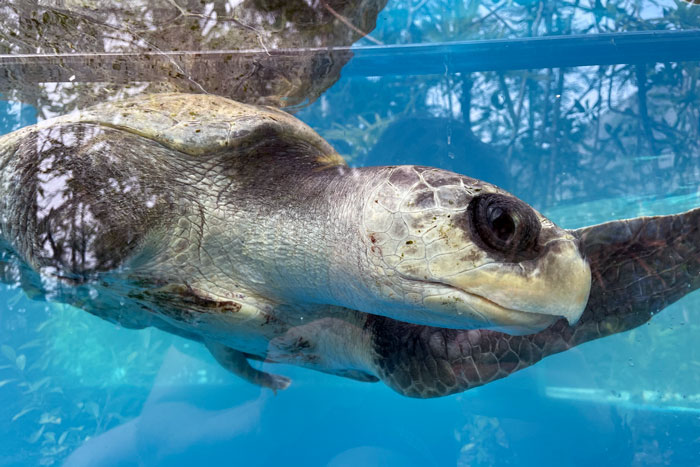 Tibby continues to dive well and has been eating lots of tiger prawns and crabs this week to ensure her calcium levels are healthy. The moment she sees the prawns hit the water she darts over to catch them! Tibby is back up to 18.4kg in weight which is a great sign. She is still struggling in currents but has been training in the tank all of last month, with strong jets to try and increase her strength and swimming ability.
Our lead vet Dr. Claire shall be visiting the Rehabilitation Centre the coming week to check on Tibby and assess her progress.
Heidi – Arrived 21st April 2018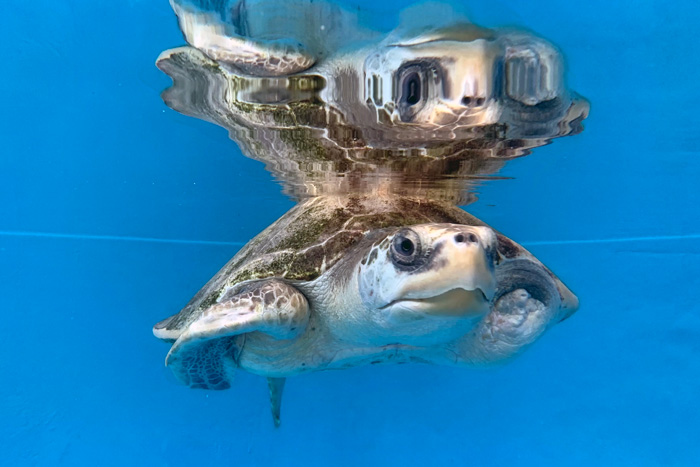 Heidi, our resident favourite, has been his bright and happy turtle self, diving and eating to his heart's content. We are still working on his paperwork for his travel to the UK.
Transferred
Xena – Arrived 1 November 2020, Transferred 26 April 2022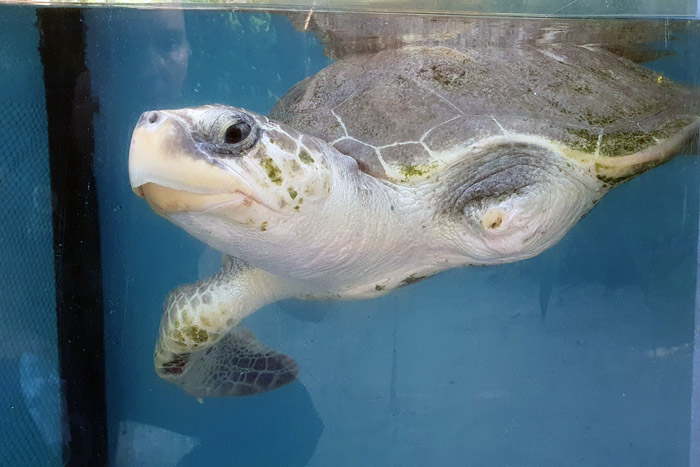 In order to keep Xena's diving practice going, she was transferred to the Atoll Marine Center for dive training in one of their sea cages. Unfortunately, she did not show any diving attempts since the transfer and due to stormy weather conditions, she was removed from the cage back into the safety of her tank. Hopefully she will be back in the sea cage as soon as the weather improves.
Deceased
Laetilisa, Arrived 25 April, Deceased 7 May 2022

Laetilisa, a juvenile hawksbill, was found floating outside one of the villas at Coco Palm Dhuni Kolhu. She was severely dehydrated, emaciated, and weak. Once at the Rescue Centre, Laetilisa was given fluid therapy, supplements and freshwater bath after the initial assessment.
We started her on a course of antibiotics as she had suffered a loss of her right hind flipper, had an exposed bone and an inflamed plastron likely caused by abrasion/ infection. She regained her strength gradually over the week, and was even eating prawns voluntarily when offered.
Unfortunately, her recovery was short lived as soon after, she stopped eating, her health started to deteriorate and sadly, she passed away. Our team was truly disheartened, especially since a repeat X-ray just a day before Laetilisa's passing had shown no abnormality.
We perform post mortem on all the patients who pass away. In Laetilia's case we found that she had a parasitic infection and a blockage in her stomach and intestines, suggesting that she may have suffered from temporary lack of muscle contractions in her gut prior to her death due to the parasitic burden.
Juanita, Arrived 9 September 2018 & 26 April 2022, Deceased 26 April 2022
Juanita, a sub-adult olive ridley sea turtle, was found in in South Malé Atoll in July 2017. Until September 2018 she was being looked after by Marine Savers at Landaa Giravaaru. As she was chronically buoyant, she was then transferred to the Rescue Centre in the hope that she will overcome her buoyancy in our large tank. But that did not happen.
On the 4th March 2019 Juanita was transferred to Atoll Marine Centre for further rehabilitation. After more than 3 years at AMC, Juanita was brought back to the Marine Turtle Rescue Centre on April 26, 2022, for an endoscopy procedure to investigate her buoyancy issue.
The endoscopy findings of her lung condition were much worse than that of Discovery (see below), which led us to the decision to not recover her from anesthesia. The necropsy confirmed that she had a chronic lung disease.
Since sea turtles are wild animals and not suited for a life of captivity, we always aim to treat and release patients as quickly as possible. But in certain acute cases, where there is no hope for recovery, like Juanita's – it is better to let them go, however difficult the decision may seem.
Discovery – Arrived 7th February 2020, Deceased 13 April 2022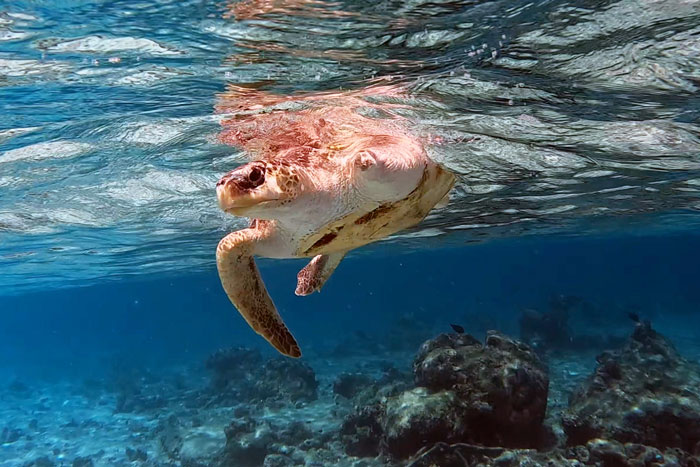 It is with a heavy heart that we inform you that Discovery, our much loved juvenile olive ridley affectionately known as Disco, passed away on 13th April 2022. As you'll be well aware, poor Disco had struggled with her buoyancy right from the get go when she arrived back in February 2020; she constantly tried to dive but was never able to get under the water.
Progressively over the last year, Disco's buoyancy worsened to the point where she was consistently lop sided and also very puffed out with air. Multiple attempts to drain it off resulted in a temporary solution but quickly her body filled back up again when she breathed, meaning she had an open lung tear.
With your generous help, we were able to purchase an endoscope, particularly done with Disco in mind. This is a flexible camera that we can insert into their body cavities and visualise their internal organs in a non invasive way.
Finally, on 13th April, we were able to anaesthathise her and perform an endoscopic assessment with the help of our Visiting Vet, Dr Sonya. Unfortunately we were shocked by what we saw. She had damage to more than 70% of each lung with many solid areas, scarred areas and hyperinflated areas. We haven't seen such significant damage in any of our patients before. She also had a very abnormal and damaged liver. We could see from all of this that there was no way she would ever regain her buoyancy or be able to be released. Due to the compromised lungs, her anaesthetic became challenging, and the decision was made amongst the veterinary team to not resuscitate her. She passed away without any pain or stress.
Although we are devastated at her loss, we know ultimately this was the best thing for her and her welfare, and we know we did our absolute best for her at all points. She was such a determined turtle but it goes to show just how devastating ghost gear injuries are, that they can lead to such significant damage of their internal organs too.
The out-pour of messages we have received concerning Disco shows how widely loved she was, and we couldn't be more grateful. Thank you for all your support of Discovery over the years. We know she captured your hearts very easily, as she did ours.