Turtle Patient 184: Laetilisa (Lalisa), Juvenile Hawksbill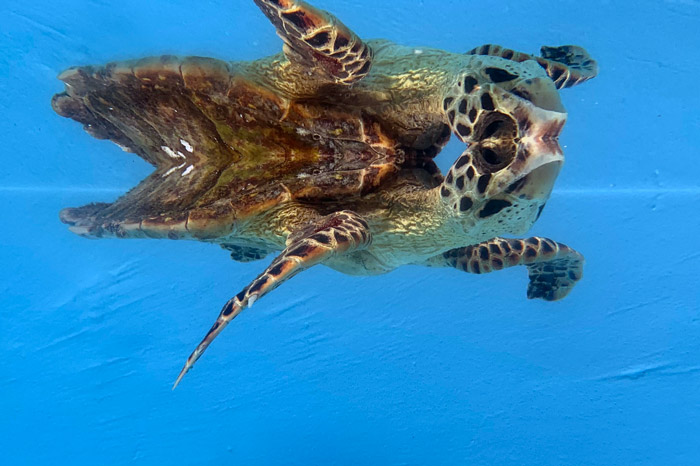 Laetilisa is a juvenile hawksbill who was found floating and missing a back flipper outside one of the villas at Coco Palm Dhuni Kolhu, the island where the Rescue Centre is based, by guests at the resort.
The Vitals
Intake Date: 25 April 2022
Patient Number: 184
Rescue Location: Baa Atoll
Reason: Found floating
Transport Method: Found near the Rescue Centre
Status: Deceased
Species: Hawksbill
Scientific Name: Eretmochelys imbricata
Sex: Unknown
Age: Juvenile
Length: 33.5 cm
Weight: 2.35 kg
The Adoptive Parents
Laetilisa has not yet been adopted. Will you be the first one?
Laetilisa's Story
Laetilisa was severely dehydrated, emaciated, and when rescued. We gave her fluid therapy, dextrose supplementation and a freshwater bath to help with her recovery. X-rays showed no obvious medical abnormalities, so we will be treating her with a course of antibiotics, fluids and gradually increasing her feeding so that she can regain her strength. Sadly Laetilisa had also lost her back right flipper and her bone is exposed.
Over the past few days, she has become gradually more energetic and voluntarily eats prawns when offered. For now we are keeping a close eye on her, but when she gains a little more strength we will likely undergo more diagnostic tests to see how best we can continue to help her.  
6 May 2022
Unfortunately Laetilia (Lalisa) passed away today. Shortly after being admitted, she stopped eating voluntarily and appeared to go downhill drastically. A repeat X-ray was conducted the day before her death but we did not observe any abnormalities. It was a challenge collecting blood samples from her as she was so extremely dehydrated.
We perform post mortem on all the patients who pass away. In Laetilia's case we found that she had a parasitic infection and a blockage in her stomach and intestines, suggesting that she may have suffered from temporary lack of muscle contractions in her gut prior to her death due to the parasitic burden.