Turtle Patient 182: Crwban, Juvenile Olive Ridley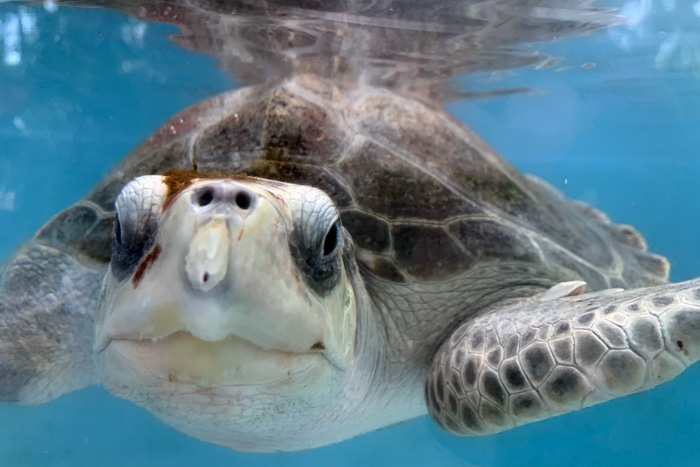 Crwban is a juvenile olive ridley turtle who was found with a damaged front right flipper in South Ari Atoll.
The Vitals
Intake Date: 8 March 2022
Patient Number: 182
Rescue Location: South Ari Atoll
Reason: Found with damaged front right flipper
Transport Method: Seaplane
Status: Current patient
Species: Olive ridley
Scientific Name: Lepidochelys olivacea
Sex: Unknown
Age: Juvenile
Length: 35.1 cm
Weight: 3.7 kg
The Adoptive Parents
Crwban has kindly been adopted by Lee Cannan, for Joanna by Sam, by Christine Küper, Kendall Barclay & Lisa Postlewaite, Lena Reinert, and by Angharad Dafydd.
Crwban's Story
Crwban is a juvenile olive ridley who was found entangled in a large ghost net conglomerate (see image below) near Lux* South Ari Atoll. The net had already claimed Crwban's entire front right flipper except for the bone (which is exposed) when he was rescued. Thankfully he otherwise seems in good condition but he is suffering from mild buoyancy syndrome. We are hoping to avoid surgery and will be managing his wounds carefully.
Crwban, pronounced Cruban, is Welsh for turtle. He was named by one of our volunteers.
13 March 2022
Crwban has settled in very well at the Rescue Centre. He has an exposed bone on his right front flipper but we are fairly confident we can manage it without surgery; his X-rays show a healthy remaining piece of bone. He very quickly figured out how to dive and learned that prawns were a perfect recovery food, so he has been doing excellently!
20 March 2022
Crwban is such a lovely little turtle! He is diving and eating tuna well, and his flipper continues to progress ok. The bone hasn't come off yet but it won't be long before that dead piece of bone can be removed and we can manage the rest of the wound. And then after that it won't be long before he can go back to the ocean!
27 March 2022
Crwban is doing really well, diving perfectly and is eating loads! Once we have confirmed his humerus bone has healed well, we will be able to release him!
3 April 2022
Crwban had a follow up X-ray this week which showed that everything is looking tip top. His left flipper is looking great, while his right flipper stump has healed very well, with just a very small area of the front to heal. In fact we are so happy with how he has got on, that we have planned his release! He will be going home this week, Wednesday 6th at 10.30am UK time. We will be live streaming his return to the ocean!
10 April 2022
Crwban was all set and ready to go home but when the day came, he wasn't quite so ready after alll! Although his buoyancy control is excellent and he could dive in the tank, he would only dive to 0.5m and no deeper. We need our turtle patients to dive down deep when they're released (this is their normal behaviour) but we weren't quite seeing it, so we made the call to bring him home for now. We have repeated his blood sample and it does appear as if he may be brewing a little infection, so it could be that he does require a little further treatment. He is otherwise eating and diving exceptionally well, and can rest on the bottom no problem!
24 April 2022
Crwban's diving patterns have been fluctuating over the week. He struggled to dive for food on some days and showcased his somersault diving skills at the bottom of the tank on other days. We will continue his antibiotic course and monitor him closely after the end of course.
1 May 2022
Crwban has no issue diving for food. We will continue his antibiotic course and repeat X-rays for his right flipper stump after the end of course to evaluate for osteomyelitis.
8 May 2022
Crwban seemed to have developed a buoyancy control issue, which appeared to be getting more prominent in the last week. He can reach the bottom of the tank with significant effort for food, but pops back up like a balloon immediately after. We plan to finish his antibiotic course then repeat his bloodwork and imaging to further investigate his lung condition.
15 May 2022
Crwban is still quite buoyant when resting, but he is able to get down to the bottom of the tank for food using his flippers. We will finish his antibiotic course as planned and consider a repeat of his blood-work and imaging to further investigate his lung condition.
22 May 2022
Crwban continues to show positive buoyancy at rest, however, that could be a normal behavior given his age. We will continue to monitor his swimming patterns and encourage diving during feeding time. We did not find any abnormalities on his most recent X-rays and his white blood cell counts have dropped to within normal limits this week.
29 May 2022
Crwban continues to eat well. We are planning to take him out for swims and also add some crabs in his tank to encourage more diving.
5 June 2022
Crwban is still undergoing dive training for his buoyancy control. We have adjusted his feeding and included swim plans to encourage him to practice to dive. He is very interested in freshly-caught crabs left at the bottom of the tank and actively dives to get them!
12 June 2022
Crwban has been rotated between the small and large tanks this week due to scheduling of tank cleaning. He appeared to be diving better with improvement in buoyancy control in the large tanks.
19 June 2022
While there is still room for improvement for Crwban's buoyancy control, he has been diving much better since being placed in the large tank!
26 June 2022
Crwban continues to enjoy the space in the large tank which he is sharing with Leonardo. He dives comfortably to the bottom but, when at rest, he still floats back up like a balloon. The good news is that he controls the speed now!