Turtle Patient 183: Jazeera, Sub-Adult Olive Ridley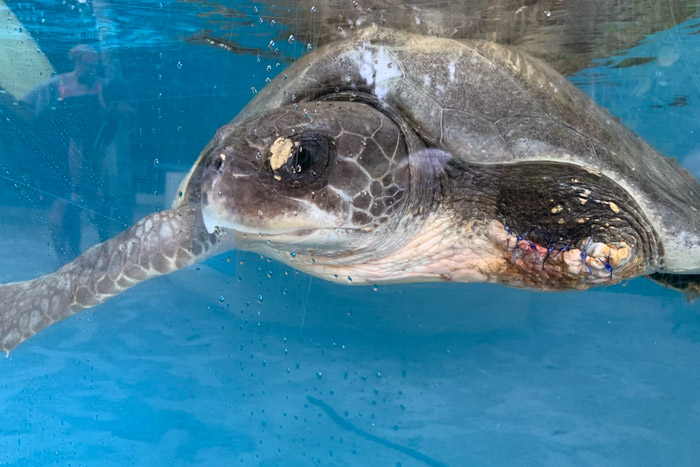 Jazeera is an adult male olive ridley turtle who was found entangled in a ghost net by Constance Moofushi Resort in South Ari Atoll.
The Vitals
Intake Date: 24 April 2022
Patient Number: 183
Rescue Location: South Ari Atoll
Reason: Found entangled
Transport Method: Seaplane
Status: Released 13 August 2022
Species: Olive ridley
Scientific Name: Lepidochelys olivacea
Sex: Unknown, likely male
Age: Sub-Adult
Length: 57 cm
Weight: 19.05 kg
The Adoptive Parents
Jazeera has kindly been adopted by Dagmar, Robert & Avi, and by Evie.
Jazeera's Story
Jazzera was reported to be bleeding from active struggling when he was found; on physical examination we found that his bone was exposed and his flipper was severely damaged. When he arrived at the Rescue Centre, after two sea plane flights, we administered antibiotics, pain relief, and fluids, as well as wound management. We let Jazzera rest out of water in a padded box overnight.
Sadly, Jazeera's front left flipper could not be saved and we made the decision to amputate. He underwent surgery on the 26th April and recovered really well from the procedure. Within two days he was diving and eating well. He is currently on a course of antibiotics, pain relief and regular wound cleaning. The surgical site also appears to be healing well so we're hopeful that in a matter of 3-5 weeks she will be released!
8 May 2022
Jazeera's surgical site continues to heal well. He appears to be adapting well with his three flippers. He spends most of his time resting at the bottom of the tank and greets us at the surface only during feeding sessions.
15 May 2022
Jazeera's surgical site is healing well. Some stitches at the skin layer came off, exposing the underlying stitches at the muscle layer, but they remained intact and no complications have been observed at the wound during the regular wound cleaning sessions that were do every 3 days. He is ironically one of the fastest swimmers amongst all and finishes his food in seconds!
22 May 2022
We removed Jazeera's stitches this week. He continued to eat and dive well, despite no pain relief on-board.
29 May 2022
Jazeera's surgical wound is healing well. We are doing wound debridement once a week and antibiotics shot, fluid and wound cleaning every 3 days. His diving remains one of the best amongst all our patients.
5 June 2022
Jazeera's surgical wound continues to heal normally. He seems to have adapted to swimming and diving after the amputation surgery. Hopefully, he can be released after the course of antibiotics that he is currently placed on.
12 June 2022
Jazeera's surgical wound is healing normally but the soft tissue under the incision site became swollen lately. However, he is swimming and diving well. We have repeated his bloodwork to check for signs of infection and will be adjusting his treatment protocol accordingly.
19 June 2022
We switched Jazeera switched to a different antibiotics course and will continue to monitor the swelling over the week.
26 June 2022
The swollen soft tissue under Jazeera's surgical wound has gradually resolved with the adjustment in his treatment plan. He is diving and eating normally.
3 July 2022
The swollen soft tissue under Jazeera's surgical wound has improved significantly over time. He is eating and swimming well.
10 July 2022
Jazeera's surgical site continues to close and heal well. The swelling of the stump near the surgical site has reduced by more than 70%. His appetite and demeanor are very good!
17 July 2022
Jazeera's X-ray and bloodwork results show significant improvement, suggesting that we can stop his course of antibiotics very soon. We will continue wound management on a regular basis. The swelling of the stump near the surgical site has reduced further by more than 80-90% now. Jazeera enjoys his meals and dives speedily to get his food.
24 July 2022
Jazeera will finish his course of antibiotics next week. We plan to repeat his diagnostics and bloodwork as well as reassess the wounds next week to guide the plan for his release. He continues to be the fastest diver amongst all patients, especially during feeding time.
31 July 2022
There were no significant findings on Jazeera's repeat X-rays, however, we will continue his course of antibiotics for another week while we continue to monitor his wounds. We will repeat his blood work next week to decide the next plan treatment for him.
7 August 2022
We elected to stop Jazeera's course of antibiotics last week based on the results his repeat diagnostics. We are monitoring his wounds closely and will be conducting pre-release diagnostics within the next 2 weeks. He remains one of the fastest swimmers amongst all the patients and finishes his meals very quickly.
13 August 2022
Jazeera was released today from the beach on Coco Palm Dhuni Kolhu. The release went fine; he dived deep and disappeared in the ocean shortly thereafter.