Released
Kandu – Arrived 17 December 2022, Released 10 January 2023
Coco Palm Dhuni Kolhu's excursion guide Simaah while out on her snorkeling trip, spotted a juvenile hawksbill floating by, unable to dive. Fortunately, both the resort's Marine Educator, Rosie, and our Veterinary Nurse, Lauren, were on hand to assist with the rescue. The turtle, named Kandu (meaning ocean in Dhivehi) was quickly brought to the Rescue Centre. Following diagnostics, it was clear that Kandu had a lot of intestinal gas that was causing her to float. We administered medications to allow her to pass the gas and improve her diving ability. After a couple of weeks of follow up X-rays (and a lot of pooping), the gas cleared and Kandu began diving perfectly. Considering her good health, we released Kandu from a boat on the 10th of January.
Lakia – Arrived 14 September 2022, Released 2 January 2023

Lakia is a prime example of one of our most common clinical cases – an olive ridley patient who was found entangled in a ghost net and required amputation. We operated on Lakia's flipper in an effort to save it, and hoped that it might regain adequate function. However, despite the surgery, Lakia was still unable to use the flipper. Consequently, we decided to amputate in November. Fortunately, Lakia made a full recovery and was able to dive and eat comfortably. After over a month of wound care, Lakia's X-rays and blood work came in clear and she was released from the beach at Coco Palm Dhuni Kolhu.
New Patients
Fari – Arrived 6 January 2023
Our most recent rescue, Fari, a juvenile olive ridley, was found entangled in ghost gear by the staff of Ritz-Carlton Maldives, Fari Islands in North Malé Atoll. She arrived at our Rescue Centre very weak, thin, dehydrated, struggling to both breathe and swim. Her diagnostics revealed a damaged carapace and severe injuries to right front and rear left flipper. She was covered in algae and this, along with the fact that another sea turtle was found dead in the same ghost net as Fari, indicates that she had floated around entangled for a while. We performed X-rays and blood tests for Fari and started her on a treatment plan of antibiotics, pain relief, fluid therapy and ongoing wound care. She is still very critical, and we are watching her closely.
Resident Patients
Fida – Arrived 6 August 2022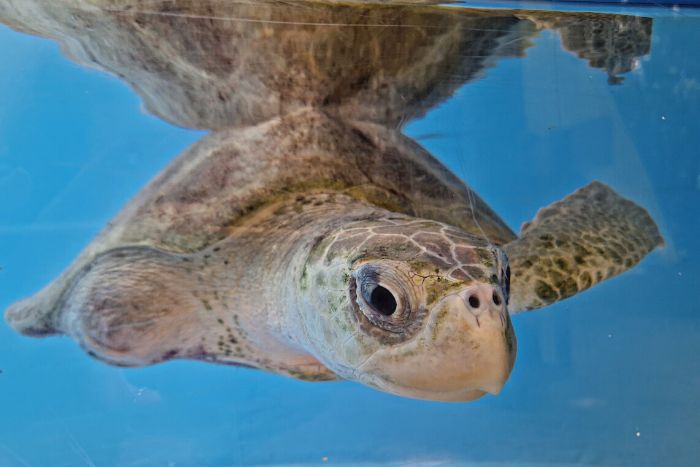 Our youngest olive ridley, Fida, has shown some signs of improvement this month. She is now able to dive for food to the bottom of her tank. However, she still really struggles to do anything quickly as she is missing both flippers on the same side.
Kakuni, Arrived 17 July 2022
Kakuni is almost ready to go. Her diving skills have improved greatly, and we're very hopeful that she will make a full recovery soon. This is very exciting for us as just back in November, Kakuni was very buoyant and not showing many signs of diving. It's amazing what a turtle will do for some festive prawns!
Leonardo – Arrived 14 February 2022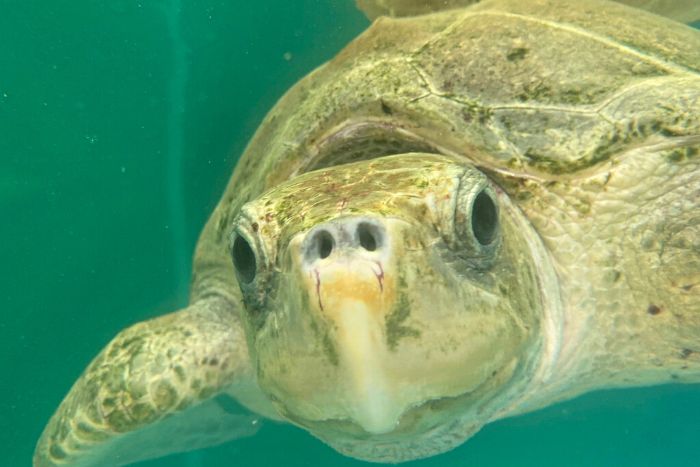 Leonardo is still our quiet gentleman. Although he continues to eat and dive, he has not improved the use of his right front flipper. Unfortunately, this means we cannot release him as he will not be able to evade predators in the wild and will likely get caught in strong currents at great depths. We are reevaluating our plan for him as we continue to watch his condition for any changes.
Deceased
Naseeb – Arrived 7 August 2022, Deceased 14 December, 2022
We sadly lost our little Naseeb in December. Naseeb had sailed through an amputation in November, during which we found that he was harbouring a horrible infection of the joint space, which likely seeded a systemic infection. Soon after, he had to undergo another surgery to remove a bone chip that had come away on his remaining flipper. Unfortunately, he did not recover well from anaesthesia during the procedure, and slipped away into the night. We performed a post-mortem and it became clear that Naseeb was hiding a huge internal infection that had spread to several organs. Surprisingly, he was in a multi-organ failure, which meant that he was unlikely to be with us much longer. Naseeb was truly a fighter! While we mourn the loss of Naseeb's passing, we are relieved to know that he is no longer suffering.