Turtle Patient 195: Lakia, Sub-Adult Olive Ridley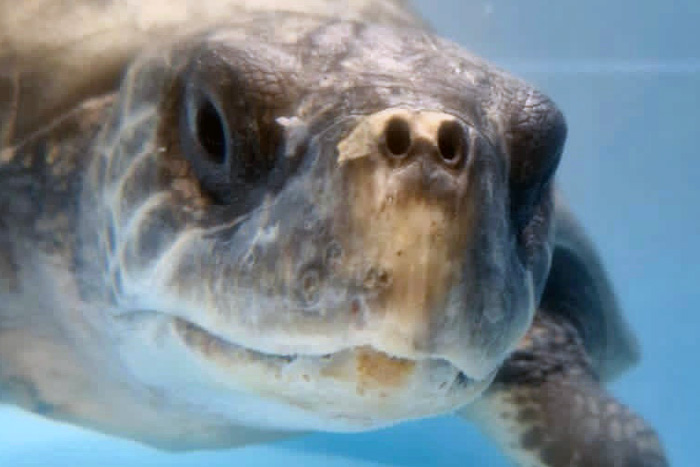 Lakia was found entangled in ghost gear by the water villas at InterContinental Maamunagau in Raa Atoll.
The Vitals
Intake Date: 14 September 2022
Patient Number: 195
Rescue Location: Raa Atoll
Reason: Found entangled
Transport Method: Speedboat
Status: Current patient
Species: Olive ridley
Scientific Name: Lepidochelys olivacea
Sex: Unknown
Age: Sub-Adult
Length: 56.6 cm
Weight: 19.9 kg
The Adoptive Parents
Lakia has kindly been adopted by Angela.
Lakia's Story
After Lakia's rescuers untangled him from the ghost gear, they noticed that he was struggling to dive and that he had lacerations on his flippers. The Resort Manager kindly offered to transfer Lakia by speedboat to the Rescue Centre.
Lakia, meaning 'found treasure' in Dhivehi, was energetic and active upon arrival. He had constriction wounds on all flippers, but worst on the left rear flipper where deep entanglement resulted in bone exposure. X-rays revealed a broken bone in the right front flipper and and a small break in the right back flipper. He also suffered from suspected pneumocoelom – a condition associated with gas accumulation in the body cavity, likely associated with lung tears. We delayed further diagnostics on the day of arrival as he became extremely stressed during the physical examination.
A neurological examination a few days after his admittance revealed that his right front flipper has retained some degree of sensation and viability. We therefore elected a conservative approach in an attempt to salvage all flippers. We performed a full surgical debridement procedure this week – a procedure that involves a more detailed assessment of the wounds and thorough cleaning/ disinfection of the wounds under general anesthesia. The procedure went well, Lakia recovered nicely and he started eating on the same day. He is currently placed in a shallow tank for close monitoring. Further assessment will be conducted on regular intervals to assess the viability of the right front flipper and, at this stage, amputation surgery will only be considered as a last resort.
25 September 2022
Lakia is using all his flippers to swim and dive and has a great appetite. A recent repeat neurological exam showed consistent presence of pain reflex and sensation at his fractured right front flipper, however, the range of movement of that flipper is abnormal and the flipper is rotated in a weird angle when he swims.
2 October 2022
Lakia has been more active lately. He is swimming a lot using all his flippers in his tank and diving for food. However, the abnormal range of movement at his right front flipper is still obvious at this point.