Turtle Patient 195: Lakia, Sub-Adult Olive Ridley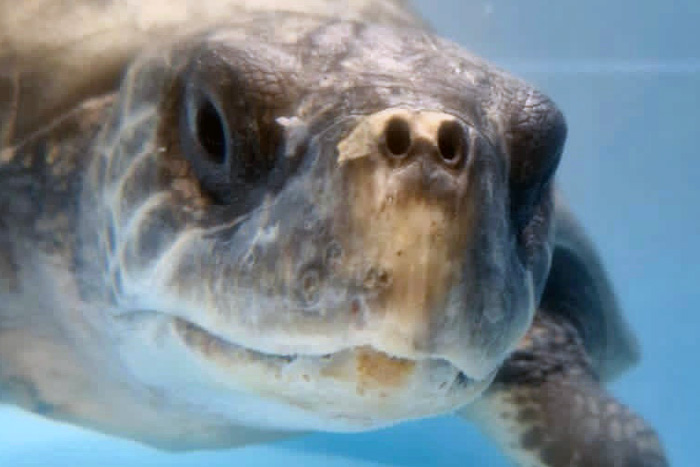 Lakia was found entangled in ghost gear by the water villas at InterContinental Maamunagau in Raa Atoll.
The Vitals
Intake Date: 14 September 2022
Patient Number: 195
Rescue Location: Raa Atoll
Reason: Found entangled
Transport Method: Speedboat
Status: Released 2 January 2023
Species: Olive ridley
Scientific Name: Lepidochelys olivacea
Sex: Unknown
Age: Sub-Adult
Length: 56.6 cm
Weight: 19.9 kg
The Adoptive Parents
Lakia has kindly been adopted by Angela, Jake Humphrey, Beth C Noack, Kimberly and Austen, Ulrike Mittruecker, for Ruth & Hubert by Claudia, by Lesley, for Vincent by Anne Carey, by Yevheniya Yakusheva, for James by John Coe, for Frank by Christiane Happel, for Klaus by Andreas & Stefanie Erle, by Alessandro Lavery, Richelle, Claudia, for Melissa by Pamela Stefancic, for Catarina by Ruben Miguel Piteira Carvalho, by Lauren, for Connor by Niki Dorsey, for Iyad & Adam by Virginie Nussbaumer, for Connor by Kristin, by Heather Mowat, for Vincenta by Jennifer Emmaneel, by Breanna & Gaige, by Fabienne & Florian, for Sandra by Alex, by Niklas, for Admir by Alma, for Emilie by Amanda, for Chloe by Kelly, by Calvin Green, for Jacqueline by Kai, for Georgia by Mitchell, for Anne by Erin Murphy, by Samantha Kate Urbina, for Harper by Jason M Boothe, by Branden & Liz, for Ellen, by Amy Elizabeth Seymour, Carly Byrne, Sarah Brown, for nixon by Jeremy, by Jeff West, for Kylee by Doris & Galen, by Meadow, Claudia Fulton, Danielle Leininger, Mia Ellison, for Sydney by Aidan O'Dowd, by Nora Knutsen, and by Elianne Schmeltzer, for Chloe by Kelly, for Skyla by Cheetah, for Sindy by Clemens, by Jessica Frederick, Isabelle, Karen, Shauna Leeder, and by Tamzin Erasmus.
Lakia's Story
After Lakia's rescuers untangled him from the ghost gear, they noticed that he was struggling to dive and that he had lacerations on his flippers. The Resort Manager kindly offered to transfer Lakia by speedboat to the Rescue Centre.
Lakia, meaning 'found treasure' in Dhivehi, was energetic and active upon arrival. He had constriction wounds on all flippers, but worst on the left rear flipper where deep entanglement resulted in bone exposure. X-rays revealed a broken bone in the right front flipper and and a small break in the right back flipper. He also suffered from suspected pneumocoelom – a condition associated with gas accumulation in the body cavity, likely associated with lung tears. We delayed further diagnostics on the day of arrival as he became extremely stressed during the physical examination.
A neurological examination a few days after his admittance revealed that his right front flipper has retained some degree of sensation and viability. We therefore elected a conservative approach in an attempt to salvage all flippers. We performed a full surgical debridement procedure this week – a procedure that involves a more detailed assessment of the wounds and thorough cleaning/ disinfection of the wounds under general anesthesia. The procedure went well, Lakia recovered nicely and he started eating on the same day. He is currently placed in a shallow tank for close monitoring. Further assessment will be conducted on regular intervals to assess the viability of the right front flipper and, at this stage, amputation surgery will only be considered as a last resort.
25 September 2022
Lakia is using all his flippers to swim and dive and has a great appetite. A recent repeat neurological exam showed consistent presence of pain reflex and sensation at his fractured right front flipper, however, the range of movement of that flipper is abnormal and the flipper is rotated in a weird angle when he swims.
2 October 2022
Lakia has been more active lately. He is swimming a lot using all his flippers in his tank and diving for food. However, the abnormal range of movement at his right front flipper is still obvious at this point.
9 October 2022
Lakia swims well using all his flippers. The abnormal range of movement at his right front flipper remains unchanged and is expected to take a while before improvement is observed.
16 October 2022
Lakia continues to do well. His wounds are healing quickly, however, the break in his right flipper will take much more time to heal. He continues to hold this flipper at an abnormal angle and has reduced movement in this limb.
Lakia's food was increased recently and he has an excellent appetite. Overall he is doing well and his diving is improving too.
23 October 2022
Lakia's wounds on all four flippers continue to heal well. Initially he didn't use his back left flipper very much, but this has now improved. We repeated Lakia's X-rays this week to assess bone healing in the front right flipper; there is no change but we would expect this to be slow if it heals at all. Thankfully, the X-rays show no sign of bone infection, but we continue to give him antibiotics and pain medication. His appetite is always good and he finds his food easily in his tank. For now, he remains in a smaller tank to reduce movement on the broken flipper.
30 October 2022
Lakia has been active in a small tank and also showed interest in diving. He uses all flippers, however with an abnormal range of movement at his right front flipper due to a complete fracture. With on-going medications and topical wound care, there is a chance for the affected right front flipper may regain proper functionality over time.
6 November 2022
Lakia has been upgraded to a larger tank. We wanted to assess his diving abilities properly, and also see how much he could use the flipper in a larger space. Thankfully, Lakia can dive. However, the flipper use is reduced and any movement does not provide very good propulsion compared to a normal flipper. We will keep assessing the affected flipper for functionality, but it may be that, ultimately, the flipper will need to be amputated despite our best efforts to save it. Lakia continues on pain relief and antibiotics.
13 November 2022
Lakia has a big week this week, with X-rays and potential surgery scheduled for Monday to assess and decide whether amputation is necessary for the right front flipper. Although we had hoped to save Lakia's flipper, there has been no improvement in the mobility here and it continues to be extremely painful.
20 November 2022
Lakia underwent surgery this week to remove her non-functioning right flipper. The surgery went well and she made a good recovery. She's really been enjoying the space in the large tank and is diving and swimming well. If she continues to improve, she'll hopefully be released before Christmas!
27 November 2022
Lakia continues to do very well, eating and diving nicely. Her surgery site is breaking down a little, by this we mean the stitches have come away (as we had expected) as the remaining stump is moving and putting pressure on the wound. We will have to clean and manage her wound as if it were an open wound, as opposed to a closed one like Naseeb's. This won't slow down her progress of being released, as it will continue to heal well in the wild.
4 December 2022
Lakia's wound has opened up – as we had started to see last week. It is looking really healthy and we are debriding it every 3 days and so we remain hopeful that she will still be released before the New Year!
10/18 December 2022
Lakia's wound is looking much better. It is healing by second intention, which means that despite it opening, the wound is healing well. We are debriding and clean the wound every few days and she is otherwise looking well. She is diving and eating normally.
25 December 2022
Lakia's wound looks much better. We've debrided it again and feel that it might now be time to let it heal in the wild as it will continue to improve and as she is ready to go (diving and swimming normally!). We think she'll be better released than spending longer with us, so we will perform her pre-release X-rays and blood works, and then hopefully release her on the 2nd January 2023.
2 January 2023
We started the new year with some excellent news regarding Lakia: her amputation wound is healing well and she was cleared for release after a pre-release check which included X-rays  and blood work. These were all normal and she was released successfully back to the wild by the veterinary team at the Marine Turtle Rescue Centre at Coco Palm Dhuni Kolhu.