Current patients: Penny, Heidi, Juanita, Eve, Nessy, Boston, Happy Feet, Lakmon, Lynn, Tiff, Artemis, & Jamie
We are well and truly in the peak ghost net season in Maldives. We have admitted 9 new turtle patients in the last month, all of which are olive ridleys and 6 of which are ghost net victims. 5 of the new patients are babies and sadly one of them, who was found entangled in a ghost net at Vakarufalhi Resort in South Ari Atoll, did not survive the first night at the Rescue Centre. She arrived in the evening and was very weak, with deep wounds around both her front flippers. She was also missing part of her back flipper. She wasn't using her front flippers and was very thin. We gave her fluids and planned her surgery for the next morning. Unfortunately she passed away during the night.
New Arrivals
Jamie – Arrived 1st March 2019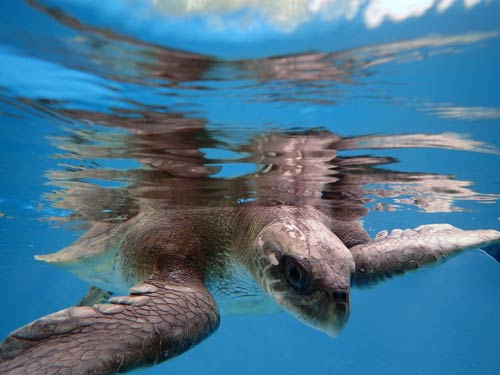 Jamie is an adult olive ridley turtle. She was found entangled in a ghost net in Raa atoll. She has a wound to her flipper and a skull injury. On X-ray we found an abnormal area of gut inside her and we are planning a barium study to investigate this further.
Artemis – Arrived 27th February 2019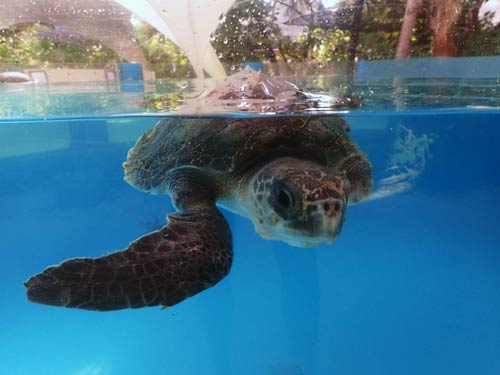 Artemis is our smallest of the baby olive ridley patients, weighing just 1.8 kg. He was transferred to us from the care of Atoll Marine Centre where he has been for one month. He is missing a front flipper and the other does not work very well.
We X-rayed Artemis and found a badly broken bone in his remaining front flipper. This wound is now old and it is unlikely that we can heal these bones. However, we are planning a surgery that may help him regain some function.
Tiff – Arrived 27th February 2019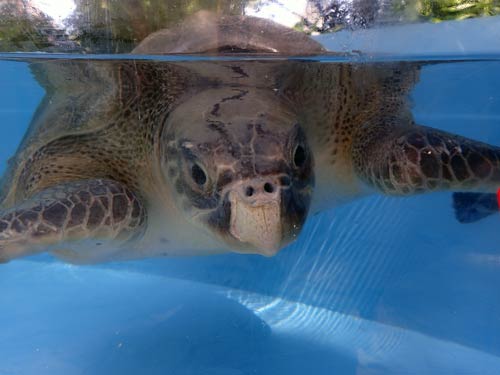 Tiff is an adult olive ridley turtle, also sent to us from Atoll Marine Centre. She was found floating at Hurawalhi in Lhaviyani Atoll. She has old wounds to her shell that look like a boat strike injury, a possible cause of her buoyancy. She is also not eating, is very buoyant and needs X-rays.
Lynn – Arrived 27th February 2019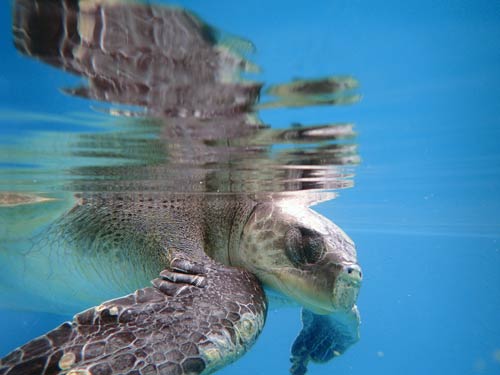 Lynn is an adult olive ridley. She also came to us from Atoll Marine Centre and she was also found floating at Hurawalhi in Lhaviyani Atoll.
Lynn is very buoyant and hasn't been eating so she was sent to us for investigation. We will start by X-raying her.
Lakmon – Arrived 26th February 2019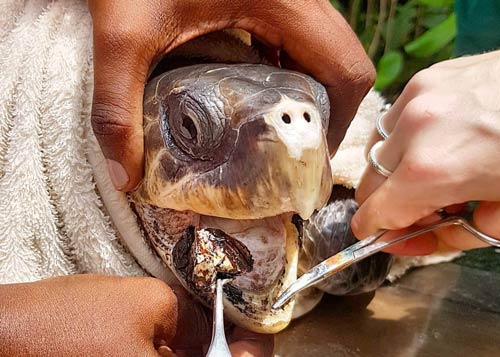 Lakmon is a juvenile olive ridley turtle and ghost net victim who was rescued by Four Seasons Landaa Giraavaru Resort in Baa Atoll.
Lakmon was found entangled in a ghost net. One of his flippers is too badly damaged to save, so sadly he will need a flipper amputation. When we examined him we also found metal foil and tar stuck at the roof of his mouth.
Happy Feet – Arrived 23rd February 2019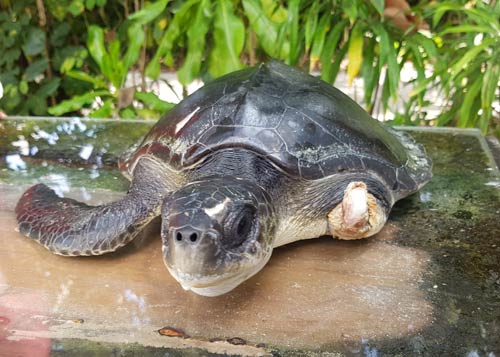 Happy Feet is a juvenile olive ridley turtle and ghost net victim who lost a flipper in the struggle to get free. Happy Feet was rescued by Velaa Private Island in Noonu Atoll.
Happy Feet self amputated his left front flipper in the struggle to free himself from the ghost net, leaving his humerus bone exposed. We performed surgery to remove the bone and also x-rayed him to check his internal health. He is doing well and is already diving, so we are please to report no buoyancy syndrome for this patient!
Boston – Arrived 21st February 2019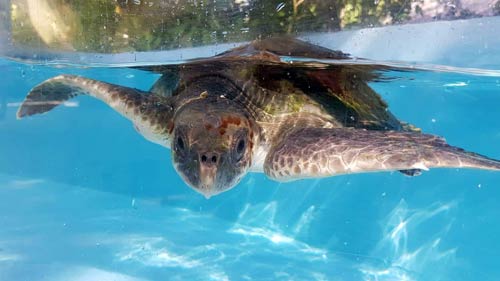 Boston is a juvenile olive ridley turtle rescued from a ghost net in South Male Atoll by guests from Como Cocoa Resort who were out kayaking.
Boston is just a baby really, at 4.25 kg. He arrived with wounds to his neck and to 3 of his flippers. His flipper injuries have all been surgically repaired. Luckily there was no need to amputate any of them and he still has all his flippers!
Released!
Lisle – Arrived 22nd December 2018 & Released 2nd March 2019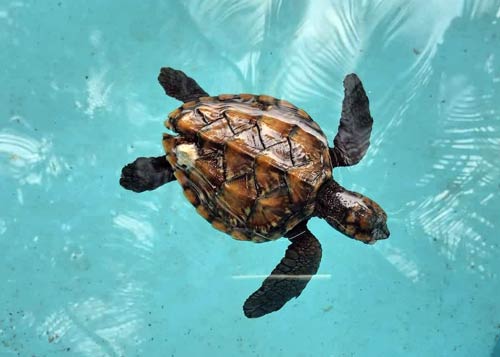 Lisle did very well once she came off antibiotics. She grew 1cm in both width and length whilst at the Resceu Centre, and put on 50g!
She had a barnacle when she arrived that eventually fell off, revealing a crack in her shell underneath. We treated this with a topical cream and released her as soon as it healed.
Calypso – Arrived 28th January 2019 & Released 27th February 2019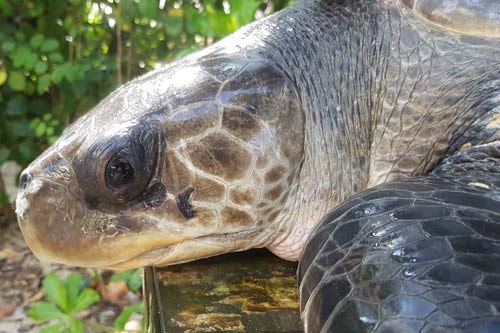 Calypso, an adult female olive ridley turtle, arrived on 28th January. She was found entangled in a ghost net by Constance Moofushi resort in South Ari Atoll. She had to take two sea planes to reach the Rescue Centre.
Fortunately Calypso had all her flippers intact and was able to dive! It is very unusual to have a turtle that doesn't suffer from buoyancy syndrome. However, she did have a large area of damaged shell on her carapace and plastron, and a skin infection around her left flipper, from her ghost net entanglement ordeal.
We gave her daily wound treatment and antibiotics and she quickly improved. She settled in well and spent most of her time resting at the bottom of her tank. After just short of a month at the Rescue Centre her infection had cleared up and her shell had healed nicely. She was released in front of a boat full of cheerers on and we have never released a turtle who dived down so fast. She was definitely ready to go home!
Cocoa Passes Away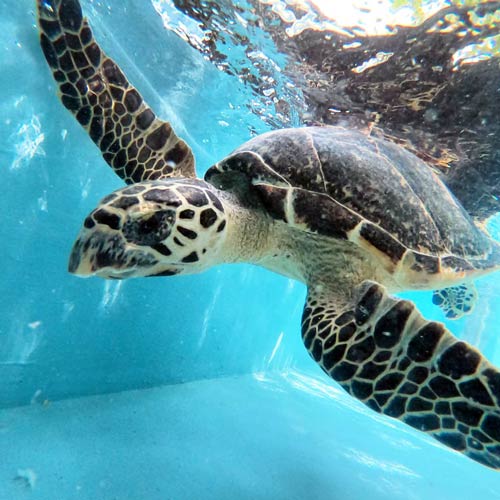 We are sad to announce that Cocoa passed away. She had been up and down since arriving at the Rescue Centre and appeared to be getting better and was more active in our tanks. However, she did not eat the whole time she was with us; we were feeding her liquid food through a tube each day.
She then deteriorated and appeared to go back to being quite sick. She pulled her stomach tube out so we had to perform another surgery to replace it. Despite giving her just a small amount of sedation, as she has had before, she reacted badly to the anaesthetic and died 6 hours after surgery. At post mortem we discovered severe gut disease and pneumonia – as we had noted on the X-ray.
We are deeply saddened by her passing as we have spent the past 40 days intensively caring for her to try and pull her through her illness.
Moved
Daniella – Arrived 16th December 2018, Moved 27th February 2019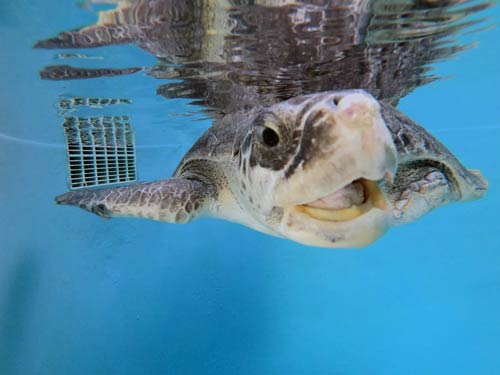 Daniella was sent to live at Atoll Marine Centre until she is ready for release. Due to the high number of turtles arriving recently, we have run out of space!
Daniella dived on a couple of ocean swims, but she was still not diving in our tanks. She was sharing a tank with Penny, separated by a partition. Daniella and Penny managed to break down this partition and were found hanging out together on the same side! They had obviously become used to each other whilst being kept separate by mesh.
Both Penny and we will miss her but we know that she will be well cared of at the Atoll Marine Centre.

The Resident Patients
Nessy – Arrived 19th January 2019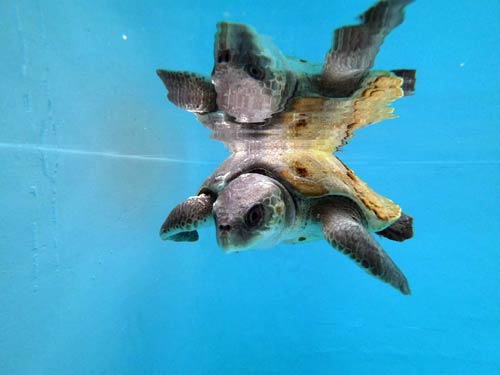 Nessy formed nice scar tissue around her neck after being entangled in a ghost net, however, as this healed, it revealed holes either side of her trachea. We decided to investigate surgically due to the risk of her trachea being perforated.
We found that the outer layers were damaged from the net, but luckily the inside of her trachea was still air-tight. We repaired the outside layers but she will likely always have noisy breathing due to the narrowing in her windpipe.
She remains true to her nick name of "loch ness monster" by yet again tipping her wheelbarrow on her journey to the vet room for surgery and making a run-for-it along the sand. At 33kg of strong adult turtle she takes all of our strength to restrain her to treat her wounds!
Nessy is now sounding much better – and much less like a monster when she breathes. She had fluid in her lungs, which also sounds like it is disappearing. She seems to be responding well to antibiotics and her neck is healing.
Eve – Arrived 26th December 2018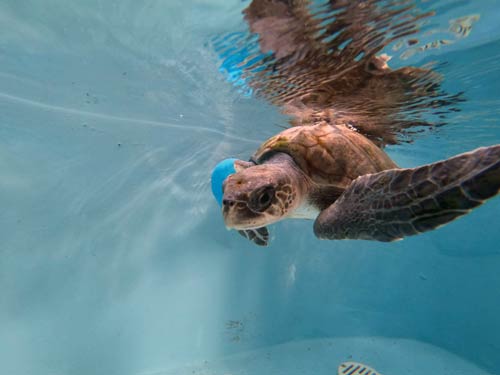 Eve has stopped using her right front flipper all together. After she had her bandage off she was using it a little, however, lately she is just holding it by her body.
We repeated the X-ray which showed that her bones are healing and is looking much better than previous X-rays. Despite this she is not using the flipper. We performed a second correction surgery in the hope we can give her some more function in this flipper and have started physiotherapy to improve the stiffness.
Juanita – Arrived 9th September 2018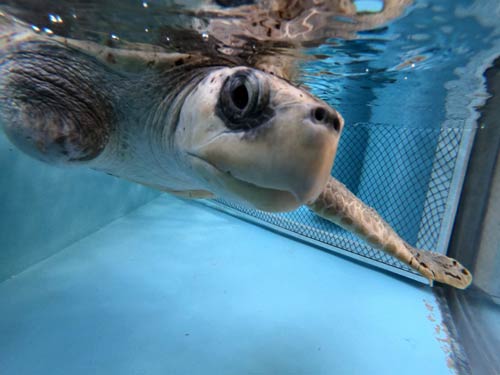 Juanita is very active in our tanks. Her favourite time of day is feeding time; she's a very hungry turtle she but is on a diet at the moment due to her larger than normal size!
There is no change in her buoyancy.
Heidi – Arrived 21st April 2018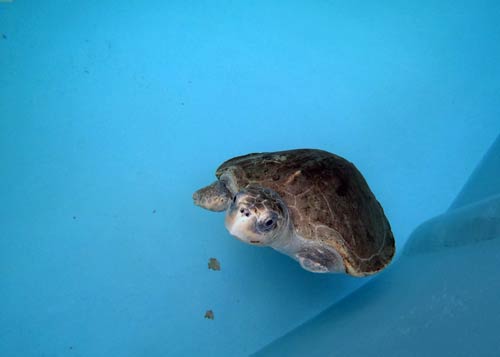 Heidi continues to eat well and is active in our tanks, but she is still not using her front flipper. With the arrival of our new X-ray machine we are now able to gain more information from our turtles. We initially thought her problem was in her elbow, but it turns out it is in her shoulder joint. She also has calcium deposits in the muscle. Both these things give her a bad prognosis for regaining use of her front flipper and we will likely have to re-home her. Heidi appears healthy other than her problem front flipper.
Penny- Arrived 13th May 2017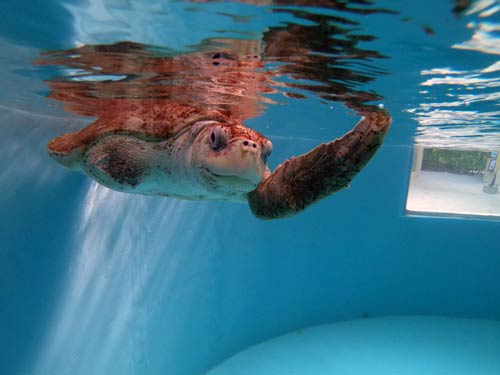 Penny has become a very quick swimmer and the other day she suddenly took off and nearly escaped past the edge of the reef!
She still gets tired quickly from her buoyancy condition, though, so we were able to catch up when she popped to the surface to rest.
We are planning on taking her to deeper ocean for a swim to see if she is suitable for release. She manages to control her buoyancy after a while and she may be at a point where she can survive in the wild. She tends to start to control her buoyancy on swims when we are already far away from the island and have to bring her back!