Turtle Patient 223: Nakaiy, Adult Female Olive Ridley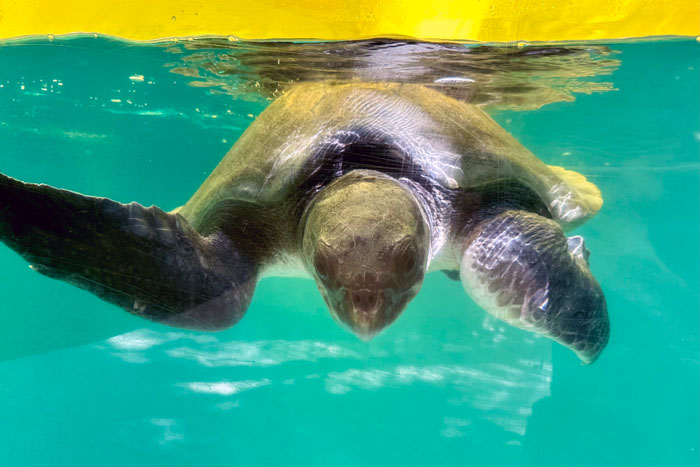 Nakaiy was found entangled in a ghost net by the Kuredu ProDivers team near Hinnavaru Island in Lhaviyani Atoll.
The Vitals
Admission Date: 14 November 2023
Patient Number: 223
Rescue Location: Lhaviyani Atoll
Reason: Found Entangled
Transport Method: Seaplanes
Status: Current patient
Species: Olive ridley
Scientific Name: Lepidochelys olivacea
Sex: Female
Age: Adult
Length: 63 cm
Weight: 25.6 kg
The Adoptive Parents
Nakaiy has yet to be adopted. Will you be the first one?
Nakaiy, a female adult olive ridley turtle, was rescued by the Kuredu ProDivers team in Lhaviyani Atoll. When they discovered that she had a deep ligature injury on her front left flipper and was unable to dive, they immediately called our veterinary team for assistance. Nakaiy first spent a night at Kuredu Island Resort & Spa under the supervision of our sea turtle biologist in Lhaviyani, María. The next day, TMA flew her by seaplane to the Marine Turtle Rescue Centre in Baa Atoll.
In Dhivehi, the Maldivian language, Nakaiy can mean "constellation", and it is also the name of the indigenous calendar system that predicts the weather in the Maldives. Nakaiy has entanglement injuries around her neck, mouth and left front flipper. The latter is quite severe and on X-rays, that limb looks quite diseased. We immediately started providing critical care in the hope of keeping her front flipper. She has been adjusting well to her surroundings and is eating and diving, although she doesn't seem to be able stay submerged for long periods yet.
Adopt Nakaiy
When you symbolically adopt one of our turtle patients you will receive:
A personalised adoption certificate with the history of your adopted turtle patient
A fact sheet about the species of sea turtle
Updates on how your adopted turtle's recovery is going (if you wish)
Notification in the case of a release
We ask for a minimum one time gift donation of £75 to adopt a turtle patient. You can also choose to make a monthly donation.
Once we receive confirmation of the donation and your adoption form (please make sure the names on the donation and adoption forms match), we will issue the adoption certificate with details about the turtle patient to you or the gift recipient. Please allow 7 days for the issuing of the certificate.
By adopting one of our turtle patients, you will contribute towards the cost of our patients' veterinary care, medications, and transport. You will also help fund our core charitable objectives to protect sea turtles and their habitats through rescue and rehabilitation, scientific research, and education and outreach.