Turtle Patient 221: Aisha, Sub-Adult Olive Ridley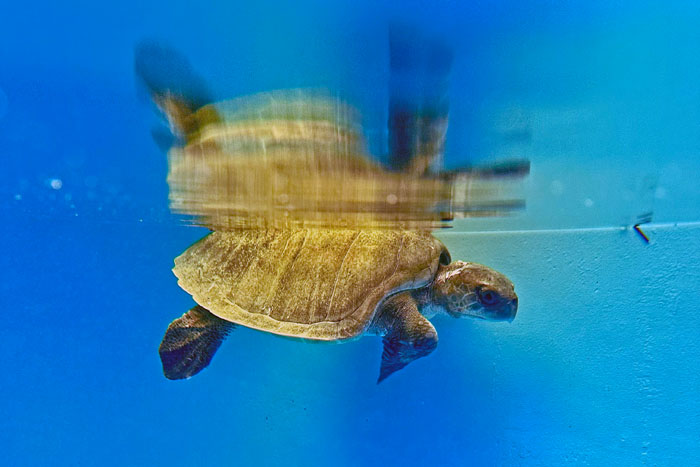 Aisha, a sub-adult olive ridley, was found floating and unable to dive by the water villas in Dhaalu Atoll.
The Vitals
Admission Date: 4 November 2023
Patient Number: 221
Rescue Location: Dhaalu Atoll
Reason: Found floating
Transport Method: Speedboat & seaplanes
Status: Current patient
Species: Olive ridley
Scientific Name: Lepidochelys olivacea
Sex: Unknown
Age: Sub-Adult
Length: 60.5 cm
Weight: 19.5 kg
The Adoptive Parents
Aisha has been adopted by Gary, by Natalie and by Oliver Schulthess.
Aisha's Story
Aisha is a sub-adult olive ridley that was found floating and unable to dive by the water villas of Niyama Resort in Dhaalu Atoll. Resort staff rescued her and promptly called us for advice. Due to bad weather, Aisha had to split her journey in two phases. She first had to spend a night at Niyama Resort. The next day she travelled to our North Malé Atoll Sea Turtle Rehabilitation Centre at One & Only Reethi Rah, where sea turtle biologist, Philippa, took care of her over night. She finally arrived at the Marine Turtle Rescue Centre two days later, on Saturday, the 4th November.
Aisha has partially lost her back left flipper (an older injury that has already healed) and recently suffered a severe trauma to the left front flipper and lateral side of her carapace. Her humerus bone is completely exposed and she is undergoing critical care for her wounds.
Thankfully, Aisha is settling in her new enclosure and eating well. While she is being stabilised, she has been started on therapy to treat her infection and pain relief.
14 November 2023
Unfortunately, Aisha has started to pass some plastic material and synthetic rope in her faeces which we are keeping a close watch on.
Adopt Aisha
When you symbolically adopt one of our turtle patients you will receive:
A personalised adoption certificate with the history of your adopted turtle patient
A fact sheet about the species of sea turtle
Updates on how your adopted turtle's recovery is going (if you wish)
Notification in the case of a release
We ask for a minimum one time gift donation of £75 to adopt a turtle patient. You can also choose to make a monthly donation.
Once we receive confirmation of the donation and your adoption form (please make sure the names on the donation and adoption forms match), we will issue the adoption certificate with details about the turtle patient to you or the gift recipient. Please allow 7 days for the issuing of the certificate.
By adopting one of our turtle patients, you will contribute towards the cost of our patients' veterinary care, medications, and transport. You will also help fund our core charitable objectives to protect sea turtles and their habitats through rescue and rehabilitation, scientific research, and education and outreach.