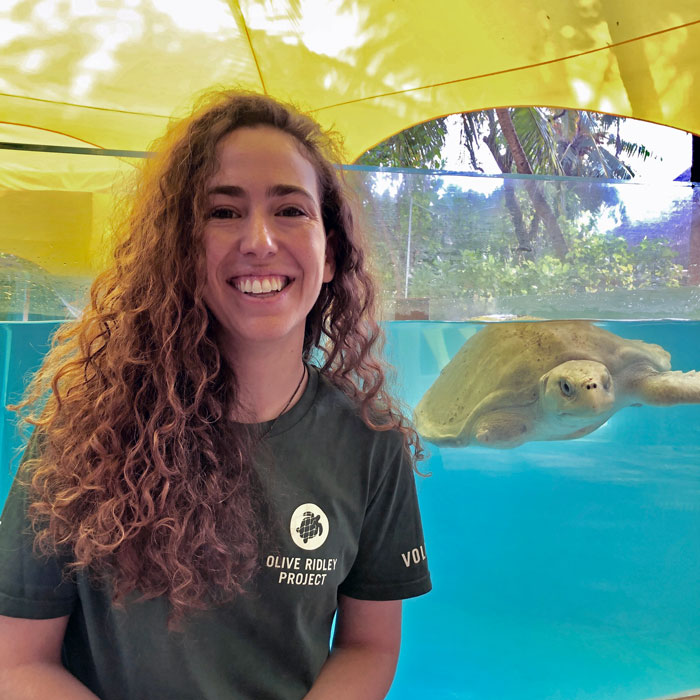 Mariana Fragoso grew up in Lisbon right by the ocean, listening to David Attenborough's documentaries and wishing to live among such fascinating animals. At university, she joined the Exotic and Wildlife Student Chapter so she could further her education in Wildlife Medicine and Conservation.
After taking a two-year sabbatical where she travelled the world gaining experience with various conservation projects, Dr Mariana graduated from her Integrated Master's in Veterinary Medicine in January 2019 from Lisbon University, Portugal. Drawn by all things aquatic, her master's tackled dolphin research and conservation in Chilean Patagonia.
Mariana has participated in turtle nesting research in both Cape Verde and Florida; completed a sea turtle rehabilitation internship in Florida and joined Archelon Rescue Centre in Greece as a volunteer veterinarian for several months. After graduating, Mariana joined Comunidad Inti Wara Yassi, an NGO in Bolivia, where she worked closely with big cats, her other passion.

Mariana went on to complete the SeaVet Clinical Training Course with University of Florida in June 2020 as well as an Aquatic Animal Medicine course with IMFAC, Mexico. From 2020 to the end of 2022, Mariana practiced small animal and exotics medicine at a busy hospital in the UK while also working as a veterinary advisor and communications lead at Sea Turtle Rescue Alliance.
Mariana has joined the Olive Ridley Project as the Resident Veterinarian of the Marine Turtle Rescue Centre in Coco Palm Dhuni Kolhu, Baa Atoll. In her free time, she hopes to gain more diving experience and learn all about the Maldivian marine life.