Happy World Sea Turtle Day!
Today, Sunday June 16th 2019, is World Sea Turtle Day! Of course, every day is sea turtle day for the ORP team, but we are very excited about today! We have lots of celebrations going on, including a sea turtle festival – the first one ever to take place on Diani Beach, Kenya!
This afternoon we released three more patients live on Facebook: TJ, Taloola and Moodhu Vina.
TJ – released 16 June 2019

Taloola – released 16 June 2019

Moodhu Vina – Released 16 June 2019
If you follow us on Facebook or Instagram, you know that we have geared up to World Sea Turtle Day with Sea Turtle Week all week, with lots of information about all seven species of sea turtles (five species of sea turtles are found in the Indian Ocean) and the issues threatening their survival.
Diani Beach Sea Turtle Festival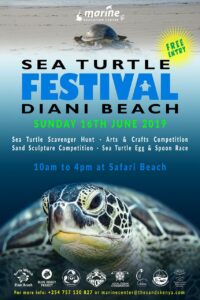 In Kenya, ORP is joining the Marine Education Centre at Diani Beach, along with several other NGOs and partners, for a full day of sea turtle related activities.
This is Diani's first sea turtle festival and it will have something for children and grown ups alike! Local schools are also participating. In addition to art and sand sculpture competitions, scavenger hunts and races, there are art and sea turtle donation auctions and more!
Celebrating Released Sea Turtles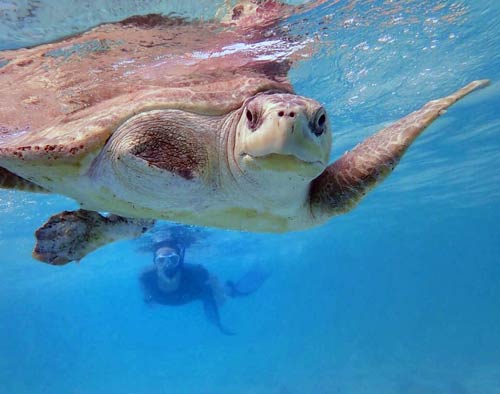 Today we would also like to celebrate all the sea turtles we have successfully rehabilitated and released at the Marine Turtle Rescue Centre in Baa Atoll, Maldives. Since we opened in February 2017, we have treated a total of 97 sea turtles and 45 of these have been successfully released back into the ocean! Some are still in residence, some have been transferred to other rescue centres for long term rehabilitation, and some, sadly, we could not save.
Out of the sea turtles we have released, 82% were olive ridley turtles, 9% were green turtles, 7% were hawksbills, and 2% were loggerhead turtles. 49% were juveniles, so we do not know if they were male or female; 27% were adults out of which almost half were females and only 2% were males; 22% were sub-adults (all female) and 2% were little hatchlings.
62% of our released sea turtles were treated for ghost net related injuries; 11% had been found floating, unable to dive; 9% were treated for plastic debris related injuries; and the rest were treated for a mix of fishing hook injuries, having been kept as pets, predator attacks and unknown causes.
We would like to thank all of our adoptive turtle parents and supporters for their generous donations. Your gifts are making a difference to sea turtles in the Indian Ocean. All of us at ORP are deeply grateful for your support!
Our Released Sea Turtles
Meet most of our released sea turtles – proof that sea turtle conservation works!
Ali Jappo on her home reef, captured by Lauren Arthur in 2015

Amelie

Arin

Beyonce

Big Mummy

Bintang

Boston

Bubble

Burrito

Calypso

Chanel

Chouchou

Chrissi

Claire

Cloud

Crush

Ellie

Emme

Florence

Flow

Giuliana

Happy Feet

Hope

Kamana

Lisle

Luna

Moofushi

Moodhu Vina

Nadia

Nanni

Noor

Pauline

Pearl

Penny

Polina

Shanan

Shelley

Taloola

TJ
Current Patients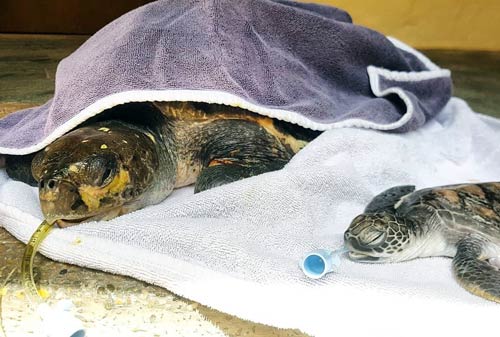 We have not forgotten about our current turtle patients! The Rescue Centre is currently running at full capacity with 10 patients: Heidi, Eve, Lynn, Artemis, Nemo, Azura, Joy, Elba, Myrtle and Lucky. Myrtle and Lucky are recent arrivals.
We also received a tiny juvenile green turtle, called Sherbert. who had been kept as a pet. Sherbert had an infected front flipper with the bone exposed. He had surgery to amputate the tip of his flipper, but unfortunately he never recovered. A post mortem showed that he had enlarged kidneys. His appearance was also very abnormal.
In more sad news, Faith never fully recovered. About a week after coming to the Rescue Centre, she passed away. It turns out she also suffered from severe liver disease. We did everything we possibly could to save this critically endangered hawksbill. We were devastated when she passed away.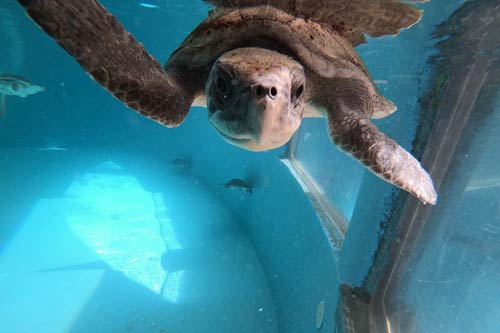 In good news, Florence was released on May 30th 2019.
You can check out all the current turtle patients here.
Happy World Sea Turtle Day from the ORP Team!