Current patients – Marine Turtle Rescue Centre: Heidi, Arti, Azura, Discovery and Coral.
Current patients – Sea Turtle Rehabilitation Centre: Temporarily closed
Released
Eve – Arrived 26th December 2018, Released 30 July 2020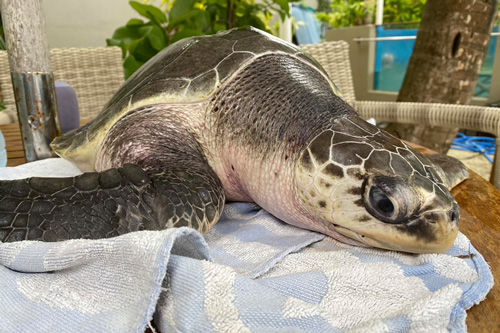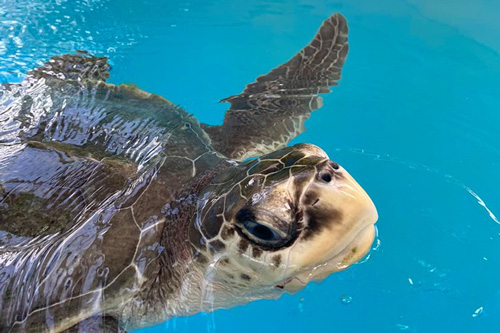 After 19 months of rehabilitation, Eve was finally ready to go home and we are so pleased to announce that we released her on the 30th July. Time and patience paid off; she made so much progress over the last few months, using her damaged flipper frequently and showing no sign of it hurting or hindering her anymore.
In her last couple of weeks at the Rehabilitation Centre, Eve enjoyed having the whole tank to herself after her neighbor Azura was moved back to the Marine Turtle Rescue Centre.
On the day of her release, we took her out to deep open water by boat. As soon as she was was in the water she swam into the deep like a rocket – no hanging around or looking back to say thanks… We will miss Eve, but this is what it is all about – we are so glad she is back where she belongs.
New Arrival
Coral – Arrived 11 July 2020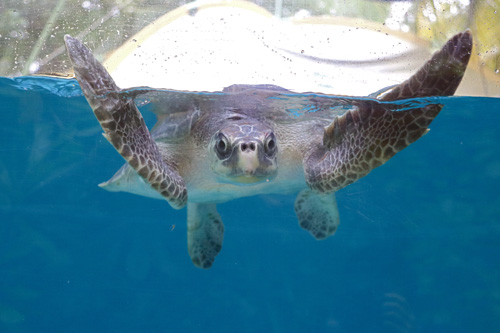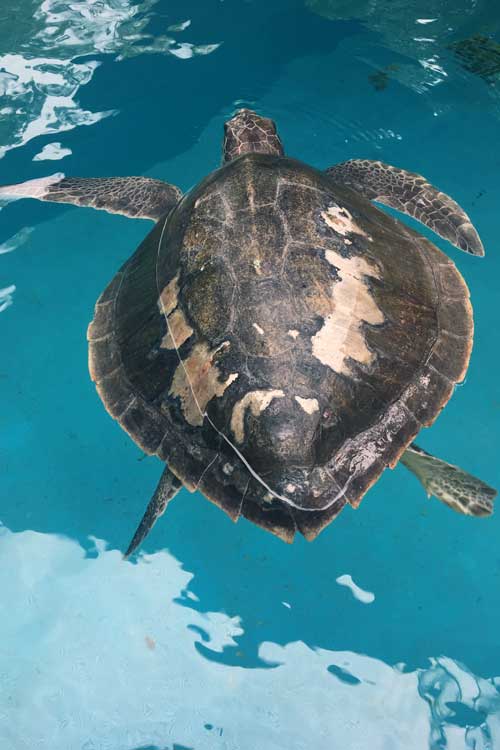 Coral, a juvenile olive ridley, was found floating, dehydrated, and with leaches on her, near Naifaru, Lhaviyani Atoll on 29th March 2020. She was temporarily cared for by a marine biologist at Naifaru. Since COVID-19 had restricted movements between islands, we were not able to be relocate Coral to one of our rescue centres until July. She eventually arrived at our Rescue Centre at Coco Palm, Dhuni Kolhu on 11th July 2020 by speedboat.
Since our vet is off site due to COVID-19 travel restrictions, Coral had a virtual examination with our Sea Turtle Biologist, Rosie, and lead vet, Dr. Claire Petros. Overall, she appeared to be in good health. She had no major injuries, though her shell had slightly deteriorated in parts.
When she first arrived at the Rescue Centre, she was diving and swimming beautifully. Over the next few days she started to struggle to dive and she eventually became completely buoyant. She refused to eat so we tried to tempt her with some crab, which is what she was used to at Naifaru.
Coral started eating fish after about 20 days, but we will continue to supplement her diet with crabs as they seem to be her favourite. She appears to be comfortable in the tank and has been trying to dive in the last few days. She is a fairly strong swimmer so we are hoping that her buoyancy issues will resolve soon.
The Resident Patients
Discovery – Arrived 7th February 2020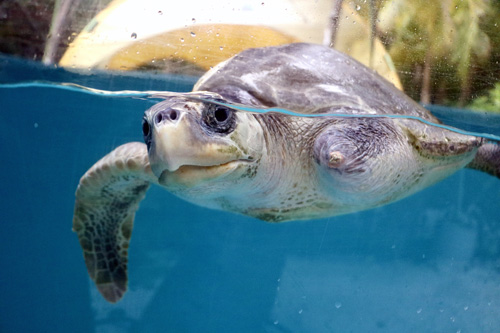 Disco is still suffering with her buoyancy issues. We are taking her on regular sea swims to try help her overcome this, but we have seen little improvements so far. She is a very energetic turtle though – always trying to dive and improve her swimming – so we have high hopes for her. Fortunately. her appetite has increased drastically so we are able to use food to tempt her to dive!
Azura – Arrived 2nd April 2019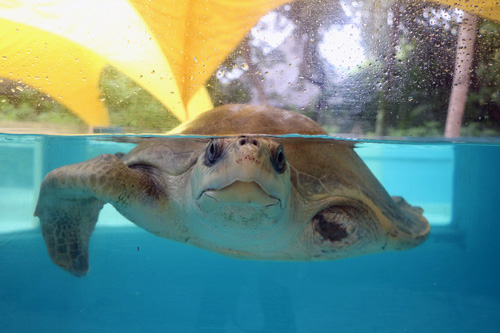 Azura is back at the Marine Turtle Rescue Centre!
Due to the temporary closing of our Rehabilitation Centre at One & Only Reethi Rah, we relocated Azura back to Coco Palm Dhuni Kolhu. Our Sea Turtle Biologist, Laura, transported Azura – and picked up our new patient Coral on the way – to the Marine Turtle Rescue Centre by speed boat – a 4 hour round trip.
Azura has settled in well back at the Marine Turtle Rescue Center – it is nice to have her back, but we would have preferred to release her. Unfortunately, she is still not diving well enough to survive in the wild.
Arti – Arrived 27th February 2019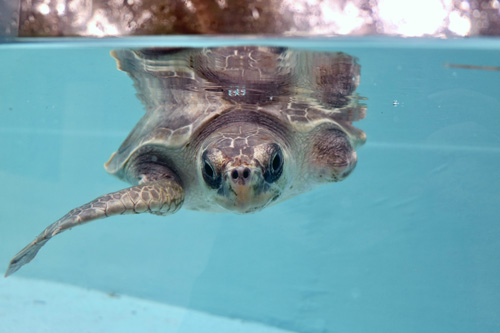 Arti still cannot dive and he hasn't been very active on his sea swims. The only way he can be motivated to swim is with food!
Heidi – Arrived 21st April 2018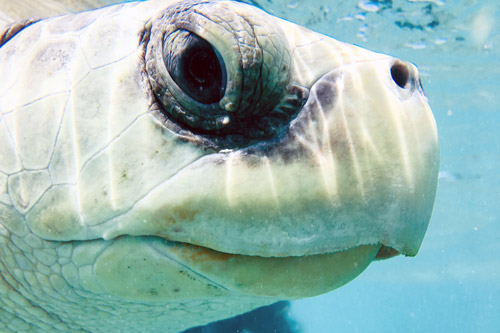 The sea conditions have been rough recently so we haven't been able to take Heidi out on his sea swims. Instead, he spent some time in the big tank so he could be a little more active.