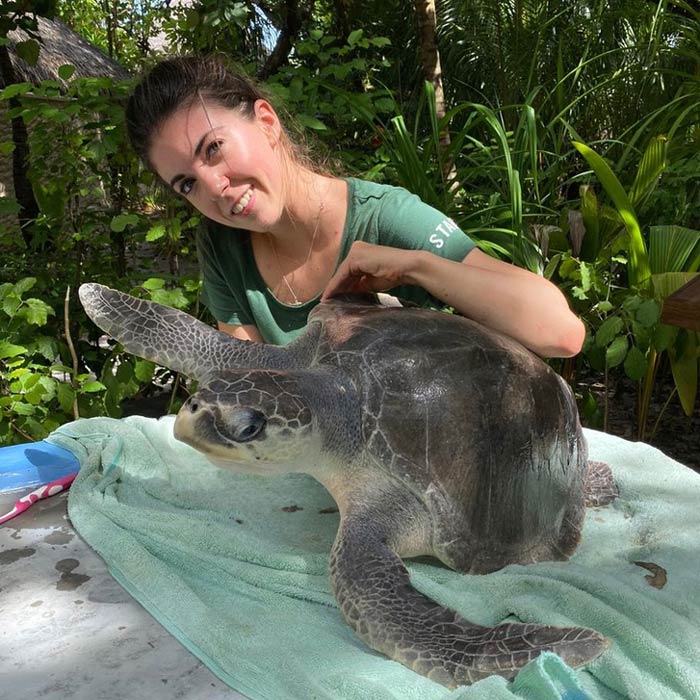 Rosie has always wanted to be a marine biologist, before she even knew what it meant! She is a passionate environmentalist and an advocate for an environmentally-friendly lifestyle.
To kickstart her career, Rosie undertook a bachelor's degree in Zoology at the University of Exeter on a small campus in Cornwall. During one of her summer breaks, Rosie volunteered for Borneo Nature Foundation where she helped to collect research on and protect animals such as orangutans, gibbons and bats.
She was also fortunate enough to volunteer with the Society for the Protection of Turtles, where she helped to conserve the local population of green and loggerhead turtles in North Cyprus. This sparked Rosie's interest in turtles and made her want to contribute more.
Knowing that she wanted to pursue a career in research after university, Rosie undertook her master's degree in Zoology at the University of Exeter. After graduating with a first class degree, she wanted to share her knowledge and enthusiasm of wildlife with the public. Working as a marine wildlife guide in Cornwall, Rosie was able to educate the public on cetaceans, seals and seabirds. She also later assisted a whale and dolphin conservation project in Tenerife in order to promote responsible whale watching and the protection of such amazing animals.
Rosie joined the Olive Ridley Project in March 2020 as a Sea Turtle Biologist and Communications Officer based at Coco Palm, Dhuni Kolhu. She was responsible for monitoring the local sea turtle population and educating the public on the work of the Olive Ridley Project. Just after Rosie arrived, the Covid-19 pandemic broke out and the resort was closed down for 4 months. ORP's new Resident Veterinarian was unable to reach the Marine Turtle Rescue Centre due to travel restrictions, so Rosie ended up taking care of all the turtle patients throughout the lock down until Dr Minnie was finally able to join her in September 2021.
Following her year in the field in Maldives, Rosie now works as ORP's Communication Officer, managing our social media channels, liaising with partners and helping to update our website, e-learning platform and educational resources. She is also researching potential PhD ideas.