Current patients: Heidi, Eve, Artemis, Azura, Joy, Elba, Lucky, Thomas and Trooper
At the end of July we admitted a new patient, Trooper, and we now have nine resident patients and more than a full house! Luckily, Vet Jackie currently has help from our Lead Vet, Dr. Claire Petros, the Coco Collection InTurtleShip Competition winner, vet student Jessica Monteiro, as well as two volunteers and a new intern.
New Arrivals
Trooper – Arrived 29th July 2019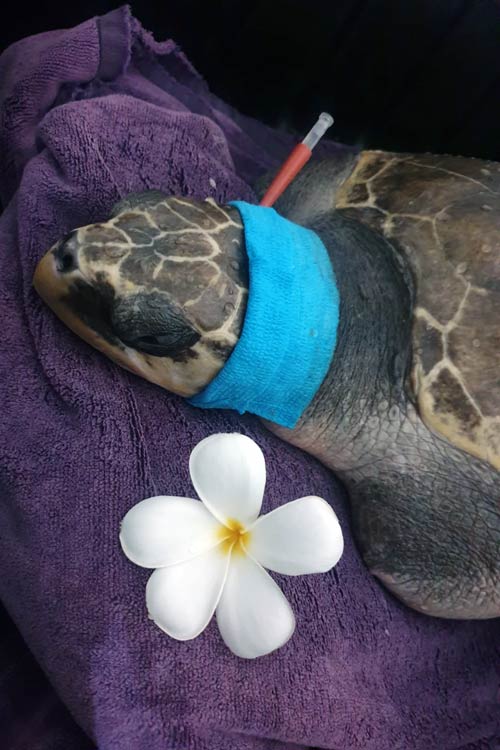 Trooper is a subadult olive ridley turtle. She was rescued by Four Seasons Kuda Huraa and was initially under the care of Marine Savers. She was found entangled in a ghost net and has lost both of her front flippers. Trooper had been doing well in care with Marine Savers, who had secured a home at an aquarium overseas for her. However, she suddenly became ill: She was not breathing well, could no longer eat by herself and had a prolapse from her bottom.
So, she was flown from Four Seasons Resort to the ORP Rescue Centre by sea plane. When she arrived, she had x-rays where a lung infection was discovered. She also had blood-work which confirmed there was an infection. Her reflexes were very slow and some were not present, therefore there could be another underlying cause to her problems.
On the 8th of August she underwent surgery to repair her prolapse. A feeding tube was also placed so we could feed her by syringe. She recovered well from that surgery, however, she is currently our most critical patient in care. Although she is stable, she cannot raise her head to breathe. She therefore spends most of her time out near the tanks in a tub with water and a neck rest so she can float. Feeding takes place through the feeding tube by syringe.
We are continuing to monitor her closely.However, she has shown small signs of improvement. She is a fighter and we hope she continues to fight and win this battle.
The Resident Patients
Heidi – Arrived 21st April 2018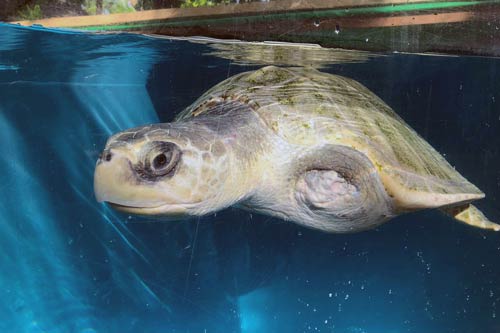 Heidi is our most content patient. She is happy wherever she is moved and never complains. We moved Heidi to a different tank at the rear of the Rescue Centre for a change of scenery; from there she can look into the forest.
The new volunteers have fallen in love with her this week. She has managed to lose a little weight on her diet and we cut her meal portion up into many little pieces so she feels like she is getting more. This also makes her exercise for her food.
Eve – Arrived 26th December 2019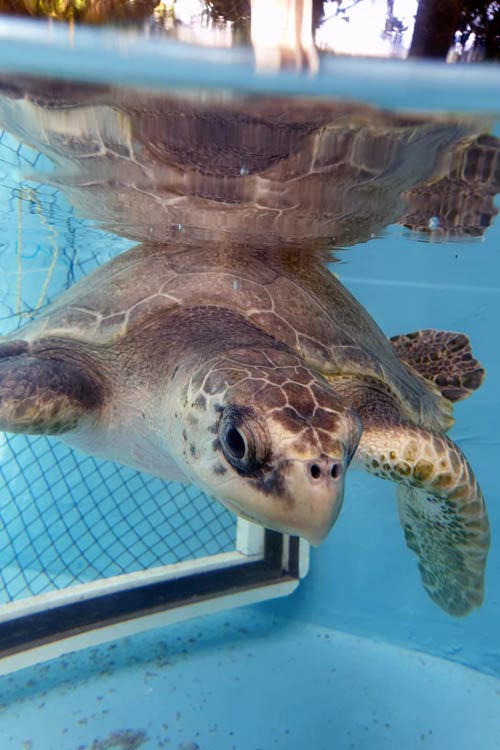 Eve is still having her laser and physiotherapy with massage and muscle strengthening exercises. The guests like watching her physio sessions so she has many new fans! She is using her flipper on and off. We are encouraging her to use it as much as possible.
Artemis – Arrived 27th February 2019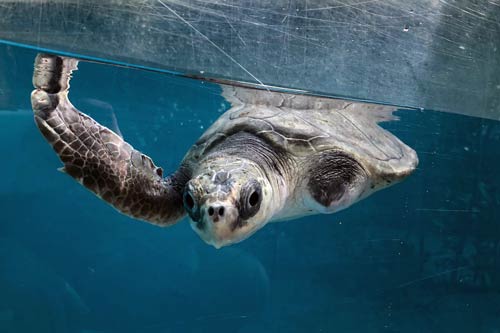 Artimus has been out for more ocean swims. He likes trying to chase the fish. There are many guests that love him and come to watch him swim in the sea. Always a happy go lucky little guy. He now has a small tank all to himself. He is a quirky little guy with his own unusual swimming style. However, he swims quite normally when food is involved! His appetite is good, and although he is growing in size, he is still our smallest patient. And he is still buoyant.
Azura – Arrived 2nd April 2019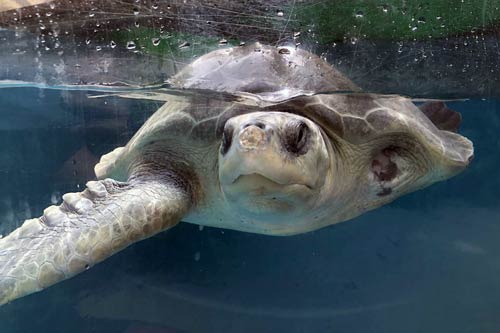 Azura is now eating well below the water line, however, she rushes at her food and occasionally drops one. The final scab from her shell injury has fallen off and it is now healing in well.
She has been moved to the other side of the large tank to encourage her to dive. She is enjoying the bigger space, but she is still buoyant with not much of a change. Her appetite is great. We are monitoring her nose lesion, which may be getting slightly larger. Fingers crossed it doesn't grow any more.
Joy – Arrived 9th April 2019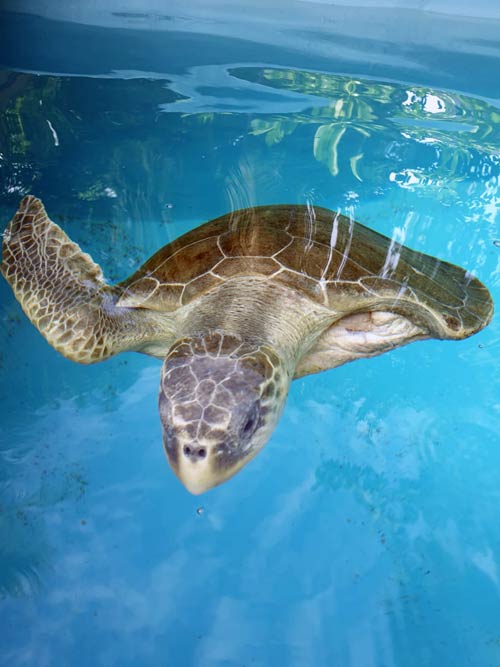 Joy is using her flipper well, however the swelling is still present. Her appetite is great and she enjoys feeding time the most. She is continuing on her antibiotics and all is going well with her. She swims strongly and is using her remaining front flipper despite the swelling. Joy is just waiting for final clearance before she can be released. Until then, she continues on her antibiotics.
Elba – Arrived 6th May 2019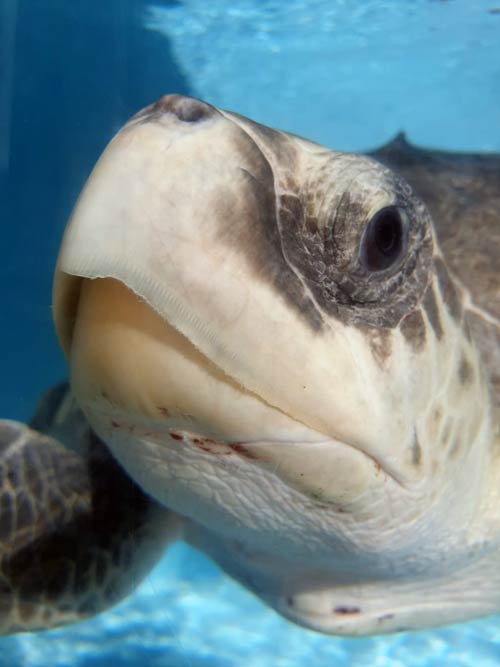 Elba's x-ray showed her bone infection has not spread, however, she continues to be on antibiotics at this stage. Elba has been moved to a medium tank and is enjoying the 2 metres in depth to practice her diving. She swims enthusiastically and she is so fast! She zips after her food without a care in the world. She is getting closer to release, but we must be sure her bone infection is cleared before we send her back to the big blue.
Lucky – Arrived 12th June 2019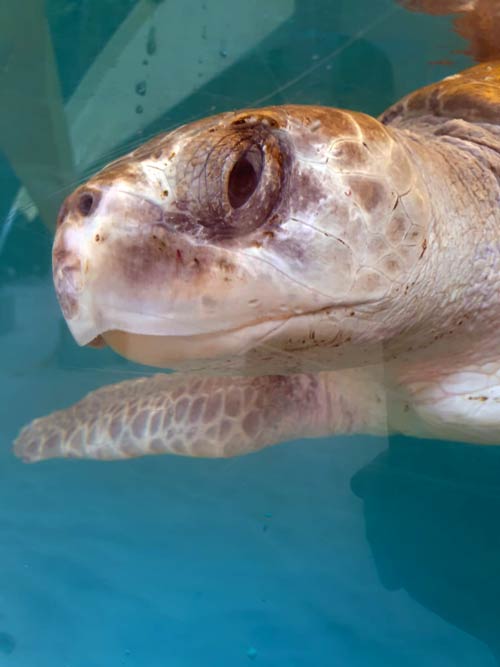 Lucky has started physiotherapy on her front left flipper to improve the range of motion in her elbow. She does not like being handled, so sessions are very short. She is eating well and had her stitches removed – her surgery site has healed well.

Lucky is swimming very strongly, using her left flipper more and more. She will have an x-ray next week to check on the status of her osteomyelitis.
Thomas – Arrived 18th June 2019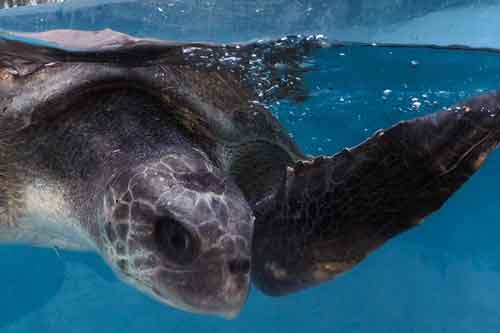 Thomas skin lesions continue to improve. She is gaining weight and her appetite is wonderful. We temporarily moved her to the big tank to encourage her to dive. The tank has been split in half with a large divider, so she has a much bigger space than before, which she is enjoying. She is eating well and healing well. Her stitches have been removed and her surgery site looks great.
Although Thomas continues to float, she is sitting lower in the water this week. That is a good sign that she is on the way to getting her buoyancy issues under control!