New Arrivals
Hera, Arrived 10 January, 2022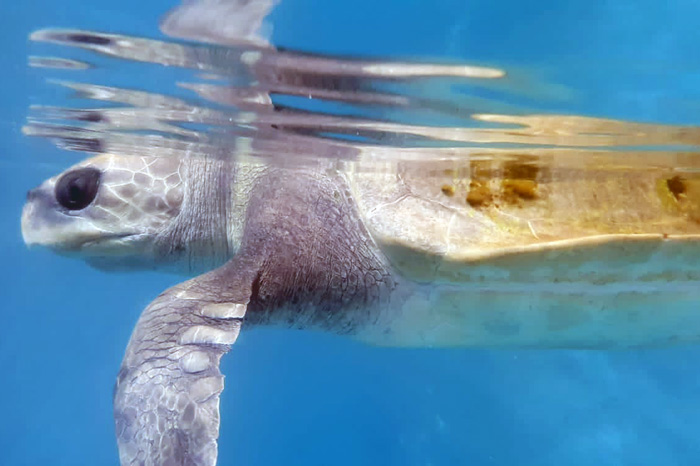 Hera was found floating in Baa Atoll with both her carapace and plastron cracked. She was rescued by staff from Westin Maldives Miriandhoo Resort who took her straight to us by speedboat.
Hera is an adult female who is absolutely huge and quite active. She has a very significant crack across her plastron and it isn't clear at this stage whether it communicates with her internal anatomy. She will need X-rays to assess for any internal damage and will need surgery to clean up her wounds. She is very buoyant and the reason isn't clear for now, but we will be investigating further and hopefully will have a clearer picture soon.
Sumo, Arrived 10 January, 2022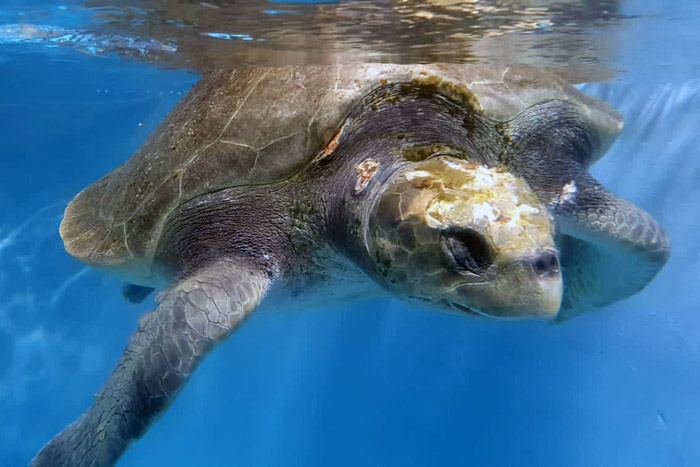 Sumo was found floating in North Malé Atoll with the top of her skull smashed in. She was rescued by staff from Sheraton Maldives Full Moon Resort & Spa who took her to Four Seasons Kuda Huraa where she spent the night before being transferred to us by sea plane the next day.
Sumo is a large adult female olive ridley. She otherwise seems OK and has no signs of being entangled. She will undergo general anesthesia to remove the dead bone from her head and for assessment of the extent of her injuries. She is quite buoyant at the moment but luckily has all four flippers.
Jodie, Arrived 9 January, 2022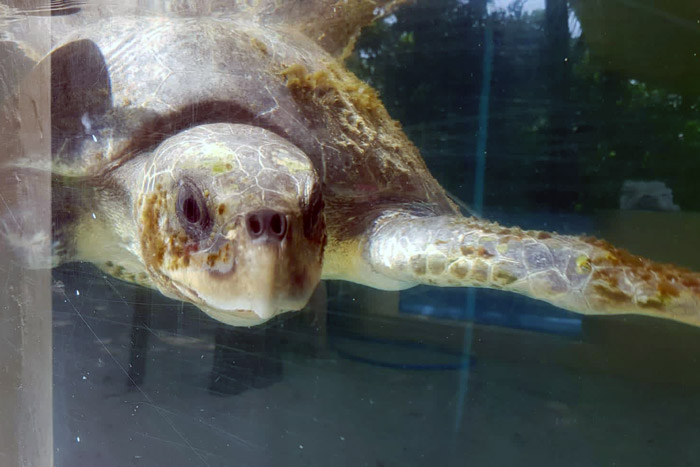 Jodie, a large adult female olive ridley, was found floating in the open ocean in Baa Atoll with two healed amputation wounds from ghost net entanglement. She was rescued by staff from Finolhu. She was dehydrated, underweight and had two healed amputation wounds from ghost nets, but otherwise she seems okay. Her X-rays revealed no major abnormalities. Jodie can't dive just yet and, given that she is missing her front right and the back left flippers, it is unlikely that she will be able to swim properly and be released. We will watch her closely.
Percy, Arrived 8 January, 2022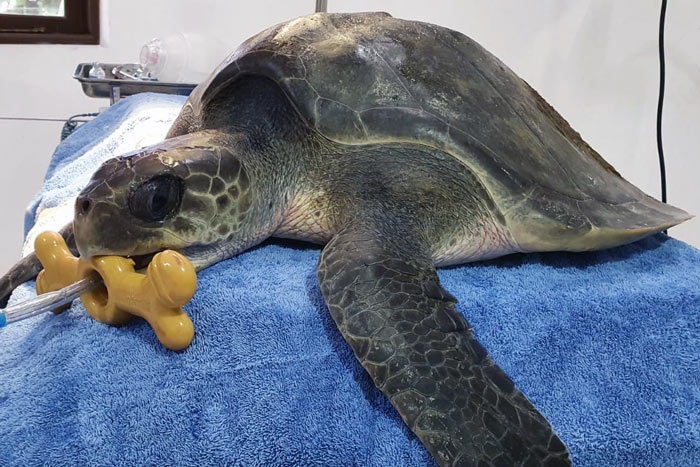 Percy, a sub-adult olive ridley, arrived at the Rescue Centre in a critical condition, having been found floating in the open ocean in Noonu Atoll with a cracked skull. He was unresponsive upon arrival and it took hours of intensive care to pull him back from the brink. He finally started breathing on his own and we cautiously moved him to a tank. We are keeping him under strict observation and, though it will be tough for him to recover, we will continue to do everything we can.
Mojo, Arrived 7 January 2022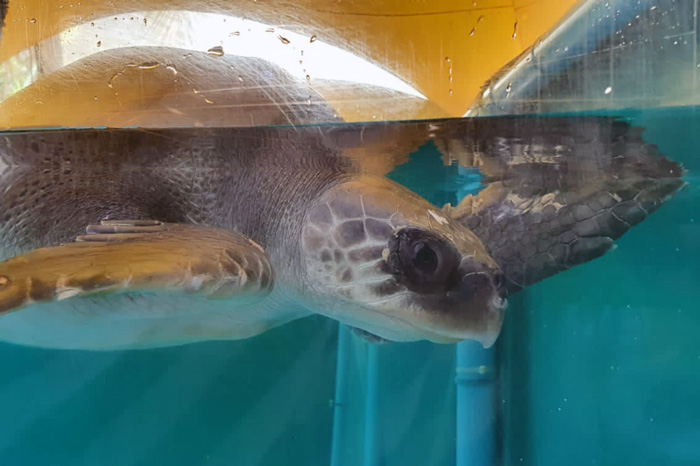 Mojo is a sub-adult olive ridley who was found floating in the open ocean in Haa Dhaalu Atoll, trying to dive. He was rescued by staff from Barefoot Eco Hotel in Hanimaadhoo, and was sent to us by sea plane via Hideaway Beach Resort & Spa. He has all four flippers intact and no signs of entanglement but exhibits severe buoyancy syndrome. He also has a prolapsed cloaca and damage to his left eye, but these should both resolve with treatment. We will soon perform his X-rays to determine the cause of his buoyancy syndrome and this will give us a clearer understanding of his internal issues. Though he does seem a little stressed, he is slowly settling in at the Rescue Centre.
Atlas, Arrived 7 January, 2022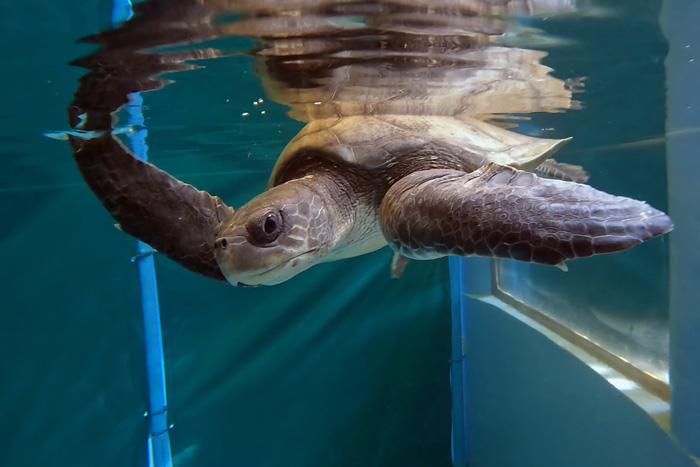 Atlas is a sub-adult olive ridley who was found entangled in a ghost net and washed up on the beach, half buried in the sand on an uninhabited island in Noonu Atoll. There were so many people involved in his rescue, including Noku Maldives who took him in at short notice and built him a crate for transport. He had likely been there a while based on how he was positioned, and the net has significantly damaged his front left flipper. Although his flipper bone isn't broken, the flipper is very swollen and has suffered substantial tissue loss, but we will work hard to save it. He is currently moderately buoyant. He has been chewing at a few prawns but is not eating them! Hopefully in the next few days he will be settled enough to eat.
Loabi, Arrived 28 December, 2021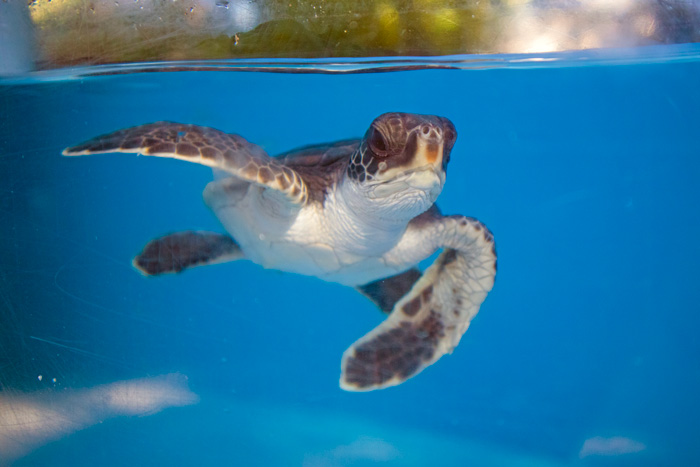 Loabi, a tiny green sea turtle in post-hatchling state, was found floating with an abnormal back end by our partners Trans Maldivian Airways near their engineering jetty at the airport in Malé. She is settling in very well at the Rescue Centre; she is active and bright with an excellent appetite.
We have attempted to medically fix her prolapse which was moderately successful. However, we noted that with time it seems to be improving so we are monitoring closely. We conducted a faecal sample to rule out any parasites and will do a repeat X-ray soon. We found lots of sargassum for her to hide in, which really mimics their natural environment and helps reduce stress. She has taken to rubbing and scratching her shell on the floating tube we have put in her tank and it's really lovely to watch!
Jingle, Arrived 25 December, Deceased 25 December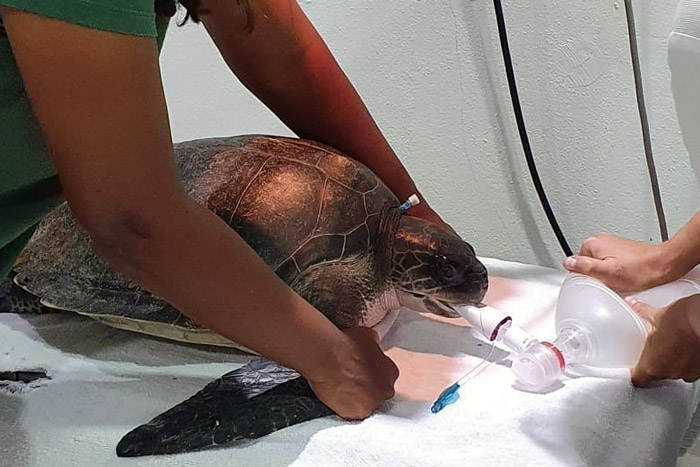 Unfortunately, Christmas Day brought with it a sad situation. Jingle was a large juvenile olive ridley who had been found floating on the surface trying to dive by the marine team at Taj Exotica Resort & Spa in South Malé Atoll. By the time she arrived at the Rescue Centre, she was already nearly dead. We tried to revive her for hours, but eventually had to let her go.
We routinely perform post mortems on every patient who passes away to help us understand why they may have died. Jingle had severe and irreversible destruction of her right lung, leading to a large air pocket that was leaking into her body cavity and causing her to be buoyant. This would explain why she was buoyant without any associated signs of being entangled in a net or blunt force trauma, which is what usually triggers buoyancy syndrome. It's impossible to say what triggered the lung damage, but we could tell from her post mortem that she would never have recovered her buoyancy control.
Biscuit, Arrived 16 December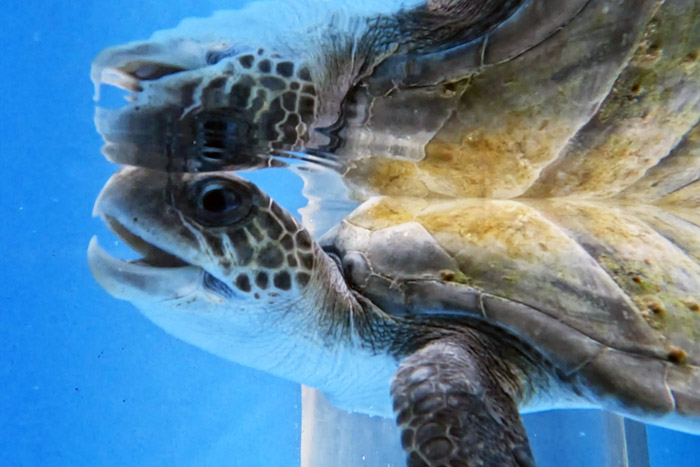 Biscuit, a young juvenile olive ridley, was found washed up on the beach at Patina Fari Islands, North Malé Atoll. She very tragically has been entangled in a ghost net that claimed her whole right front flipper and half of each of her back flippers. She is also suffering from buoyancy syndrome due to trapped air in her body cavity.
Thankfully she started eating very shortly after her arrival and now has a very vigorous appetite! She also put up some great performances, chasing her food and she was even able to completely pull herself under and touch the bottom, despite having only one good flipper.
Pickle, Arrived 10 December 2021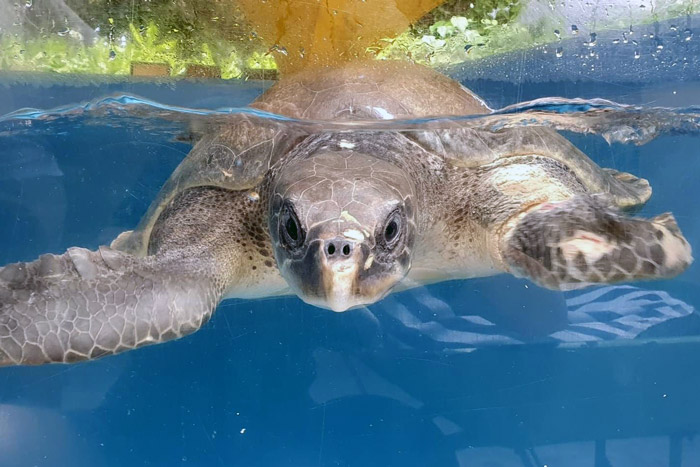 Pickle, an adult female olive ridley, was found entangled in a net and washed up on the beach at Finolhu in Baa Atoll. She is in generally good health but arrived with a number of significant wounds caused by ghost gear entanglement: Her front left had an old amputation; her back left had been badly constricted and was very swollen but should be OK; and her back right had been completely torn off by a shark and needed surgical amputation at the knee.
Pickle had a successful flipper amputation surgery and a good recovery initially, but after being placed back in the tank we had some issues with her clearing her head to breathe properly. This has resulted in the aspiration of some sea water which could lead to a lung infection, so we had to watch her closely. She didn't eat at first, however, this is quite common amongst newly admitted older adults, so we provided her with regular fluids to help her.
Pickle had a second surgery to remove a significant amount of dead and dying tissue from her back and front left flippers. Her wounds are really substantial, with a lot of exposed bone and an ongoing severe skin infection. We are monitoring her closely and giving her daily wound care and regular antibiotics and pain relief, but we have a long road ahead. However, we are very encouraged that she has finally started eating – the best possible sign as it means she is starting to feel better and will be able to maintain her own hydration levels. In the last week she has also started to show food seeking behavior and is quite active and alert and is generally doing much better!
The Resident Patients
Tibby – Arrived 26 July 2021
Tibby is slowly and steadily getting better. She spends most of the day at the bottom of her rehab tank, eating lots of fish. However, when she goes for her sea swims, we really see the extent of her injuries. Because of her lack of flippers, she struggles to manoeuvre herself and she tends to just drift with the currents. We will keep feeding her and taking her out to help her build more muscle and strength.
Xena – Arrived 1 November 2020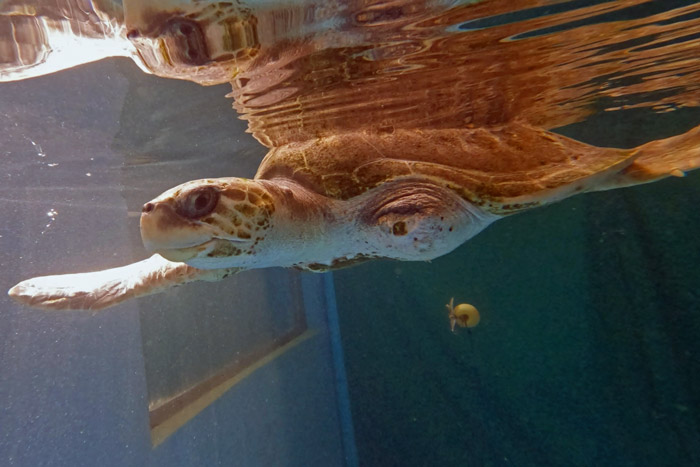 Xena was doing brilliantly at getting her flipper usage back to normal, thanks to the medication and her dive training, until recently when she suffered an abrupt and total reduction in her flipper usage. We suspect that there is some kind of fragment within her joint capsule that is intermittently causing her significant discomfort and that it isn't just the bone infection to blame. We will be sending her X-rays to another vet to get a second opinion.
Discovery – Arrived 7th February 2020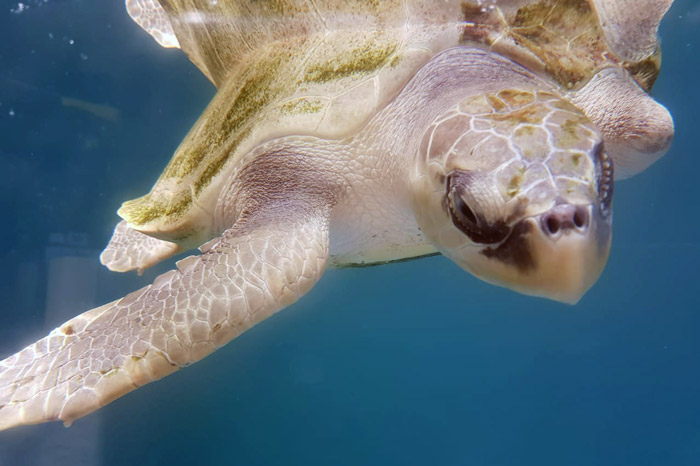 Disco has been having a good time. She has a great appetite and is very keen to chase the food round! Though she did have one of her signature 'no food' moments at one point, it was short lived and she was eventually eating like a horse again. Disco went on a sea swim this week and she did really well! The water conditions were just perfect so she was able to see lots of things on the reef. As always, her motivation to dive is second to none and she put in some great effort as she swam around the island!
Heidi – Arrived 21st April 2018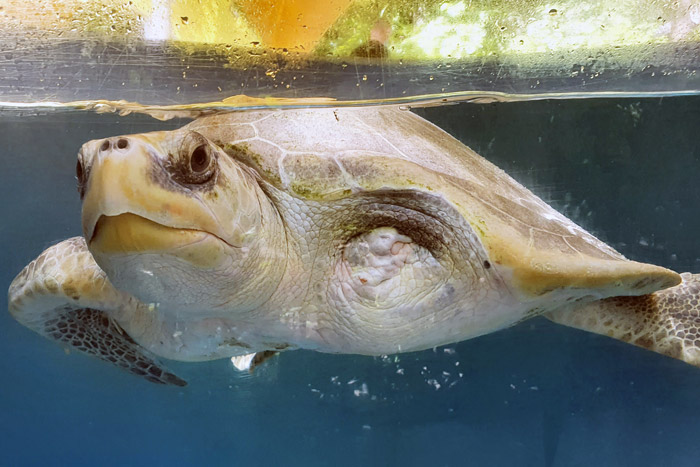 Heidi has been his wonderful and active self. He went on a lovely sea swim where he grabbed rocks around the seafloor, interacted with big schools of fish and caused mayhem in Coco Palm's coral garden! We will surely miss him loads when he goes away to his forever aquarium home in the UK, the forms for which have now been completed and will soon be sent out.