Turtle Patient 167: Percy, Sub-Adult Olive Ridley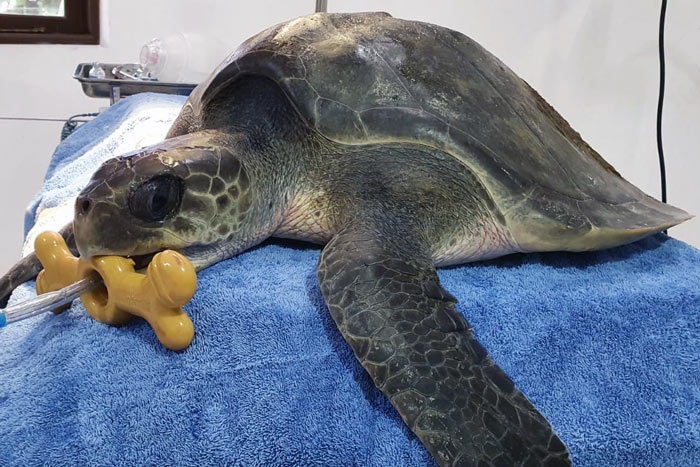 Percy was found floating in the open ocean in Noonu Atoll with a cracked skull. He arrived in a critical condition.
The Vitals
Intake Date: 7 January 2022
Patient Number: 167
Rescue Location: Noonu Atoll
Reason: Found floating with cracked skull
Transport Method: Sea Plane
Status: Deceased 12 January 2022
Species: Olive ridley
Scientific Name: Lepidochelys olivacea
Sex: Unknown
Age: Sub-Adult
Length: 55.5 cm
Weight: 13.4 kg
Percy's Story
Percy arrived at the Rescue Centre in a critical condition, having been found floating in the open ocean with a cracked skull. He was unresponsive upon arrival and it took hours of intensive care to pull him back from the brink. He finally started breathing on his own and was cautiously moved to a tank. We are keeping him under strict observation, and though it will be tough for him to recover, we will continue to do everything we can.
16 January 2022
Percy fought very valiantly to survive. We worked very hard to save him, with multiple sleepless nights monitoring him, but unfortunately he was just too sick. We suspect he had some kind of brain damage because from the moment he arrived he was not acting normally and was extremely subdued and unresponsive.
Despite this we managed to pull him through but after attempting insertion of a feeding tube to support him through his recovery, it was all too much for him to handle and he died overnight, despite breathing on his own for prolonged periods of time.